Jolee Aire Baron of Appyaire
March 9, 1995 - January 21, 1998

If there are no dogs in Heaven,
then when I die I want to go where they went.

The FRIENDS OF AIREDALES MEMORIAL FUND was founded in January, 1998, as Shelley & Howard DeMerchant shared the heartbreaking ramifications of Baron's illness with the Airedale Terrier List. The Fund resulted from the sudden and untimely death of this young Airedale, who symbolizes the depth of the bond we have with our beloved friends. Their paw prints are etched permanently on our hearts.

Baron's legacy is to transform despair into joy. Through donations in memory of lost friends, Airedale Rescue can continue its devoted cause of saving the lives and ensuring the well-being of Airedales in distress. Baron represents the spirit we share. For the love of Airedales, the Friends of Airedales Memorial Fund perpetuates Baron's legacy so that others may know happiness.

100% of all donations go directly to
NAR (National Airedale Rescue)

PAYPAL donations can be made HERE
Username is adenning@wi.rr.com
Remember to state the friend's name
& where to send the acknowledgement

OR

Make check payable to NATIONAL AIREDALE RESCUE
and mail, along with the friend's name & where to send the acknowledgement, to:
FOAMF
c/o ANDREA DENNINGER
7835 43 AVE
KENOSHA WI 53142-4201

Please also include the name of the dog to be listed
on the AIREDALES IN MEMORIAM Page
OR the OTHERS SO PRECIOUS TO US IN MEMORIAM Page

GO TO . . .

AIREDALES IN MEMORIAM HERE

OTHERS SO PRECIOUS TO US IN MEMORIAM HERE

TRULY DEDICATED FRIENDS OF AIREDALES HERE

WAGS & WOOFS FOR FRIENDS OF AIREDALES HERE

For more information, please email Andréa HERE






I have sometimes thought of the final cause of dogs having such short lives, and I am quite satisfied it is in compassion to the human race; for if we suffer so much in losing a dog after an acquaintance of ten or twelve years, what would it be if they were to live double that time? --Sir Walter Scott, 1822







The Airedale can do anything any other dog can do and then whip the other dog. --Teddy Roosevelt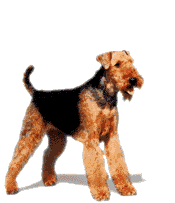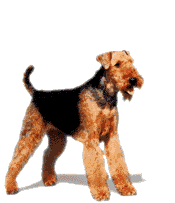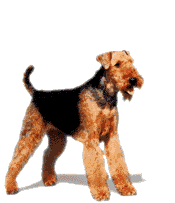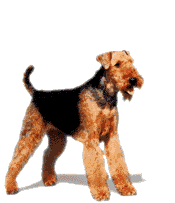 WHEN I GOT MY NEW DOG


I asked for strength that I might rear her perfectly;
I was given weakness that I might feed her more treats.
I asked for good health that I might rest easy;
I was given a special needs dog that I might know nurturing.
I asked for an obedient dog that I might feel proud;
I was given stubborness that I might feel humble.
I asked for compliance that I might feel masterful;
I was given a clown that I might laugh.
I asked for a companion that I might not feel lonely;
I was given a best friend that I would feel loved.
I got nothing that I asked for,
But everything that I needed.
I got an Airedale.


--Carol DiPrima & Kibo





The inhabitants of the United States are, I think, the most practical people on the earth's surface, and there is no dog like the Airedale to them. If there is a secret in it, the reason that she appeals to them with such irresistible force is probably that she is a dog that one can go out and do something with. --Holland Buckley, The Airedale Terrier,1920

---
---


RAINBOW BRIDGE


Just this side of Heaven is a place called Rainbow Bridge. When an animal dies that has been especially close to someone here, that pet goes to Rainbow Bridge. There are meadows and hills for all of our special friends so they can run and play together. There is plenty of food, water and sunshine and our friends are warm and comfortable.


All the animals who had been ill and old are restored to health and vigor; those who were hurt or maimed are made whole and strong again, just as we remember them in our dreams of days and times gone by. The animals are happy and content, except for one small thing: they each miss someone very special, someone who was left behind.


They all run and play together, but the day comes when one suddenly stops and looks into the distance. His bright eyes are intent; his eager body begins to quiver. Suddenly, he breaks from the group, flying over the green grass, faster and faster. You have been spotted, and when you and your special friend finally meet, you cling together in joyous reunion, never to be parted again. The happy kisses rain upon your face; your hands again caress the beloved head, and you look once more into those trusting eyes, so long gone from your life, but never absent from your heart.


Then you cross the Rainbow Bridge together . . .


Author Unknown

---
---



Thanks to Jamie Hare for the Animated Airedale Graphics


Thanks to KAREN CLOUSTON for the Airedale Graphics







INTRODUCING MISHA (@RB) & APRIL (@RB)
CARI, RICO, ROSIEVI, DAISY2LEGS & LUUCEEE


Remember to bring along your virtual pooper-scooper!












These Pages Constructed by . . .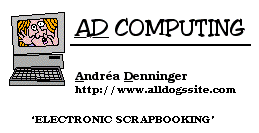 Click on the card to email me


©1996-2010 All rights reserved
Updated 1 JUNE 2010