There's life in the old soul yet. She will be 13 in a couple of months.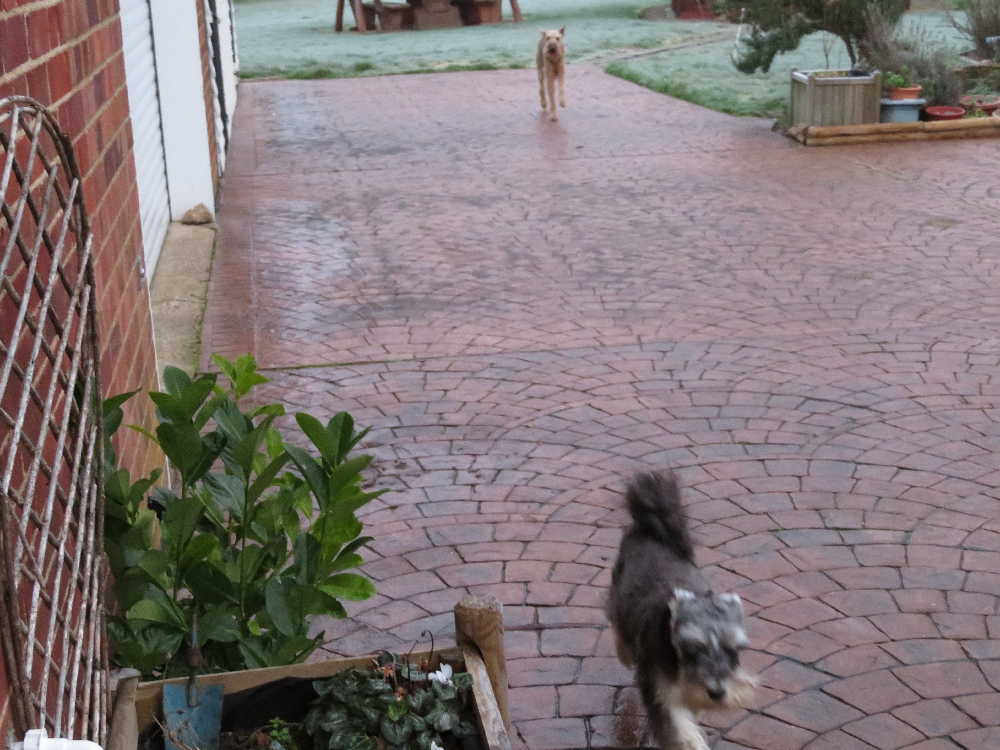 HAMISH & MAHRI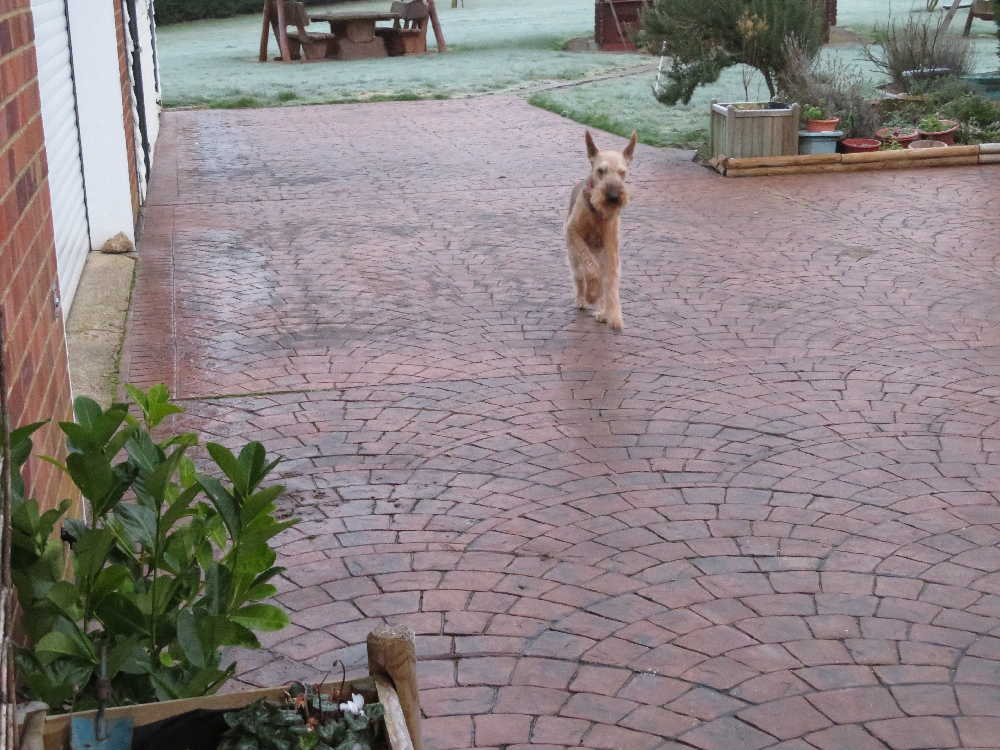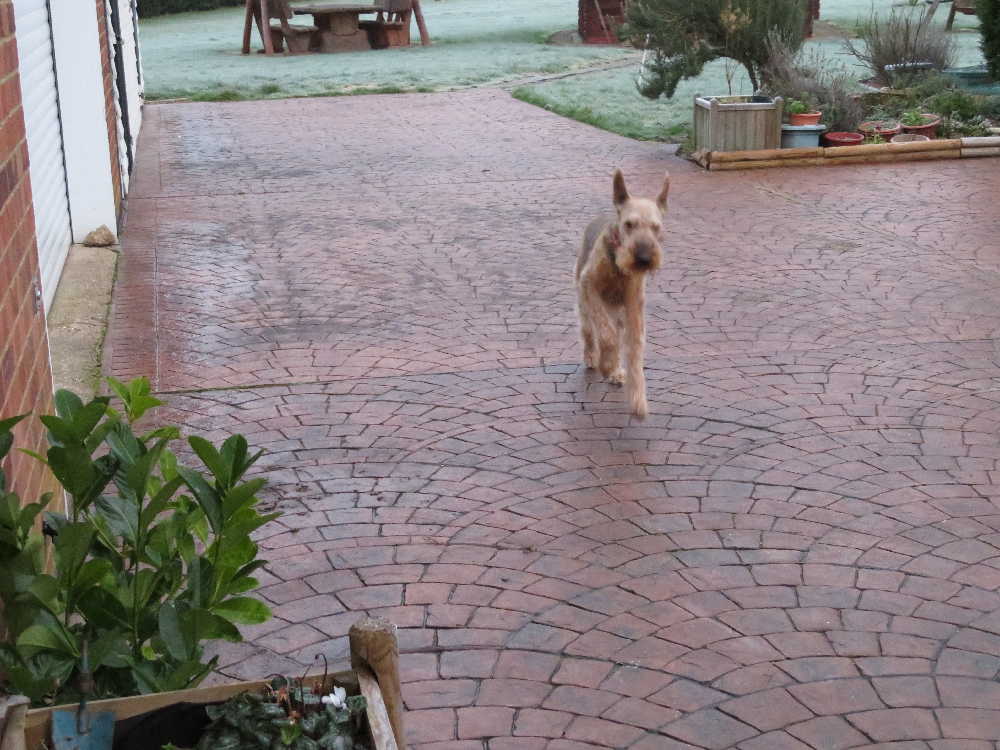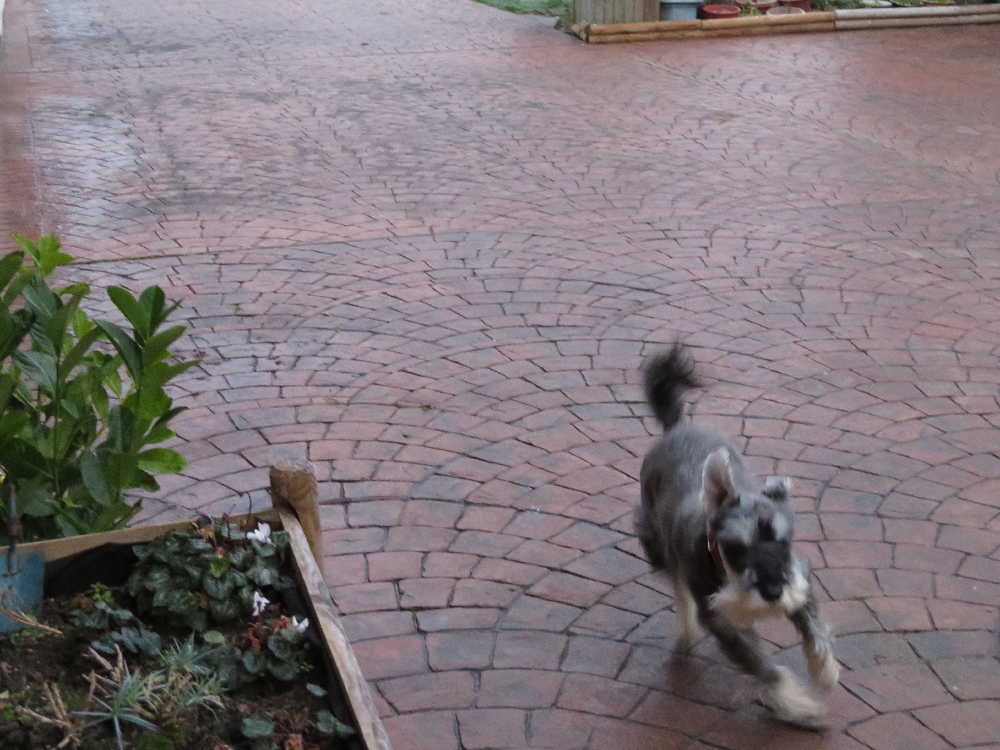 ---
---



On 22 June 2019, Jackie writes:


Mahri enjoying the sun. She only spends 5 or 10 minutes outside,
then sleeps most of the day.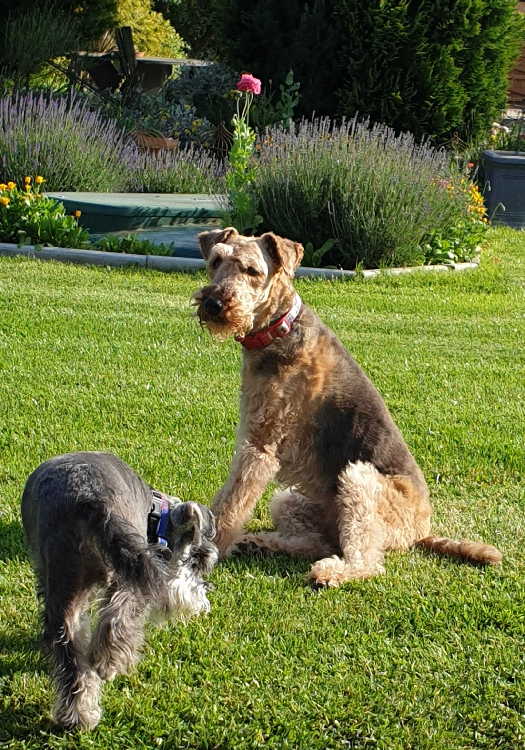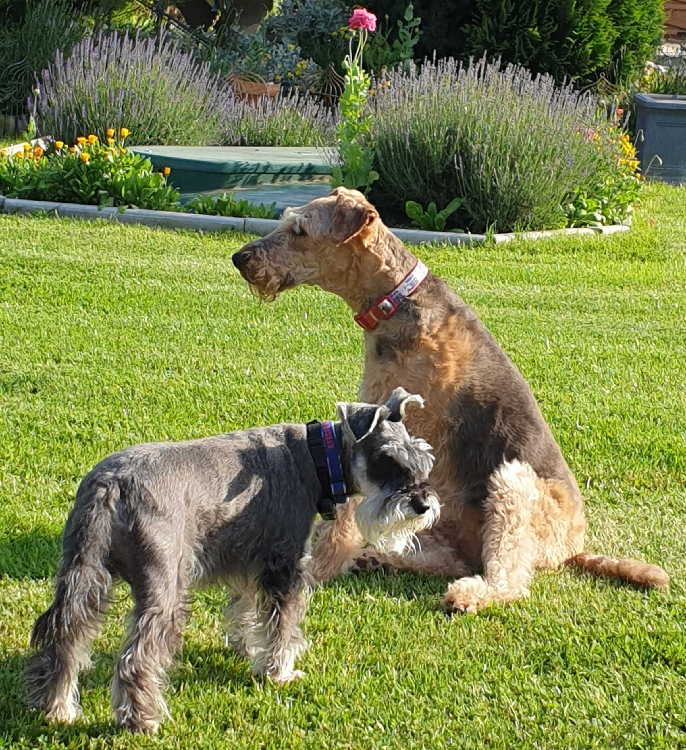 She's turning into Elle,
as she seems to be listening to someone but doesn't hear us, bless her.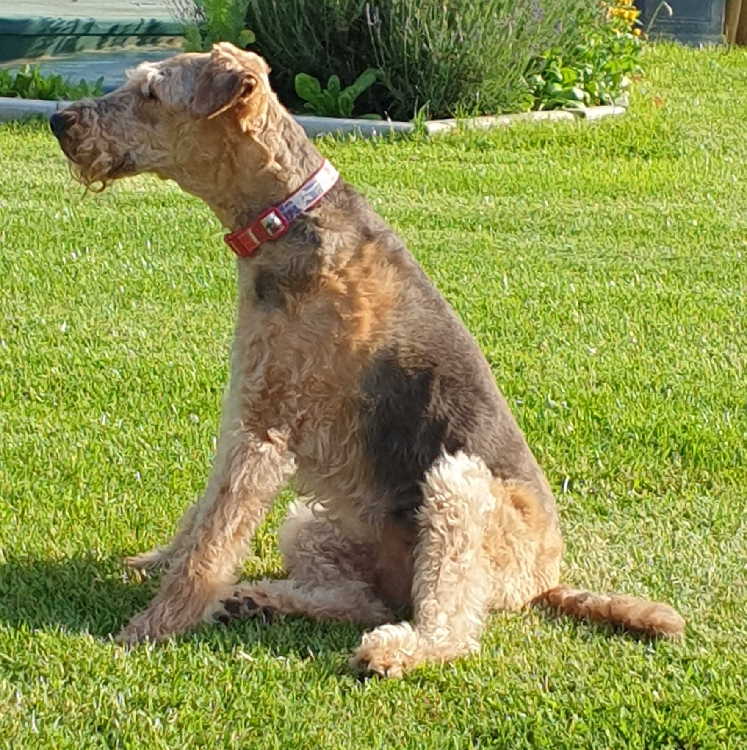 It's her eyes; they look like Cleopatra,
only full of mischief at least for 1/2 a minute.

---

ANDREA DENNINGER:
Still such a beautiful girl . . .

---
---



HAMISH & SUZI, 23 November 2019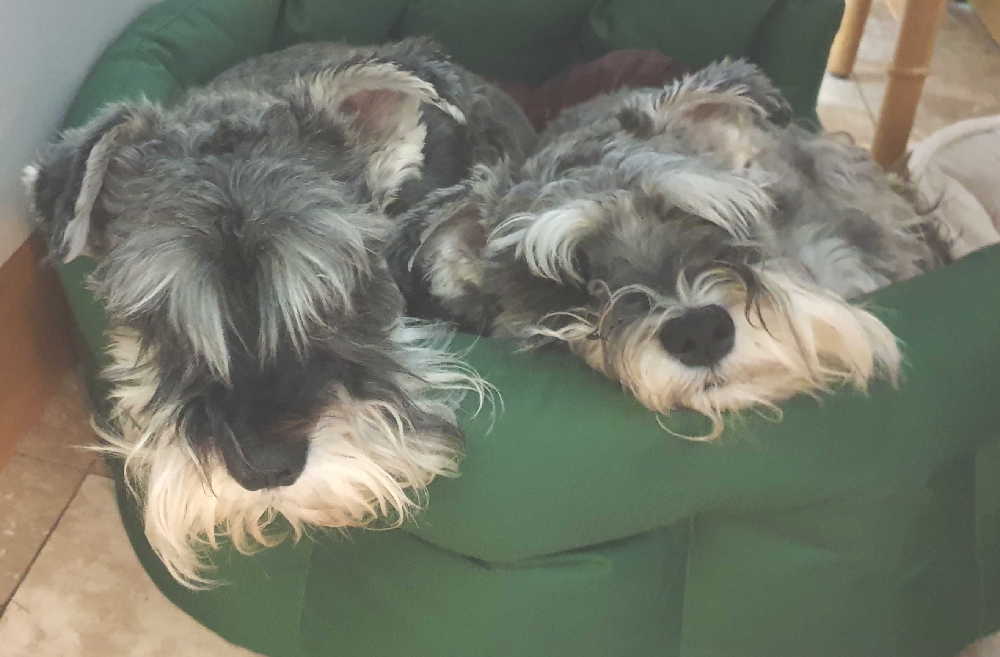 Is is still raining? We're bored, Mum.



---
---
On 17 December 2019, Jackie writes:

Here is SUZI after her bath; she thinks it's a toga party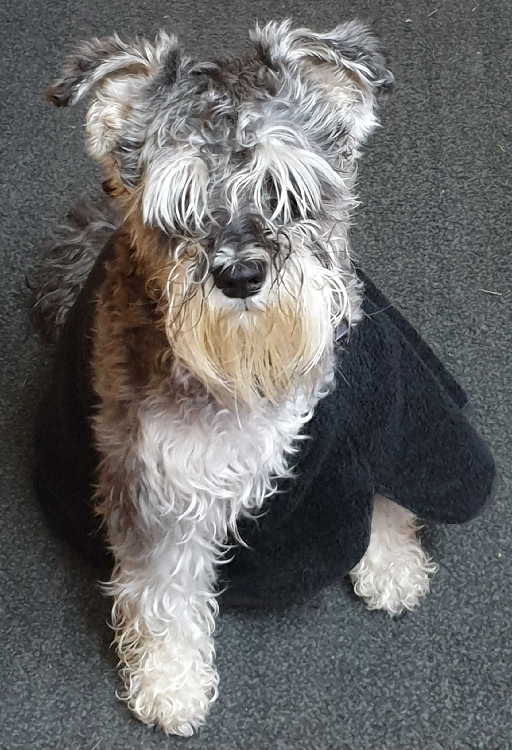 HAMISH, a/k/a 007, in his smoking jacket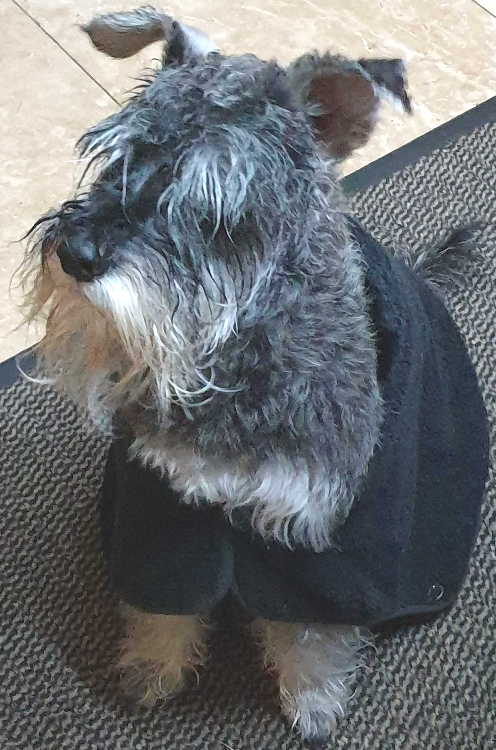 MAHRI trying to run from a bathe . . .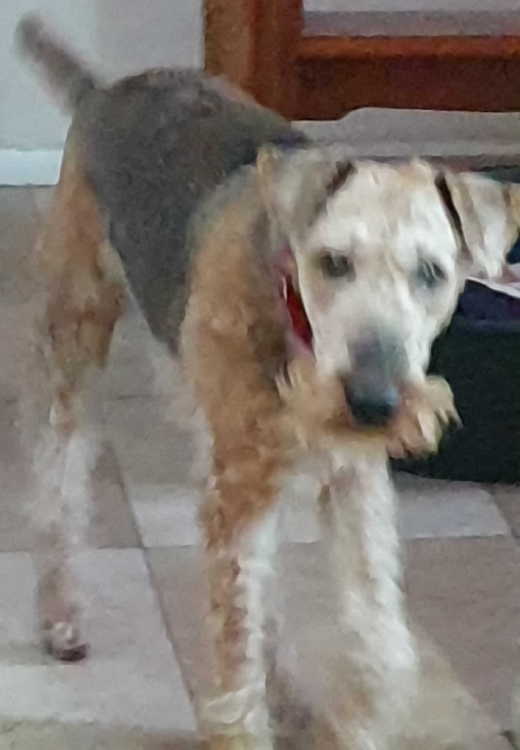 . . . and tired out after . . . .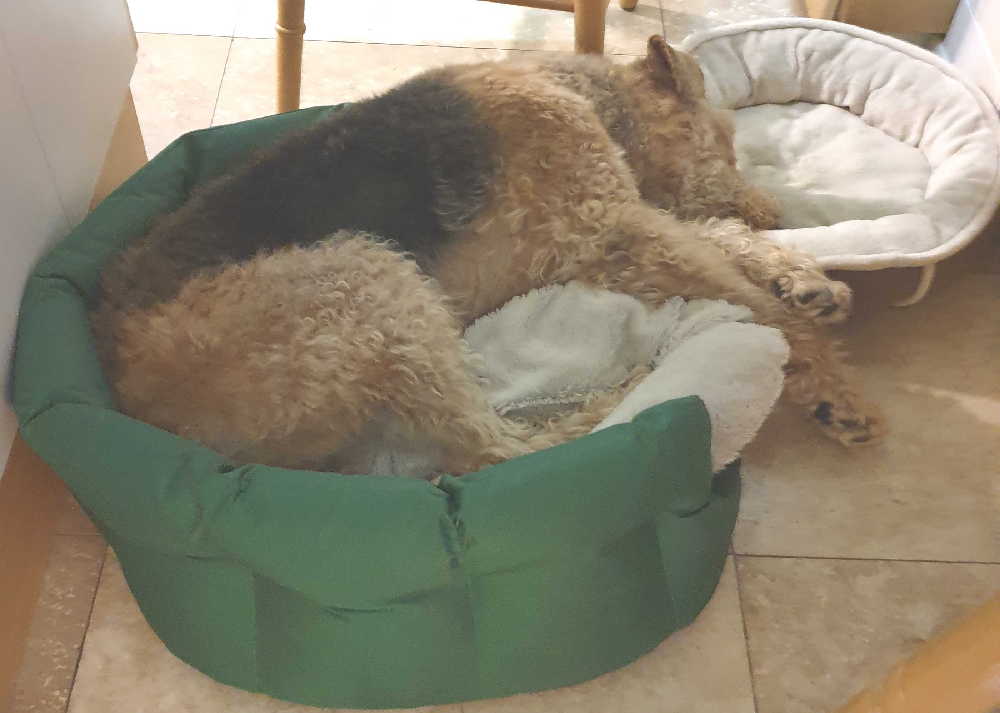 ---
---
MAHRI'S EAR OPERATION

13 FEBRUARY 2020 - Mahri gets her op:

I dropped Mahri at the vet this morning.
I'm quite concerned about her as she has been losing nearly a kilo
almost every week this year; today she was down to 18.3kg from 21kg in January.
I've been giving her extra food, but it hasn't helped.
I can now feel her spine and she has the waistline of a wasp.

The plan was after her two weeks of very strong antibiotics,
steroids and pain killers, they will remove the upper portion of her ear canal
which has calcified, blocking air flow to the ear canal.
She has actually had the best two days in a long while,
bouncing like a puppy and pain-free.

I had thought I would say to the vet not to resuscitate if anything went wrong,
but when I left her today, I didn't have it in me to leave the instruction.
They will call me if anything goes wrong.
I was surprised because they had not mentioned it,
but she will remain at the vet's overnight.

LATER THAT DAY:

Mahri came through the op ok; has had a bite to eat and pee'd.
She has to stay in overnight on high dose of morphine;
tomorrow they will see if she can come home; if not, it will be Saturday.
She has to go back in two weeks to be put under again
to remove some stitches.

Happy now.

14 FEBRUARY - Mahri is home:

Her ear looks quite swollen . . .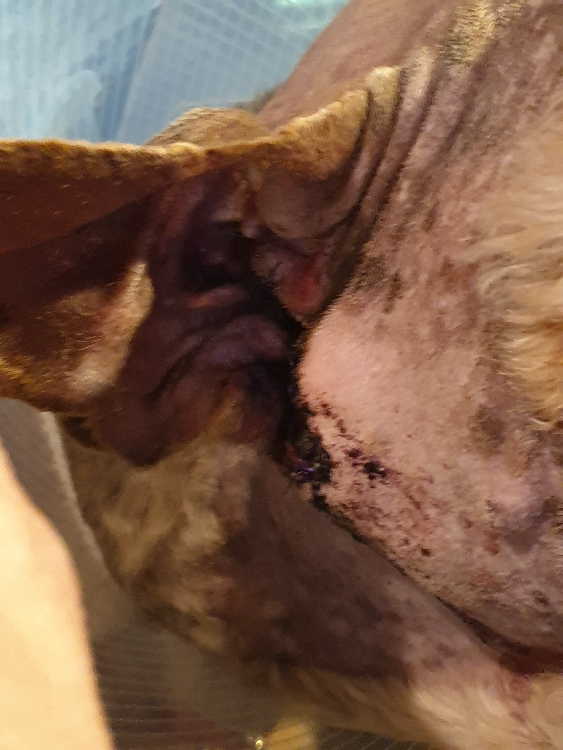 . . . but she's doing ok . . .

LATER THAT DAY:

Mahri has lost nearly 3kg since January; her blood was fine,
but her liver enzymes were up.
I think it's all the medication she has been on and lots of general aesthetics.
The vet thought pancreatitis, but she has no symptoms and
they noticed how food-orientated she is.

He also said it might just be her age.

She has eaten her dinner and is currently walking into everything to break the cone.
She has done this before; bashed it until it broke and
opened out like an umbrella on her head.

She goes back on Monday to have the wound checked
and in two weeks to get the stitches out.

15 FEBRUARY:

The vet was going to use an inflatable cone,
but she could use it to rub the wound as it extends quite far down her neck.
She has a short cone so it leaves most of her nose free to eat and drink easily.
She seems to have gotten used to it now so she only bashes it
into doors or cupboards that get too close to her.

I checked her ear it today; still very swollen,
but not so red-looking and clean. She had a good night
and seems happy today; might be the drugs.

16 FEBRUARY:

She's doing well . . .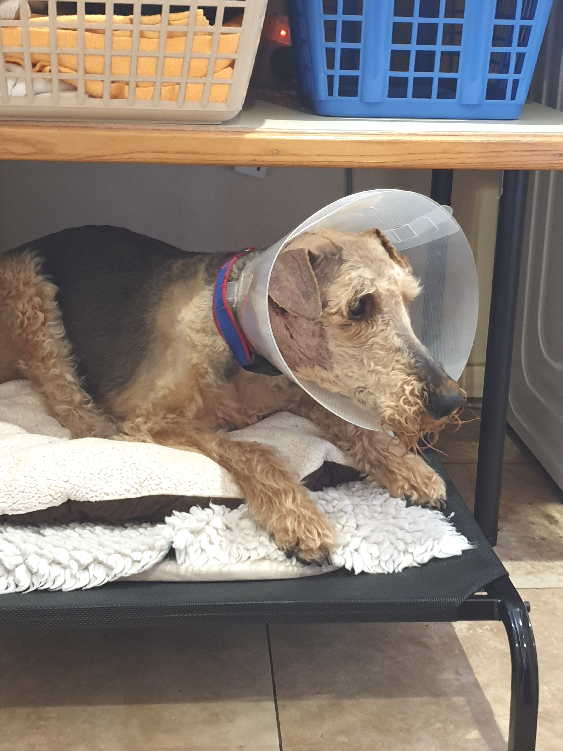 . . . even stolen Hamish's bed . . .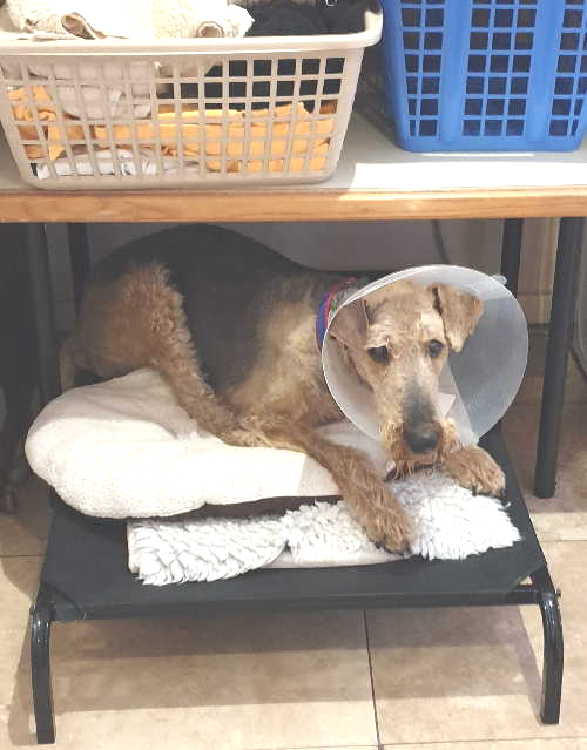 I bought Mahri the camp bed thing as I thought it would be better;
if she wet the bed, she would not be lying in it.
She didn't like it but Hamish did. It doesn't quite fit in his "dog cave",
but he likes it.

Today Mahr is like Goldilocks, trying out all the beds;
she chose to sleep on the one she didn't like and,
because it's under a shelf, was difficult for her to get into.
Not sure whether she backed in, or stepped in and turned round.
We had to pull the bed out so she could get up, as she did not
have enough room to stand up and step off.

17 FEBRUARY:

Mahri had her post-OP checkup today.
She's healing nicely and stitches will come out on 28 February.
She got a better collar today and so far she's not tried to take it off.
She has also gained .3 kg.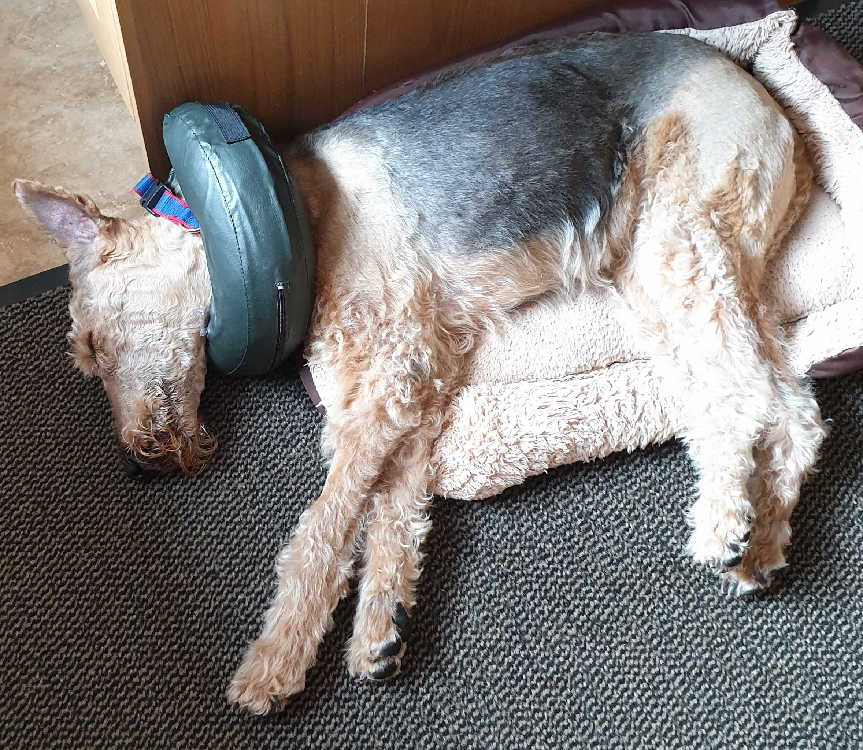 So far so good; she has not tried rubbing it on the cupboard doors
or scratching her ear. I hope it works as it is kinder than the hard plastic cone.

LATER THAT DAY:

Suzi insisted she had to have her picture taken . . .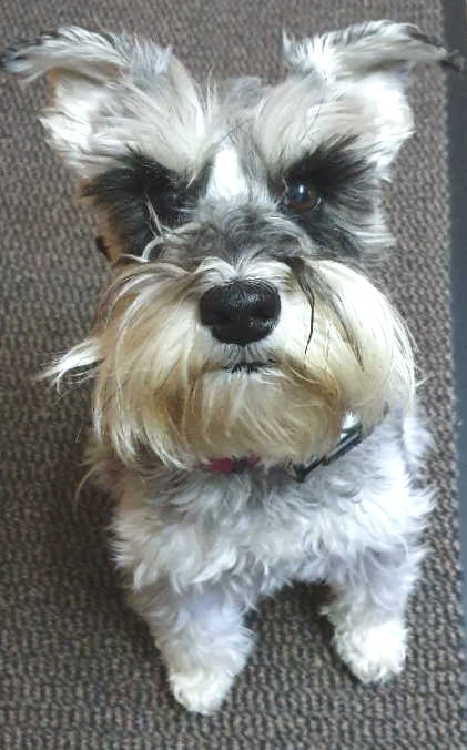 Yes, Suzi likes to be centre of attention; pick up a camera and
she will normally walk away or turn her head,
but try to take a picture of something else and she will paw you
and poke her face in yours to get attention.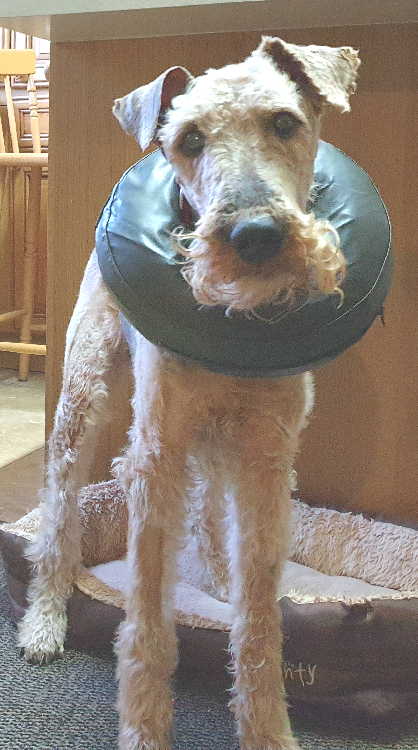 ---
---
INTERMISSION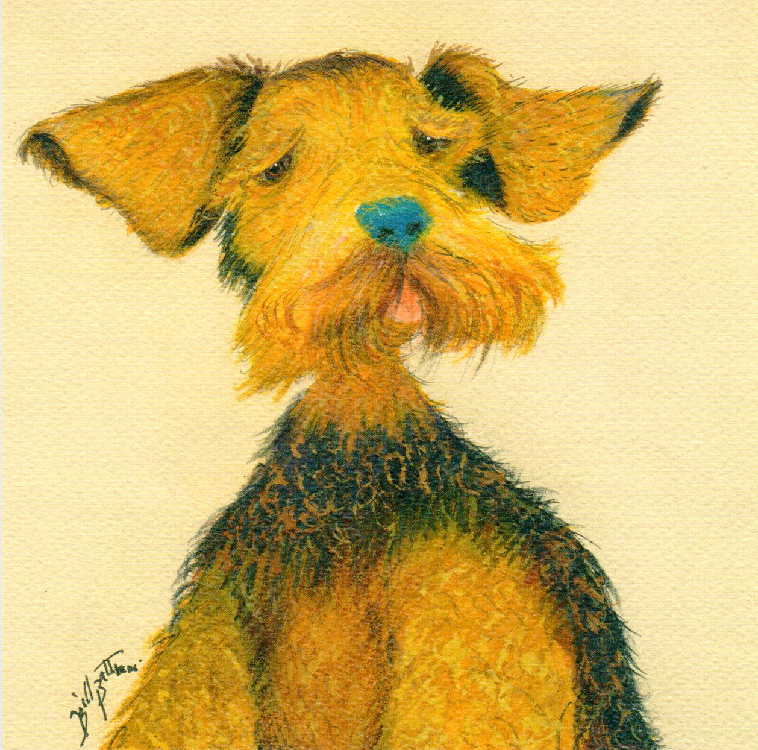 ---
---
On 26 October 2020, Jackie writes:

It's cold and wet now, so I think most wild animals are hiding.
Hamish found the wildlife camera.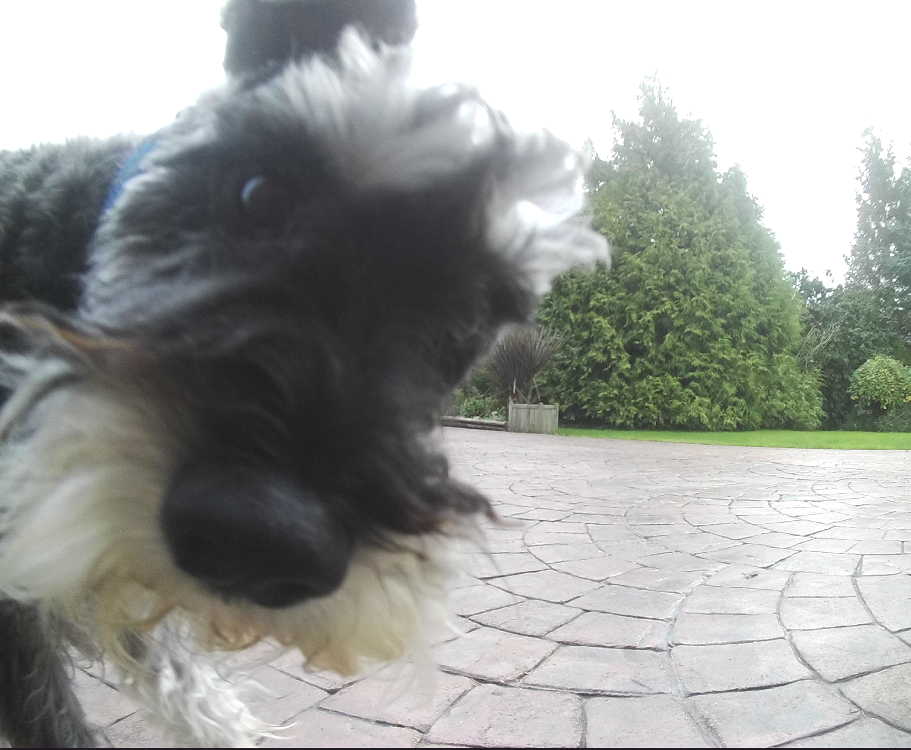 It's the look in his eye that makes me smile.

---
---
On 29 October 2020, Jackie writes:

It's cold, wet, grey and miserable, so what else is there for a dog to do . . .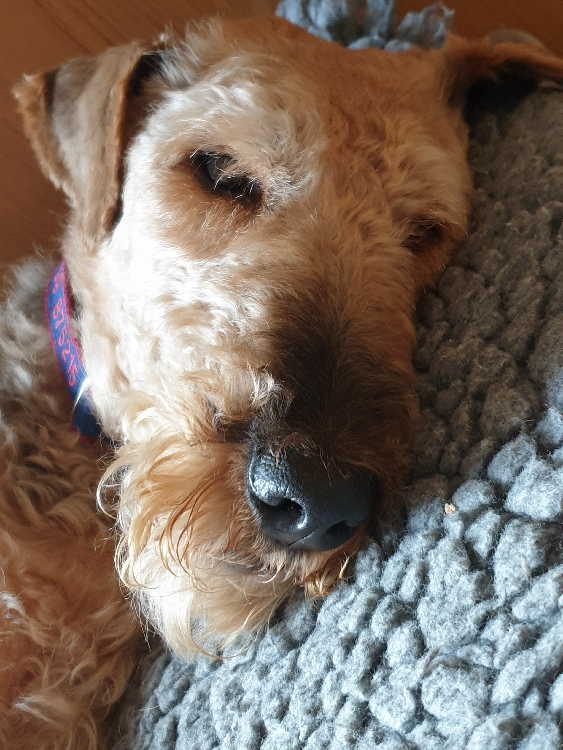 MAHRI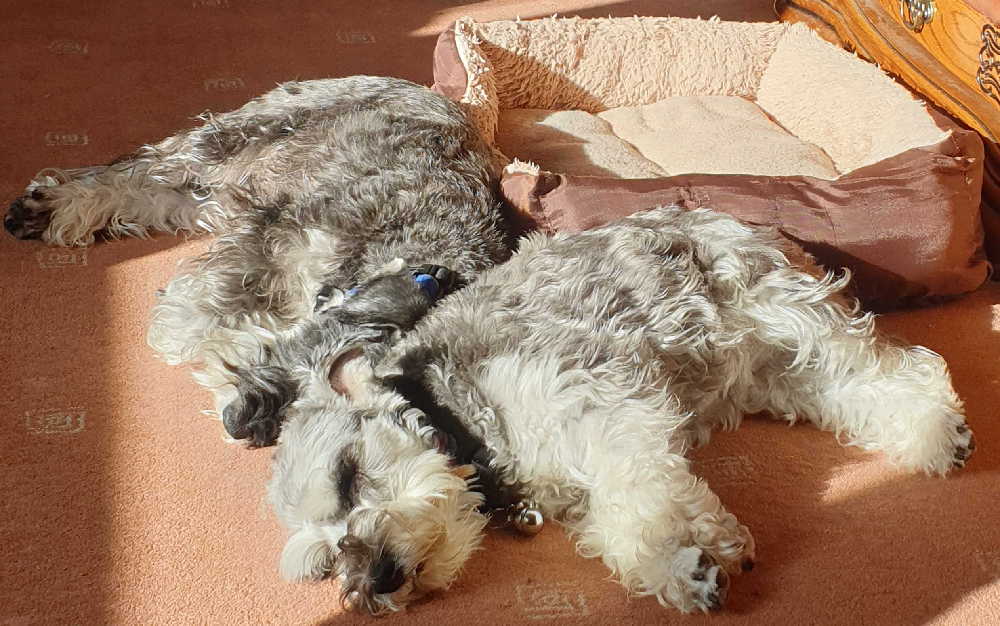 HAMISH & SUZI

---
---
On 18 January 2021, Jackie writes:
MAHRI
20 May 2006 - 16 January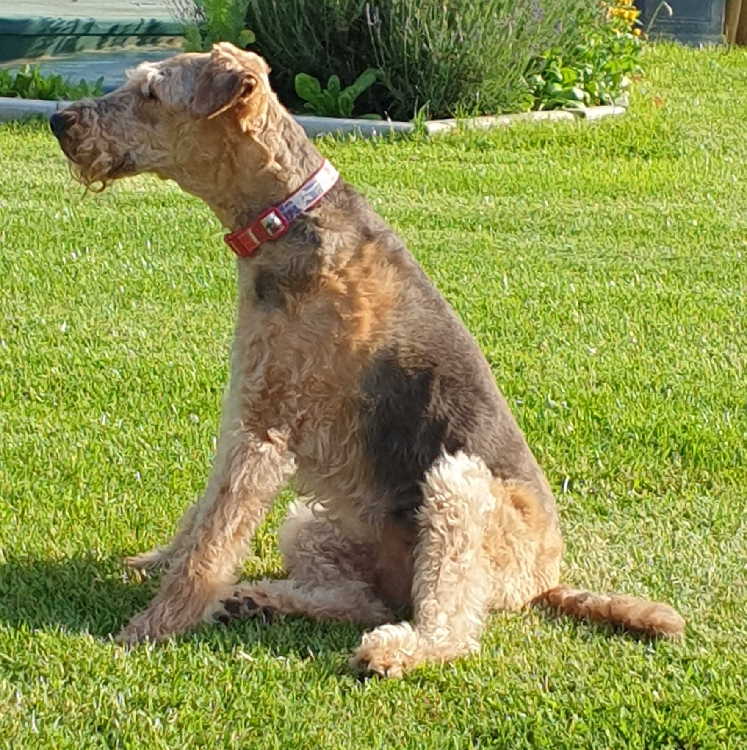 How come the right thing feels so wrong?

I have been sitting up with Mahri till 2 in the morning
for the last three weeks, then up again at 7:30 to let her out.
Most mornings the floor is wet in several places and there is a poo.
Some mornings it's in her bed and she has been sleeping on it.

The weather the last few days has been very wet and
because Mahri stood outside for ages, she was wet through,
not even dry before the Hokey Pokey (you put the whole dog out,
you bring the whole dog in, you do the Hokey Pokey and
start all over again) would start all over again.

This morning, in the gap of four hours while I had a sleep,
she'd pooped in her bed, slept on it, pooped on the floor and peed.
I let her out and she slipped on the slush on the step
because it had snowed overnight. Then when she was in her
phantom pee squat her back legs were sliding away from her.

I thought, it is time now.

She eventually came in soaked through and covered in snow.
I dried her, fed her and we went through it all again.
I felt so bad for her. She has no idea of time or place;
she is just happy when she smells food.
I thought she would make her 15th birthday, but for a dog to stand up,
have a poo, turn round and lie down on it is not right.

I was going to the vet with Team Schnauzer for their boosters,
so I called and chatted to them to see if I could bring her with them.
I knew it was going to be a one-way journey,
but I thought it would be nice for them all to be in the car together.

Mahri thought she recognised the vet and trotted off to say hello;
she often doesn't recognise me.

Because of COVID I could not be with her, but spent 15 minutes
walking her round the car park by which time,
she just wanted to lie down on a comfy bed.
The vet assured me the nurses would be with her and it would be calm
and stress-free. I think for Mahri it would be because
she hadn't a clue where she was or even who she was.

I know this was the right thing and the right time,
but I still feel so bad.
I'm going to miss that big bull-in-a-china-shop girl.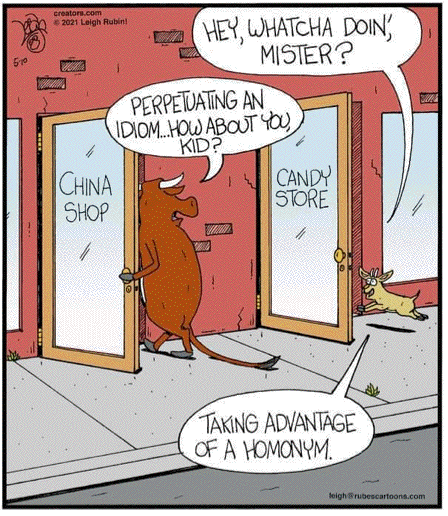 After I called the vet this morning I was sitting on Mahri's bed
beside her just rubbing her neck and chatting to her.
She put a paw on my arm and looked at me, I think she was saying
it's ok cos I'm tired and confused and scared.
Hamish came and lay over my knee so he was in contact with me
but sniffing Mahri . . . it was like he was saying his goodbye.
He was nine weeks old when he met her and he will be eight years old in May.
Goodness, where have the years gone?

Team Schnauzer have been stealing her bed the last two weeks
and I had to lift them out because they refused to move.
When I got home with just Team Schnauzer,
Suzi took over Mahri's big memory foam day bed.
She has been sleeping on it for a couple of months now whenever Mahri moved.
They were a bit quiet but are fine now.

I have spent the last six months looking after Mahri in this changed state,
although the last two weeks she has really gone downhill.
In October I put raptor bells on her collar so I could jump up
every time she moved to let her out or in.
I stood over her with an umbrella in the worst of the rains.
I did worry that she wouldn't survive the move or
that something would happen in the kennels, but she hung on
to spend Christmas and see in the New Year with us.

Sometimes when we were sitting watching TV she would suddenly
jump and howl as if she'd been kicked for no reason,
or she would lie with her head between her paws and just whimper;
that was the hardest bit to deal with. If you tried to pet her,
she'd jump up and rush to the door to pee,
only she didn't always remember where the door was
and would walk into cupboard doors or walls.

Funnily enough, for a dog that could hardly get up and
often had to be helped across the room, she could run really fast
if you tried to catch her for medicine or cleaning.
I did get the new medicine for her, but although I believe it was a coincidence,
she went into the rapid decline since she started on it.

She is with Tom, Mr Mac, and Elle now - The Wild Bunch reunited.

---
---
On 25 January 2021, Jackie writes:

Mahri is back home today. Because we can't be with our pets,
the vets included a small gift with the ashes . . .
a little bottle with her fur in it.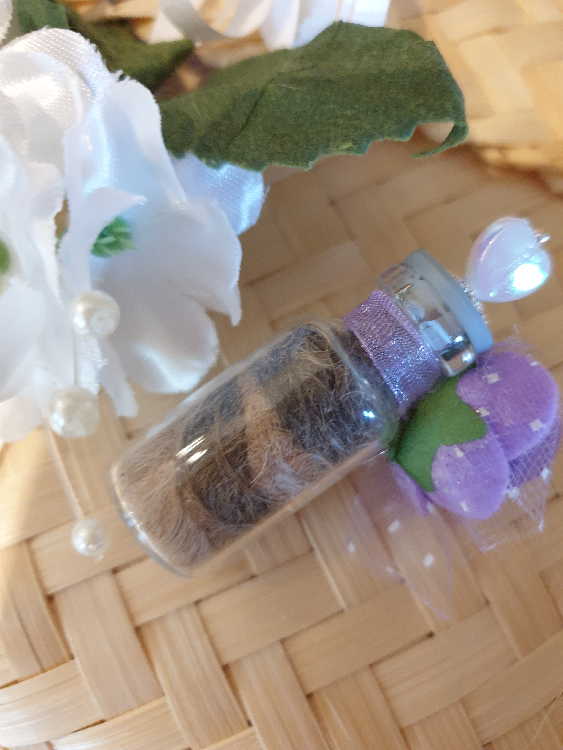 At first, I thought it was some of her ashes
and wondered why there were different colours,
then I realised it was her hair.
It came with a little note from the vet's staff.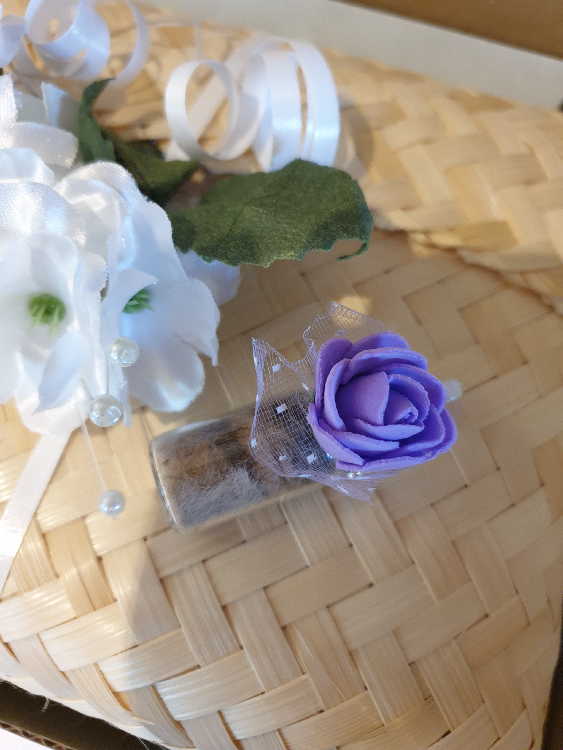 I thought this was a really nice gesture.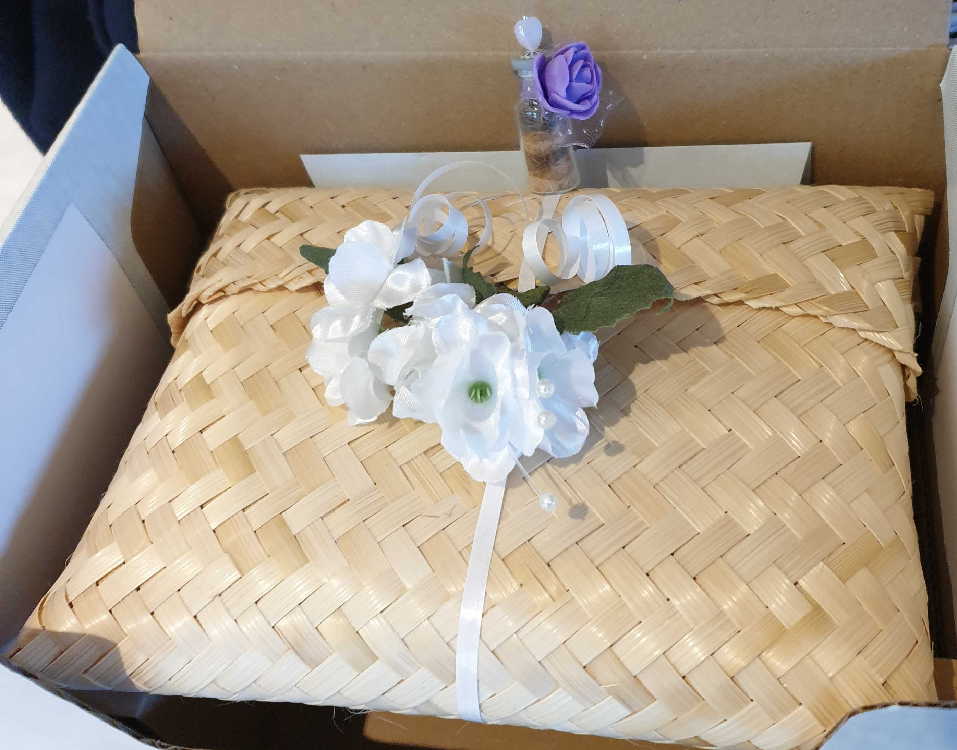 ---
---
14 April 2021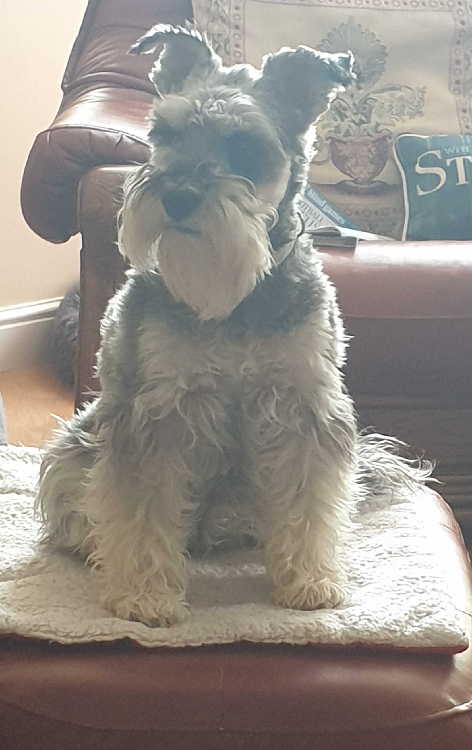 SUZI, Princess on her throne

---
---
On 8 July 2021, Jackie writes:

Five years ago, I was going to give a home to a rescue poodle
but she went to someone else. We then saw Suzi and she was such a delight,
I gave up the idea of having a poodle. Suzi is four now,
Hamish is eight and not so playful, but Suzi is very playful and gets bored easily.

I did a lot of research and on Saturday we are going to look at a
nine-week-old wee girl, a chocolate brown mini poodle.
I was going to name my next dog Daisy after my father's mother,
but when I saw the picture the name Saffron leapt into my head -
Saffy for short. Richard wants to call her Blue;
I have also considered Millie, Maisy and Molly, so the jury is out.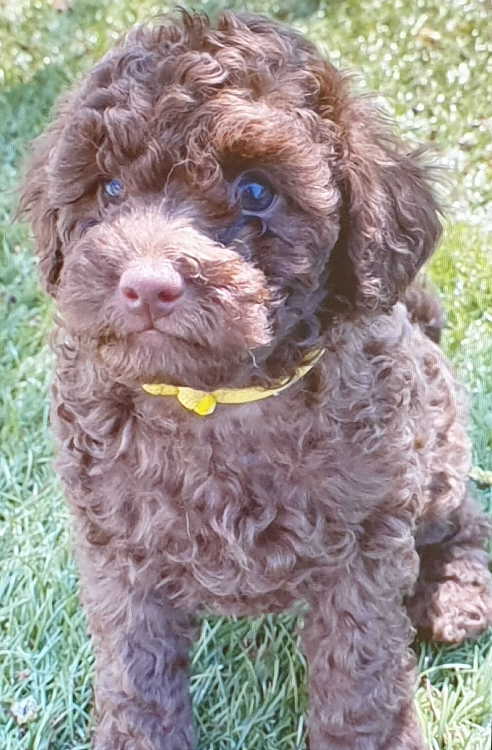 I might be able to bring her home on Saturday,
although the breeder said she'd prefer her to be 12 weeks
before she leaves her mum. I love her already, and I've not met her yet.

---
---
19 July 2021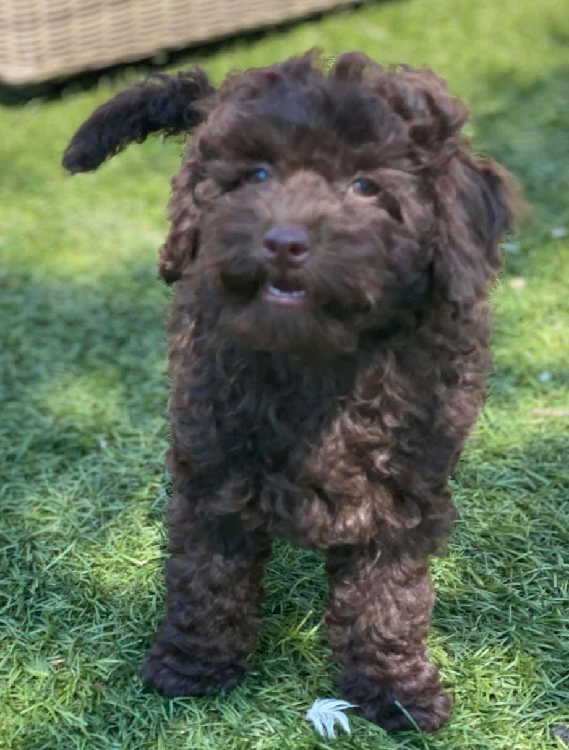 Lily at 10.5 weeks

---
---
On 20 July 2021, Suzi sez:

What's the password, Dad?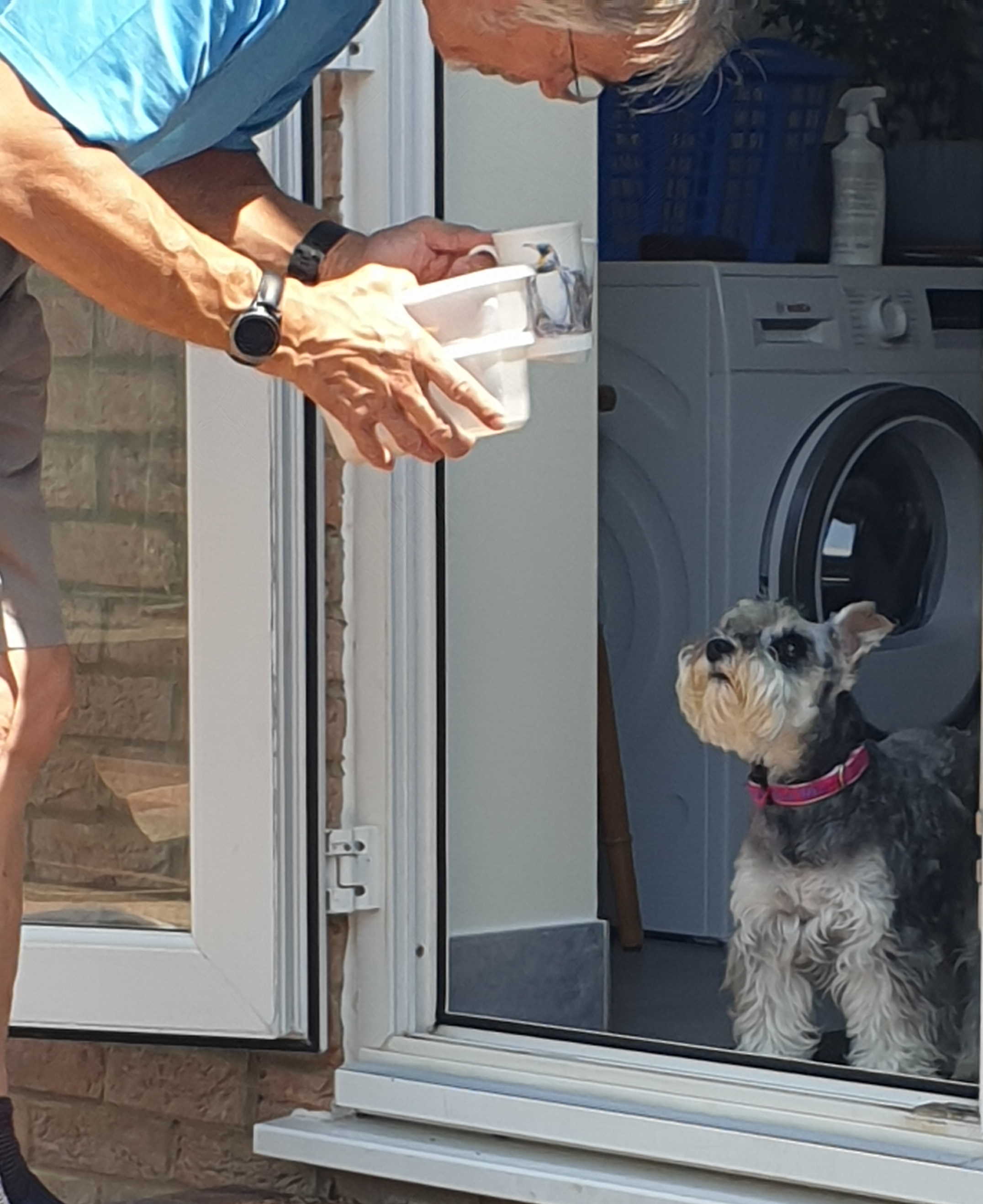 ---
---
22 July 2021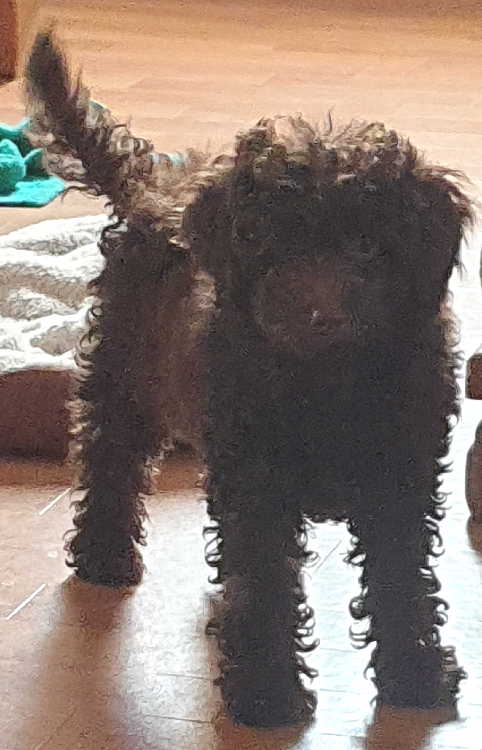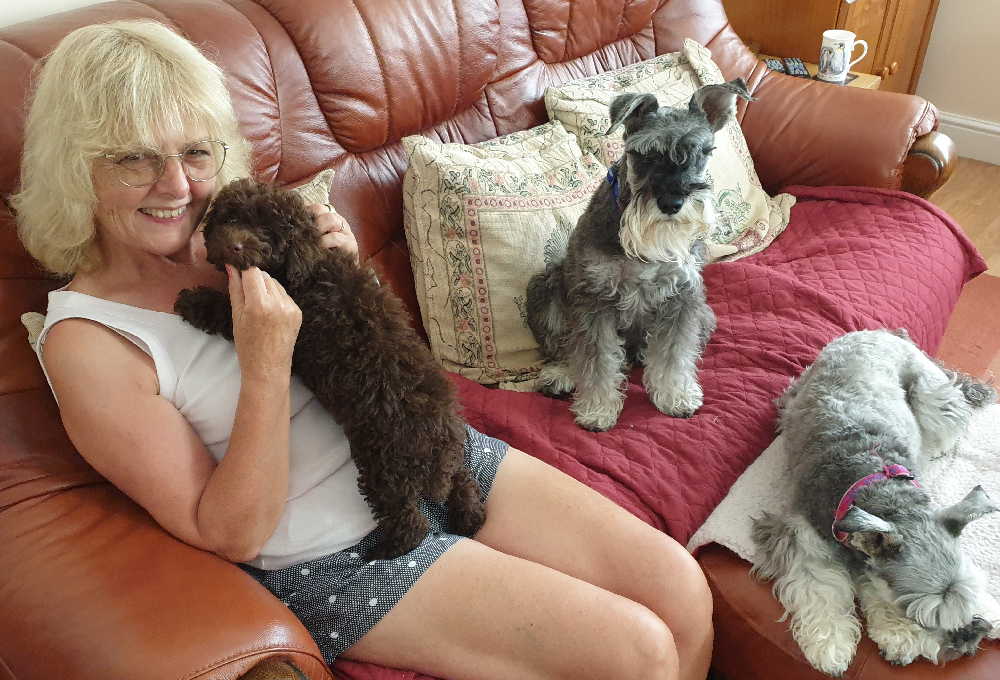 ---

MARE MOORE
in Canada:
Young Lily looks like a sweet li'l cutie-pie and you look supremely happy . . . to finally have your very own, long-awaited miniature poodle. Team Schnauzer, on the other hand, doesn't look all that impressed by the new rival for your affections. Enjoy your new furbaby . . . and here's to making many happy memories together.

---
---



On 26 July 2021, Jackie writes:


It's 24c [75.2F] today and a bit of cloud, perfect for doing nothing.




CLICK THE PIC TO SEE A VIDEO (IF YOU CANNOT SEE IT PLEASE LET ME KNOW)


The posse are loving the chill mats in the shade.
You can see they are getting along just great.
I need to go in and make dinner but it seems a shame to disturb them.

---

MARE MOORE
in Canada:
Oh that's awesome . . . so happy to hear that they're getting along so well as to share the cooling mat together, Lily is definitely HOME!

---
---



30 July 2021


Lily sez: All the toys are mine.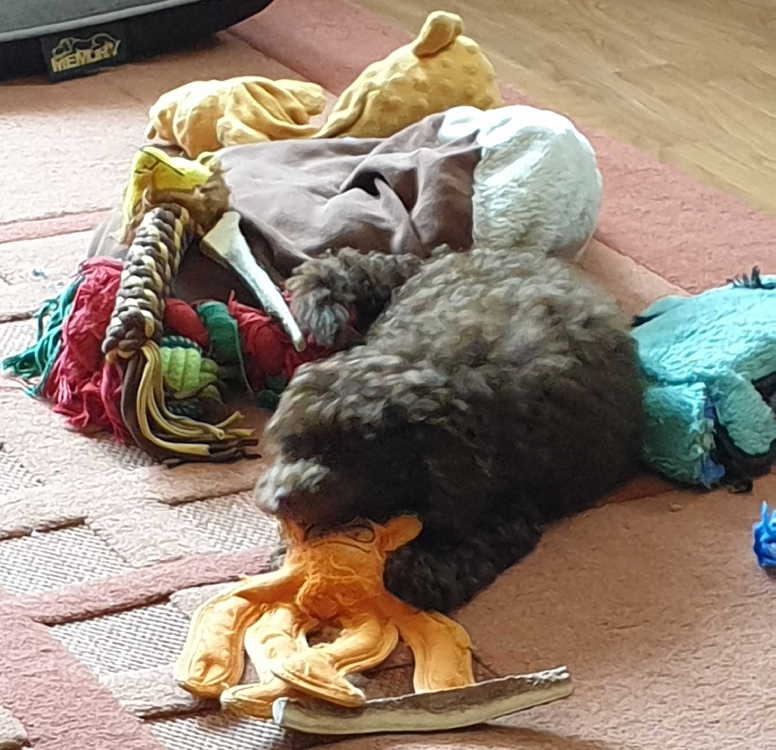 Biggest bed, smallest dog.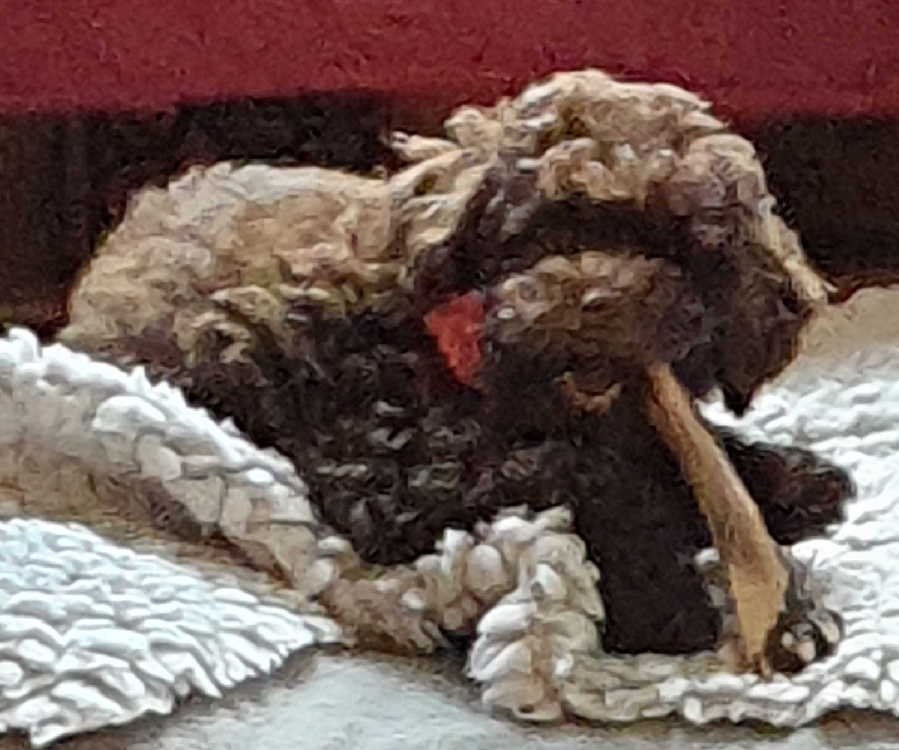 ---
---



On 12 August 2021, Jackie writes:


Here is the Monster terrorizing Team Schnauzer . . .
(CLICK ON PIC FOR VIDEO)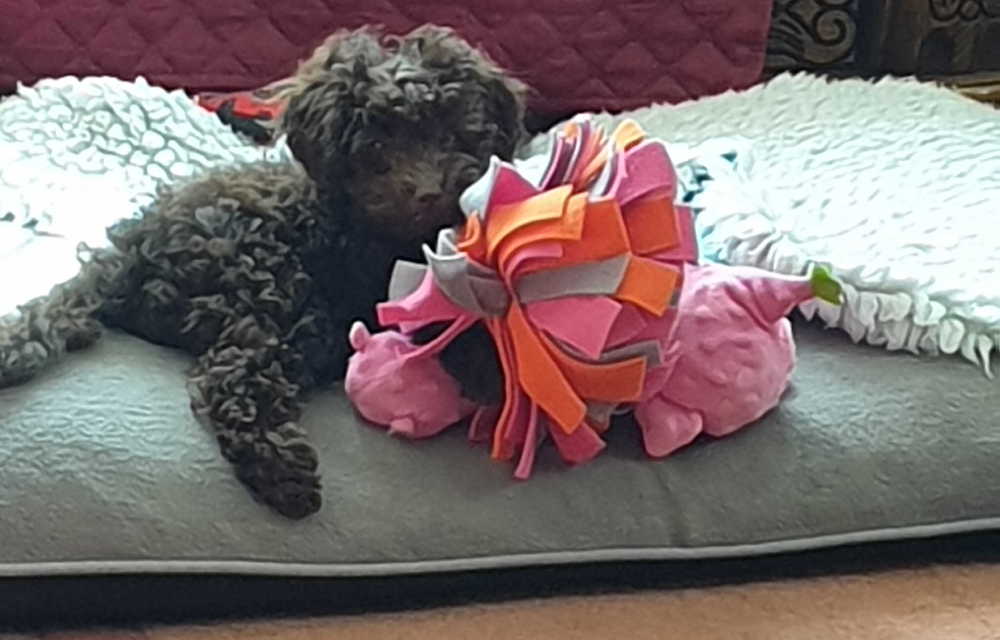 . . . and the Monster sleeping on my shoe (UK size 3).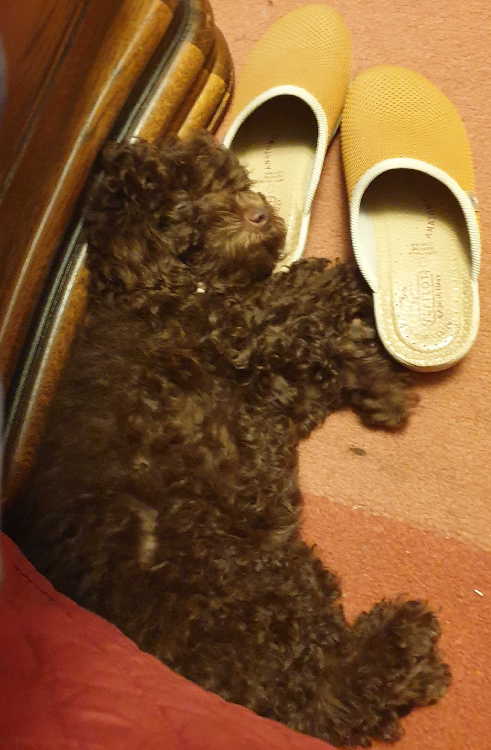 She is 5.2 pounds, 15 weeks today.

---
---



On 13 August 2021, Jackie writes:


She seems to be twice the size in three weeks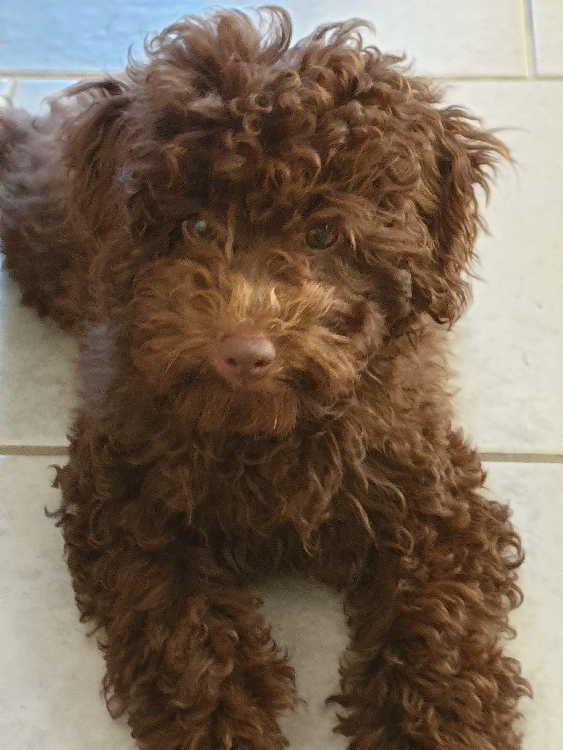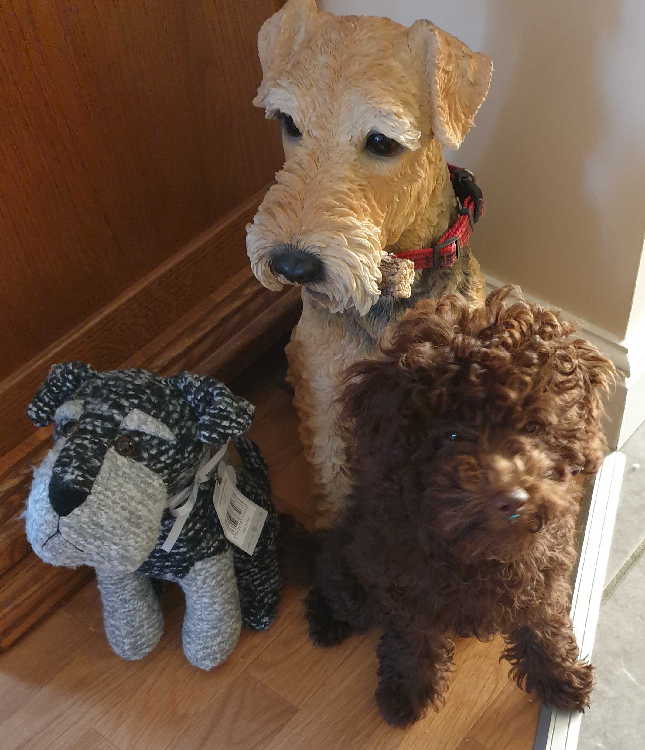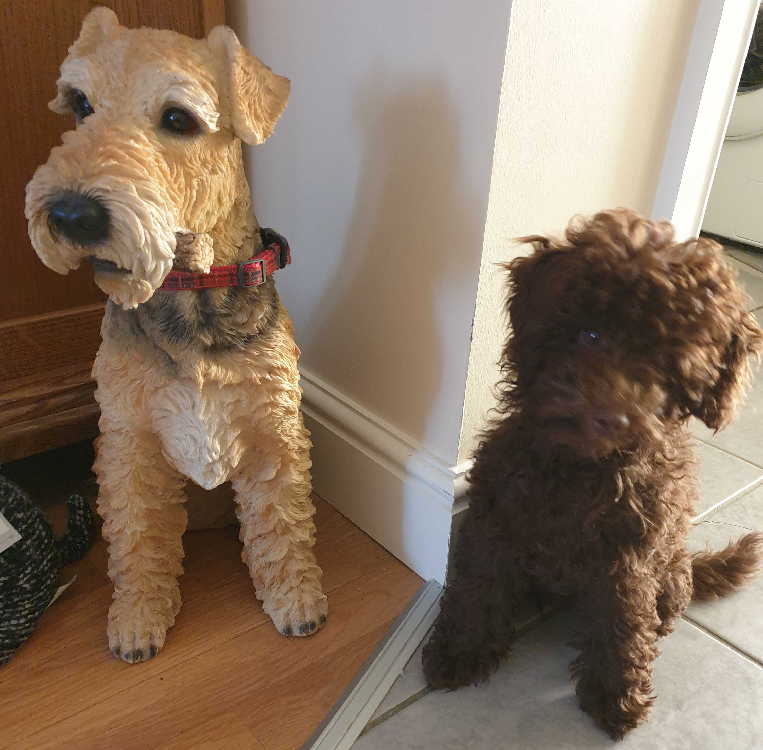 ---
---



On 24 August 2021, Jackie writes:


Lily finished puppy school today.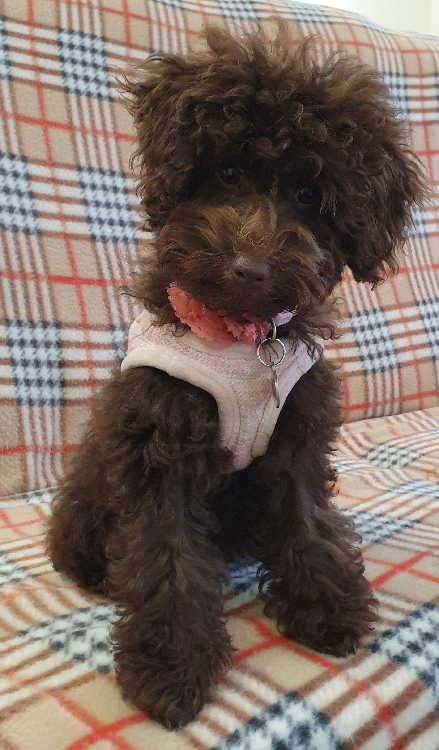 She 3.5 months old weighs 2.2 kg [4.85 pounds] . . .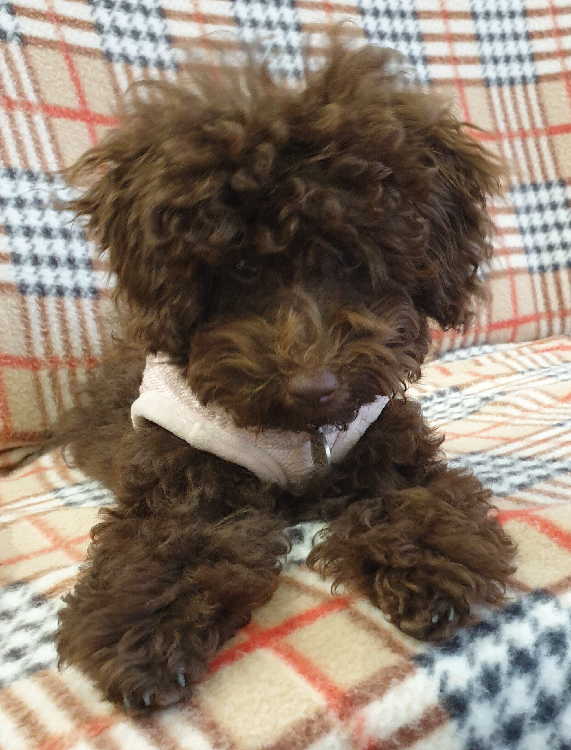 . . . and she is 10 inches high.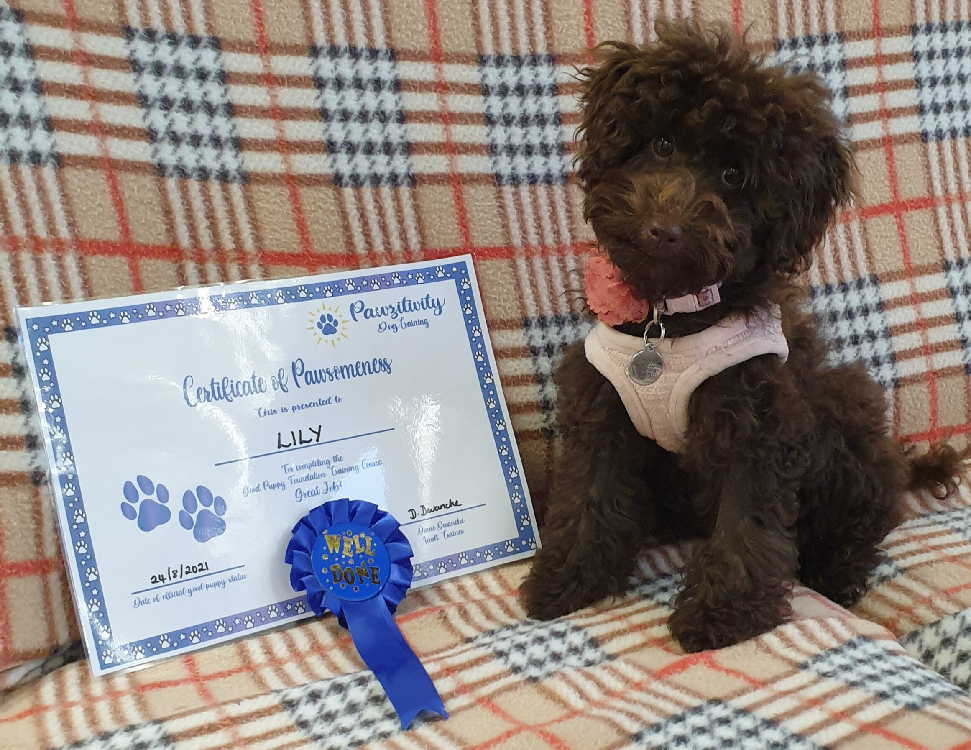 ---
---



On 2 September 2021, Jackie writes:


Lily is still only 2.2 kg, but is taller.
I was saying to Richard this morning that six weeks ago
when we brought her home, she fit in my hand and could run under Suzi.
Today she is halfway up Suzi's side and can put her feet
on her back quite easily, as well as jump off and on the couch.
She used to scale the protector cover like a mountaineer.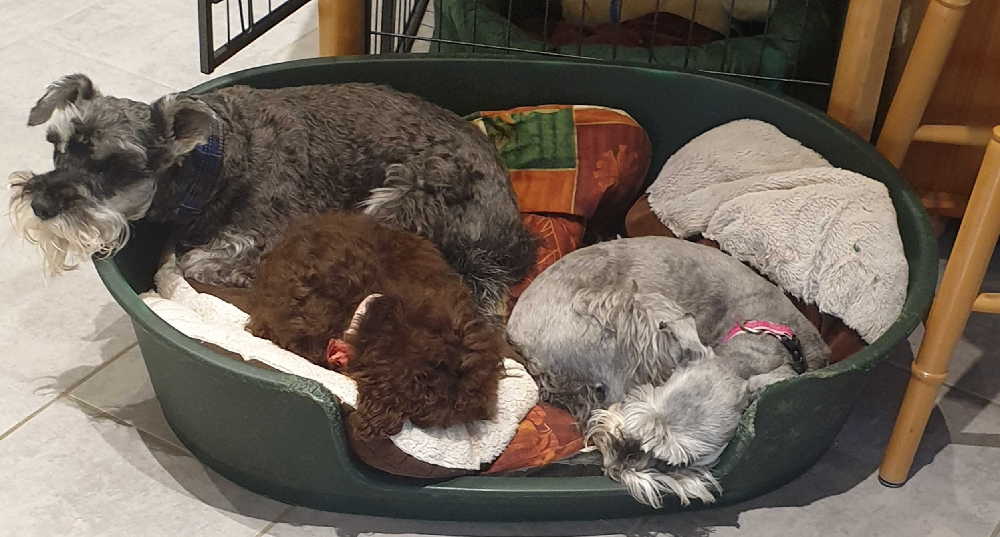 She can still run under Hamish, which really confuses him.
Richard still thinks she looks like a cow pat.
This pic was taken today after the girls had been playing chase & tug
for about an hour. The noise exhausted me,
never mind all the running &: jumping.
I still call her "NOT NOW CATO".





Richard took this picture later that evening . . .