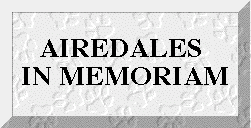 A good dog never dies
she always stays
she walks beside you
on crisp autumn days
when frost is on the fields
and winter's drawing near
her head is within our hand
in her old way.

-- Mary Carolyn Davies

Donations have been made to
Airedale Rescue in memory of . . .

. . . JACK (Ch. White Rose Jolly Beggarman) Lukaszewski, who crossed over The Rainbow Bridge on January 23, 1999.

Do not mourn my passing
for if only you could see,
by slipping all my earthly bonds,
I'm young again and free.
By Day I run the Heavenly Fields,
my body healthy and strong.
At night I sleep at Angel's feet,
lulled by Celestial Song.
So do not mourn my passing,
just close your eyes -
you'll see I'm once again that frisky pup,
just as you remember me.

-- Unknown


. . . HOMER McGurran, who crossed over The Rainbow Bridge on January 29, 1999.

A childish weakness, to regard
An animal whose life is brief
With such affection and such grief.
If this is foolish, so be it.

-- Garrison Keillor


. . . CRACKER JACK Testa

There is sorrow enough in the natural way
From men and women to fill our day;
And when we are certain of sorrow in store,
Why do we always arrange for more?
Brothers and Sisters, I bid you beware
Of giving your heart to a dog to tear.


. . . ANNIE Curtiss

Buy a pup and your money will buy
Love unflinching that cannot lie
Perfect passion and worship fed
By a kick in the ribs or a pat on the head.
Nevertheless it is hardly fair
To risk your heart for a dog to tear.

When the fourteen years which nature permits
Are closing in asthma, or tumor, or fits,
And the vet's unspoken prescription runs
To lethal chambers or loaded guns,
Then you will find -- it's your own affair --
But . . . you've given your heart to a dog to tear.

When the body that lived at your single will,
With its whimper of welcome, is stilled (how still!)
When the spirit that answered your every mood
Is gone - wherever it goes - for good,
You will discover how much you care,
And will give your heart to a dog to tear.

We've sorrow enough in the natural way,
When it comes to burying Christian clay.
Our loves are not given, but only lent,
At compound interest of cent per cent.
Though it is not always the case, I believe,
That the longer we've kept 'em, the more do we grieve:
For, when debts are payable, right or wrong,
A short-time loan is as bad as a long --
So why in Heaven (before we are there)
Should we give our hearts to a dog to tear?

-- Rudyard Kipling, The Power of the Dog


. . . GRACIE Cornelius-Miller, who crossed over the Rainbow Bridge on February 12, 1999

When you came to us,
You filled our heart with joy.
When you left us,
You tore our heart asunder.

Our dear, sweet Gracie,
We shall treasure your loving memory forever.


. . . ACE Beecroft

And did you get what
   you wanted from
  this life, even so?
I did.
And what did you want?
To call myself beloved,
   to feel myself beloved
   on the earth.

-- Raymond Carver, Late Fragment


. . . CHRISTY SUE Teter-Chilton, who crossed over The Rainbow Bridge on March 17, 1999.

Run . . .
Darlings of the fields,
Beloved of the woods.
Run to a better place,
Run for the joy of it,
Run to feel the wind on your face.

And as as you run,
Feel the fears and neglect
That the human world dealt you
Slide off your backs.

Carry only one thing
From this plane -
Love from the humans who cared,
The humans who would have helped
If only they could,
The humans who mourn your passing,
The humans who wish you peace,
The humans who send you bright stars to steer by,
The humans who love.

Run free.
Run loved.

-- Tam Nesbit


. . . BENTLEY Amos, who crossed over The Rainbow Bridge on January 17, 1999.

Think of death as a friend sitting on your left shoulder with a lesson to teach you. One of the lessons is that we should love fully and in the moment. While grief is painful, withholding ourselves from life and love is worse. Dogs grieve, I'm sure. But they do not fear death.

-- Linda Michaels


. . . WHO DUN IT'S CHARLIE CHAN, who crossed over the Rainbow Bridge on June 25, 1999.

A LIVING LOVE (Excerpt)

If you are wise, you will let the tears flow as freely and as often as they must. And if you are typical, you will find that not many in your circle of family or friends will be able to understand your grief, or comfort you.

But if you are true to the love of the pet you cherished through the many joy-filled years, you may find that a soul -- a bit smaller in size than your own -- seems to walk with you, at times, during the lonely days to come.

-- Martin Scot Kosins


. . . JAKE, JR., who was rescued, but whose "Forever Home" was on the other side of the Rainbow Bridge. He crossed over it on August 16, 1999.

Those who rescue strive to find the best homes possible for the animals they rescue. Sometimes that home is on the other side of The Rainbow Bridge.


. . . BRATWURST Karagory, who crossed over The Rainbow Bridge on September 18, 1999, after a stroke. He is greatly missed by Laura.

The dog is a gentleman; I hope to go to his heaven, not man's.

-- Mark Twain, 2 April 1899


. . . TEDDY, who crossed over The Rainbow Bridge in September 1999. He is greatly missed by Ellana Livermore.

Adopt a rescue dog and have a shadow for life.


. . . SPARKY Domeracki, who crossed over the Rainbow Bridge on 13 September 1999. Mary Giese writes:

Sparky was a special needs dog who was very emotionally damaged when Carol rescued her. Sparky required a lot of attention because of the abuse she suffered but she became Carol's "baby" in a home with several pampered rescue dogs. If you have ever seen the ATRA (AIREDALE TERRIER RESCUE & ADOPTION) logo with the dog's head in the life preserver, that was Sparky.

I see so many animals caged without hope. I became angry and asked God, "Why don't you do something about this?" After a long silence she replied, "I did do something. I made you!"













GO TO
AIREDALES IN MEMORIAM, PAGE 3