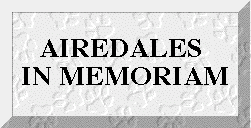 A good dog never dies
she always stays
she walks beside you
on crisp autumn days
when frost is on the fields
and winter's drawing near
her head is within our hand
in her old way.

-- Mary Carolyn Davies

Donations have been made to
Airedale Rescue in memory of . . .

. . . KLK'S ROCKHOUND GOLDBAR DE AAA "BAR", July 31, 1987-January 13, 2000; greatly missed by Sidney Hardie and family.

FROM FRIEND TO FRIEND

You're giving me a special gift,
So sorrowfully endowed,
And through these last few cherished days,
Your courage makes me proud.

But really, love is knowing
When your best friend is in pain,
And understanding earthly acts
Will only be in vain.

So looking deep into your eyes,
Beyond, into your soul,
I see in you the magic, that will
Once more make me whole.

The strength that you possess,
Is why I look to you today,
To do this thing that must be done,
For it's the only way.

That strength is why I've followed you,
And chose you as my friend,
And why I've loved you all these years . . .
My partner 'til the end.

Please, understand just what this gift,
You're giving, means to me,
It gives me back the strength I've lost,
And all my dignity.

You take a stand on my behalf,
For that is what friends do.
And know that what you do is right,
For I believe it too.

So one last time, I breathe your scent,
And through your hand I feel,
The courage that's within you,
To now grant me this appeal.

Cut the leash that holds me here,
Dear friend, and let me run,
Once more a strong and steady dog,
My pain and struggle done.

And don't despair my passing,
For I won't be far away,
Forever here, within your heart
And memory I'll stay.

I'll be there watching over you,
Your ever-faithful friend,
And in your memories I'll run,
. . . a young dog once again.

-- ©Karen Clouston, In Memory of Asta, February 1997
Used with permission


. . . AMOS, who crossed The Rainbow Bridge on February 15, 2000 and is greatly missed by Paul & Kim Hoffman and family.

And, beloved master, should the great Master see fit to deprive me of my health or sight, do not turn me away from you. Rather hold me gently in your arms as skilled hands grant me the merciful boon of eternal rest-and I will leave you knowing with the last breath I drew, my fate was ever safest in your hands.

-- From A Dog's Wish


. . . NICHOLAS aka BUBBA, December 22, 1987-February 18, 2000, who is sadly missed by Debra & Bart Von Bates and family.

OLD DOGS DO NOT DIE

We have a secret, you and I,
That no one else shall know,
For who but I can see you lie,
Each night, in fireglow?

And who but I can reach my hand
Before we go to bed,
And feel the living warmth of you
And touch your silken head?

And only I walk woodland paths,
And see, ahead of me,
Your small form racing with the wind,
So young again, and free.

And only I can see you swim
In every brook I pass . . .
And when I call, no one but I
Can see the bending grass . . .

-- Author Unknown


. . . JENNIE, who crossed The Rainbow Bridge on February 23, 2000 and is greatly missed by Jean & Mungo Maple.

I ask (my person) to remember me always, but not to grieve for me too long. In my life I have tried to be a comfort to her in times of sorrow and a reason for added joy in her life's happiness . . . One last request that I earnestly make. I ask her, for love of me, to have another. It would be a poor tribute to my memory never to have another dog. I would like to feel that once having known me, she cannot live without another dog!

-- Barbara Meyer, The Last Will and Testament of an Extremely Distinguished Dog


. . . BONNIE, who crossed The Rainbow Bridge on April 1, 2000 and is greatly missed by Judy, Roy & Beau Dwiggins

LEND ME A PUP

I will lend to you for awhile, a pup, God said,
For you to love her while she lives
and mourn for her when she's dead.
Maybe for twelve or fourteen years,
or maybe two or three
But will you, 'till I call her back,
take care of her for me?

She'll bring her charms to gladden you
and (should her stay be brief)
you'll always have her memories
as solace for your grief.
I cannot promise she will stay,
since all from earth return
But there are lessons taught below
I want this pup to learn.

I've looked the whole world over
in search of teachers true
And from the folk who crowd life land
I have chosen you.
Now will you give her all your love
Nor think the labour in vain,
Nor hate me when I come to take
my pup back again.

I fancied that I heard them say
"Dear Lord Thy will be done",
For all the joys this pup will bring,
the risk of grief we'll run.
We'll shelter her with tenderness
And for the happiness we've known
forever grateful stay
But should you call her back
much sooner than we'd planned,
We'll brave the bitter grief that comes,
and try to understand.
If, by our love, we've managed,
your wishes to achieve
In memory of her we loved,
to help us while we grieve,
When our faithful bundle
departs this world of strife,
We'll have yet another pup
and love her all her life.


. . . PHOTON, who crossed The Rainbow Bridge in April 2000.

ALL THE GOOD DOGS

What purpose did they serve, all the good dogs that once ran through the world and wait now in the shadowy quiet of the Past?

They lightened our burdens and drove away our enemies and stayed when others left us. They gave aid and comfort, protection and security. They held a mirror where within we might see ourselves as we long to be. They gave us a glimpse of the world beyond the narrow confines of our own species.

Although we make dull students, slowly they help us learn how to command and to protect with wisdom and justice and imagination. They taught, and still teach us, the joy of giving generosity and kindness and love-without the thought of gainful return.

And now . . . all the fleet hounds, the staunch mastiffs, the loyal shepherds, the dancing toys, the fumbling puppies, pets on silk pillows, workers plodding at their tasks, the special ones you loved best, those of ours that we still miss . . .

All the good dogs, goodbye . . . until on some brighter day, in some fairer place, you run out again to greet us.

-- Unknown
Thanks to Jadie Davis for sharing this


. . . SOPHIE, who crossed The Rainbow Bridge on May 1, 2000. She perished in a house fire, as did her human, Professor John Emery, who tried to rescue her. Read the story here:

Cot-death pioneer dies trying to save his dog
by Maggie Walker
2 May 2000
BRITAIN

A professor whose pioneering investigations into cot deaths helped to save hundreds of children's lives was killed yesterday as he tried to rescue his dog from his blazing home.

John Emery, 84, died in the house where he was born in Aylburton, Gloucestershire. His pedigree Airedale terrier, Sophie, died with him.

Professor Emery and his wife Marjorie, 82, had fled the house in the Forest of Dean at 5 a.m. after being woken by smoke and flames. Once safe outside, he ignored his wife's remonstrations and went back for the trapped dog.

Colleagues spoke with affection of the widely-admired pioneer into the causes of cot-death syndrome. Stuart Tanner, Professor of Paediatrics at Sheffield University, said: "He was a small, energetic man with a twinkle in his eye and an inquiring, questioning mind, who didn't mind stirring up controversy to express his views."

Professor Emery had six children and 15 grandchildren, and lived next door to his brother David, who is married to Marjorie Emery's sister Nancy. Yesterday afternoon, the professor's son Peter buried the recovered body of the dog under an apple tree in the garden of the gutted house. He plans to plant a beech tree there in memory of his father, who was a keen gardener.

Peter Emery, 54, an NHS manager, said: "It's been a terrible shock for us all, especially my mother. We're all coming from around the country to support her." Mrs Emery was receiving treatment for smoke inhalation in Gloucestershire Royal Hospital. Police said that the cause of the fire, apparently in an unused downstairs bedroom, was not suspicious.

The professor's father, Bertram, was a headmaster of the village school. Professor Emery's interest in the causes of early-infant death began during the Second World War when, as a young doctor in Bristol, he would visit mothers with young children in their homes. Later, in Sheffield, he carried out post-mortem examinations on cot-death cases, seeking to establish common symptoms. At the time, Sheffield had one of the country's highest incidences of cot deaths. The professor and his colleagues piloted a scheme in which health visitors trained to spot key signs called regularly on mothers of high-risk babies. After a marked fall in cot deaths, similar schemes were adopted nationwide.

The professor sat on the steering committee of the Foundation for the Study of Infant Deaths, and was involved in its Care of Next Infant scheme, which offers support to mothers who have already had one cot-death child. Since 1991, incidences of cot deaths have more than halved in Britain.

The Emeritus Professor of Paediatric Pathology at Sheffied University was also a talented amateur artist who sketched during meetings. He would send the sketches to the subjects with their Christmas cards.

Copyright 2000 Times Newspapers Ltd.

FAREWELL MY HEART

I've come home,
but there is no sound.
I've opened the door,
and peered all around.

Hoping it was all
just a bad dream,
but, no, her bowls sit
mockingly.

No clownish antics,
as I walk in.
No kidney bean dance,
no foolish grin.

No front feet dancing,
no leaping to play.
Oh, God! How can I last
even one more day?

Her life was short,
though she gave so much.
I remember her lean,
just so she could touch.

I remember with joy,
all the times that we had.
All the things that we shared,
all the good and the bad.

My partner in crime,
so swift and so bold.
And it hurt me to watch,
as she grew old.

So, Farewell my Heart,
I must bid you adieu,
but know on your journey,
a piece of me goes with you.

-- Dawn Watkins


. . . ELIZABETH "LIZZIE" LOUISE, May 1993-May 2000, missed by Greg & Christie Redd.

Somebody said, L'espoir est le plus fidele des amants [Hope is the most faithful of lovers] - but I really think it should be put in the plural and applied to dogs. Staunch and faithful little lovers that they are, they give back a hundredfold every sign of love one ever gives them-and it mitigates the pang of losing them to know how very happy a little affection has made them.

-- Edith Warton


. . . AN ANONYMOUS AIREANGEL: Your thoughtful donation to help Airedales in distress is greatly appreciated. Thank you for your generosity and for your compassion.

Love knows not its own depth until the hour of separation.

-- Kahlil Gibran, The Prophet


. . . WESTCHESTER'S LADY REBECCA, "REBA". February 19, 1987-September 3, 2000, missed by Shelley DeMerchant & the AppyaireDale Pack:

Leave this world with love.

May all the dogs that I have ever loved
Carry my coffin
Howl at the moonless sky
And lie down with me sleeping
When I die.

-- Erica Jong, Best Friends


. . . MITAKOLA, March 25, 1990-October 5, 2000. Martin Masters writes:
Ten-and-a-half-year-old Mitakola held on bravely for nine weeks since being diagnosed with hemangiosarcoma. She had the opportunity to be blessed on St. Francis' Feastday, October 4, 2000, but time came to do what was best for the patient. I made the decision to set Mitakola's spirit free on October 5, so my brother and I held her gently and said a few prayers as she took her last breaths in the physical dimension.













GO TO
AIREDALES IN MEMORIAM, PAGE 5