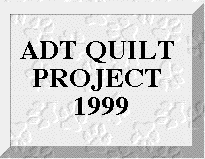 The Airedale . . . an unrivaled mixture of brains and clownish wit, the very ingredients one looks for in a spouse. -- Chip Brown

In January 1999, Lesley Mattuchio wrote: "There was discussion on ADT-L about a pattern from an old Better Homes and Gardens that one of the members was looking for, as it had an ADT on it. Sooooo, the wheels started turning (slowly) and the smoke started to come out my ears as my brain got rollin' and I suggested we make a quilt with everyone who wants to partake creating their own square with their own original design of an ADT. Each could sign his/her square by embroidering or some other way their dog(s)' name(s) on the square.
"Someone who knows what they are doing could put the whole thing together and we would have a quilt similar to the famous AIDS quilt only for our homeless, loveless, unwanted, dejected ADTs. I figured we could either auction it off on E-Bay or at Montgomery this October or (and I like this idea better) we could sell raffle tickets to all the listers on both lists and also sell them at Montgomery and hold the drawing publicly there. I want to try to get as much Rescue dollar as we can. Also the raffle would give a lot of people who do not have the fiscal means to bid at auction a chance to win the quilt.
"This is going to be a true labor of love that many can contribute to. So please ANYone who wants to help out we NEED you. We have a separate list called the ADT QUILTING BEE LIST on egroups and if you would like to be added to this list please let me know. I personally would love to see a quilt that is like a sampler of all kinds of media. Let everyone use what they like best . . . like some could be a cross stitch ADT, some could be crewel embroidery, or how about a beaded ADT, or an ADT scene done in material paints. Maybe even fake black and tan fur ADTs . . . these are just thrown out from my imagination and I know not what I say in terms of the actual doing of it as I don't sew, but I may take a stab at this!
"So far we have Geri Lowe (an award-winning quilter), Linda Cunningham, Christie Williams (two experienced quilters) and Abbe Stashower as the Project Leaders. The QUILTING BEE LIST was established so we could all talk amongst ourselves about this project and help each other out for those of us who don't know what we are doing and need advice and suggestions and virtually need to be lead by the hand (ME of course) can talk without clogging up the regular ADT lists with material talk!
"So what do you all say?????? Please help out on this monumental, landmark project that is going to be just AWESOME and will hopefully raise a whole truckful of money for our Forgotten Airedales and help turn them into Found Airedales. Thanks!"

See the QUILT SQUARES here