THESE PICTURES ARE TO SHOW
WHAT I HOPE TO DO WITH THIS HOUSE
TO MAKE IT SO MUCH BETTER.
IT HAS GOOD "BONES",
BUT NEEDS A LOT OF WORK.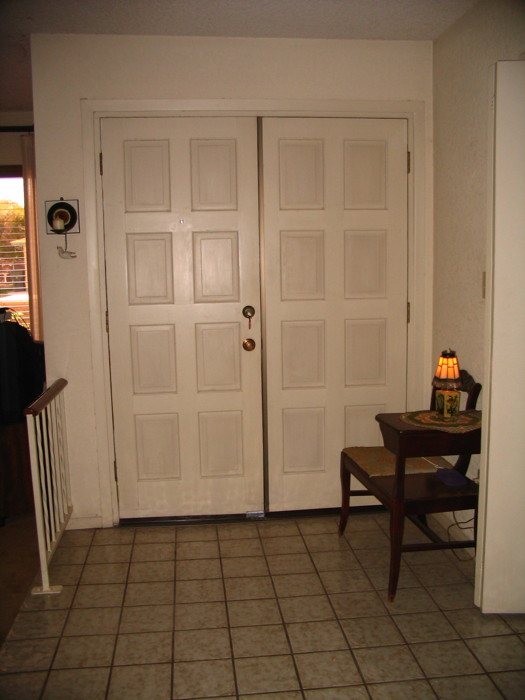 Double front door is useless and makes the hallway dark.
SOLUTION: Front door will be a single door with sidelights
on either side to let more light into the hallway.
Those tiles are extremely slippery so will probably have to be removed,
as well as every square inch of carpeting.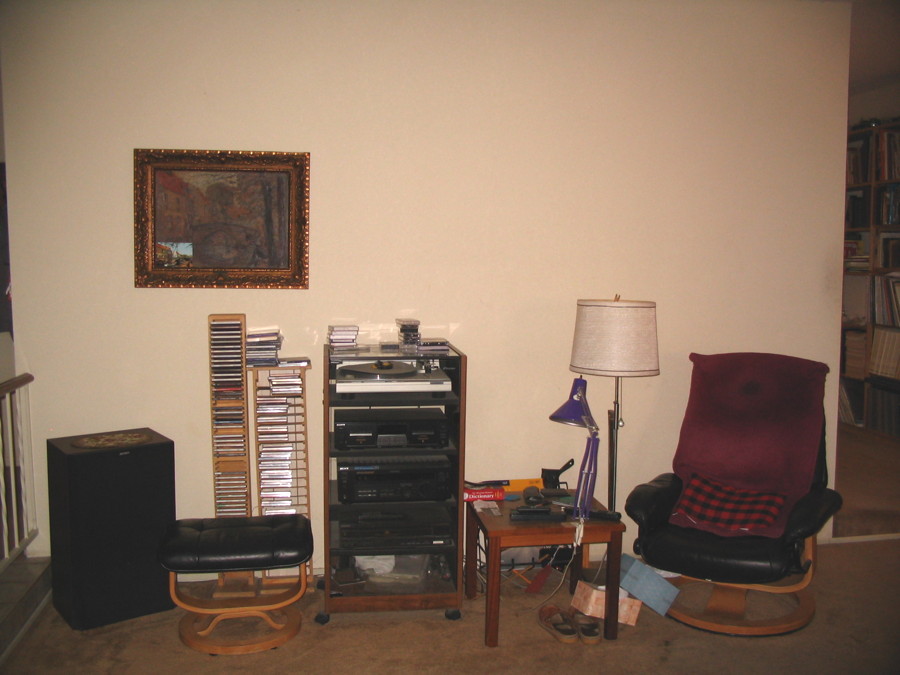 The first thing you see when you come in the front door
is this big blank useless wall.
All it does is separate the kitchen & dining area
from the living room. If you're in the kitchen or DR,
you cannot see out of the front windows nor enjoy the fireplace.
SOLUTION: As this is a bearing wall,
I will probably make an archway with a step down into the LR.

All windows need to be replaced with double-paned ones;
with these single-pane windows,
no wonder the A/C bill is so high!
These two windows will be lowered and become eyebrow windows,
as will all the others on the front of the house.
The fireplace mantle will be replaced with something a lighter color;
the fireplace may be replaced with an electric insert,
but I am sure about that yet.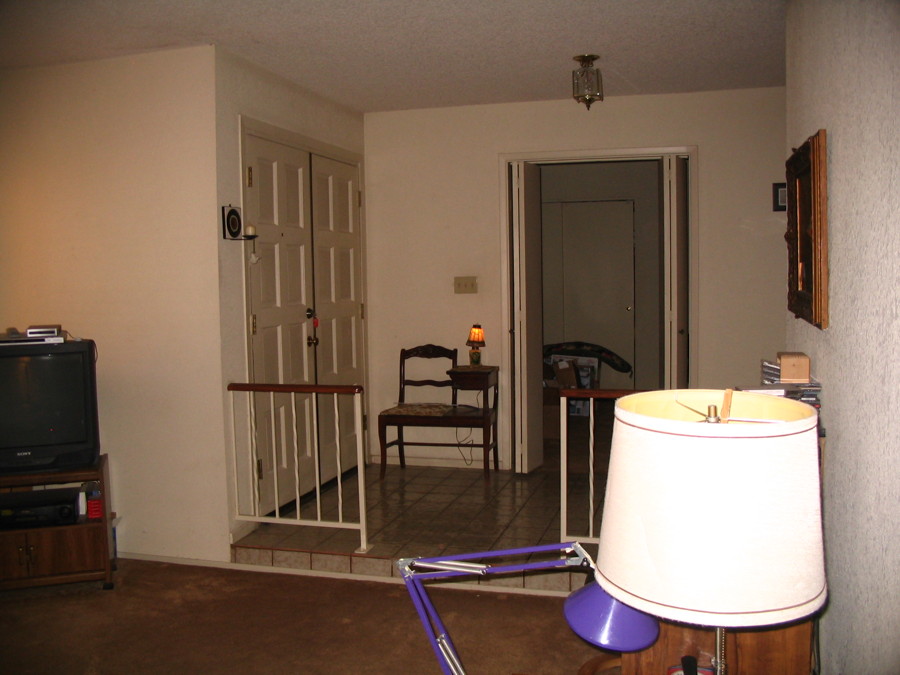 This room is an office or maybe another bedroom
although it's in an awkward place.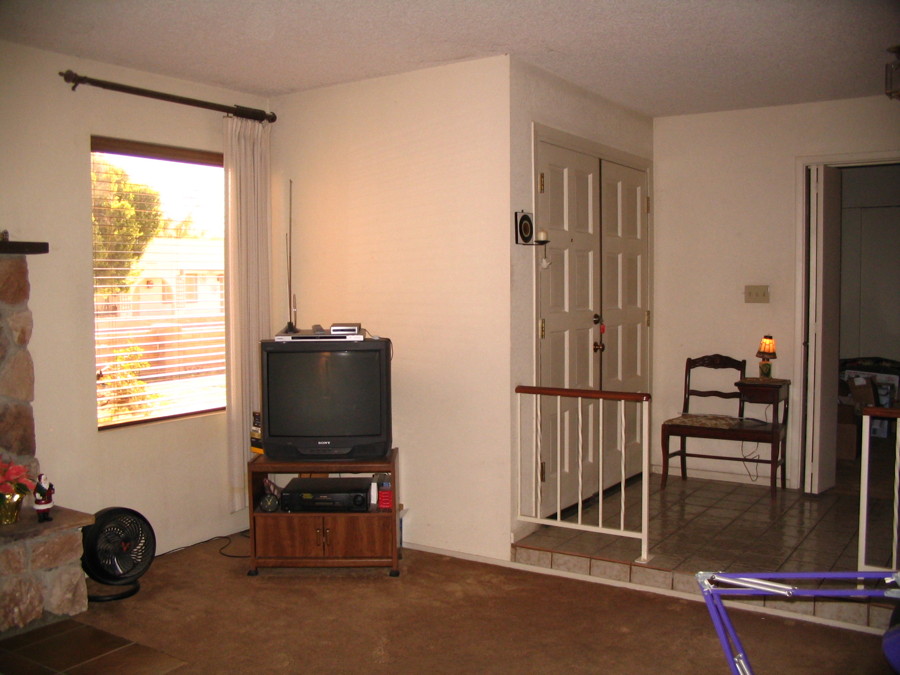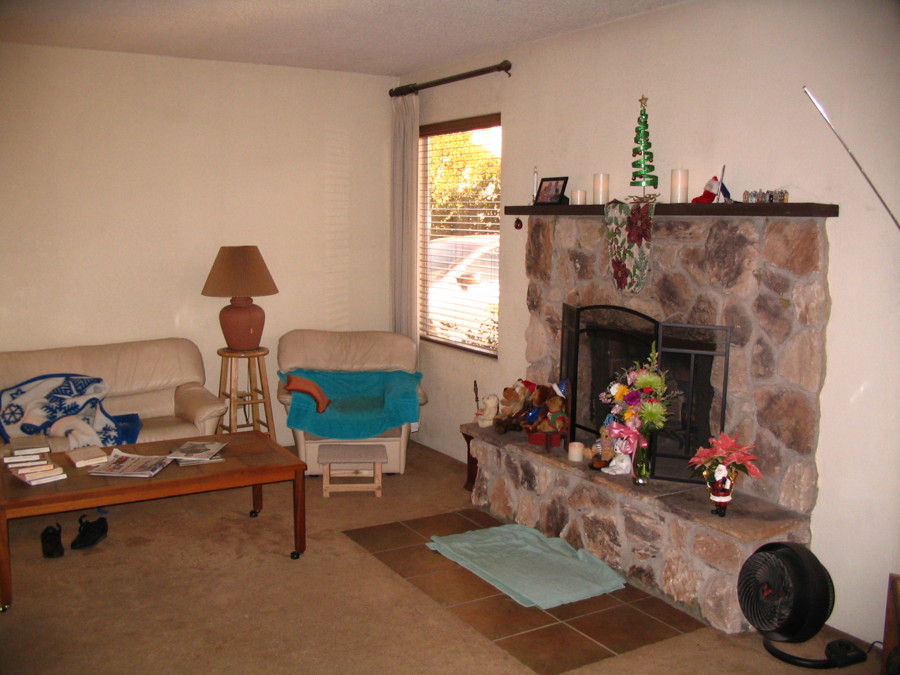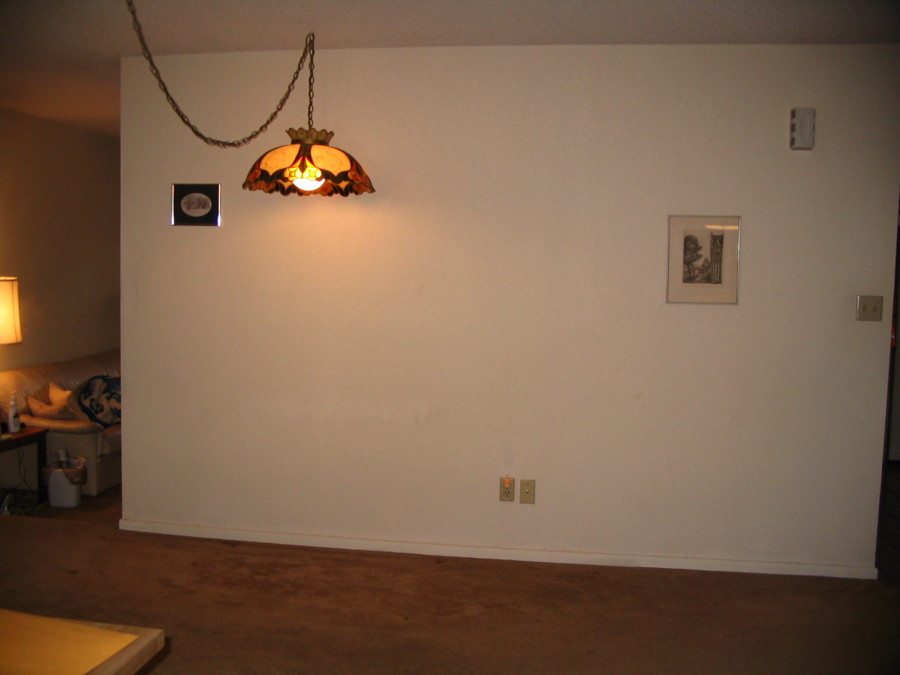 The other side of the big blank wall.
This is what I see as I type this.
I would rather be looking out the windows and at the fireplace.
Light would come into this area from the front windows, too.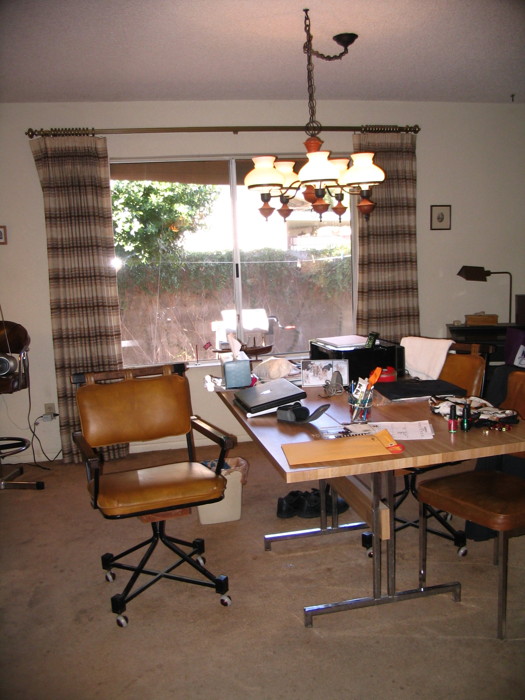 This window is just crying out to become a sliding door . . .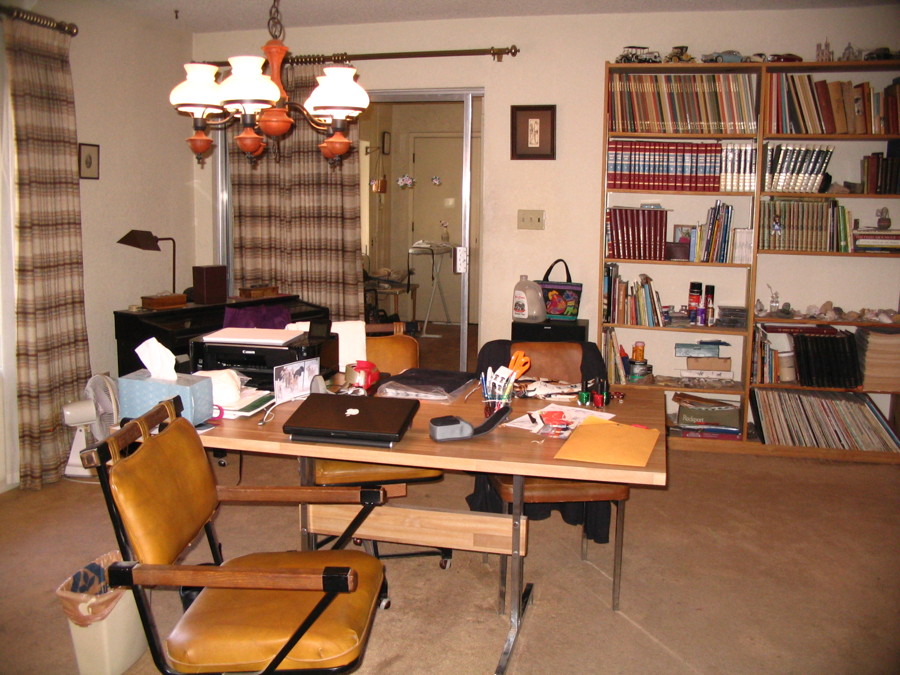 . . . and this sliding door leads to the hallway,
from which I can access the outside, the utility room & the garage.
I'd like to move the utility room further back,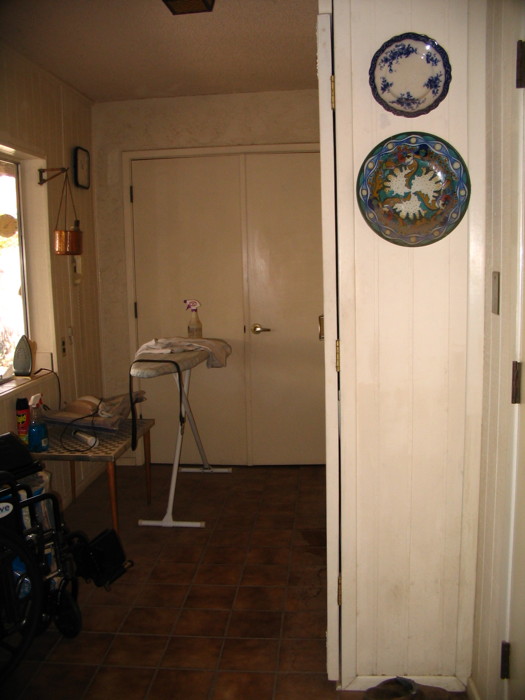 A/C the hallway, take down the doors and integrate the hallway into the house.
It will then lead to to the guest suite, to be built on the other side of the garage.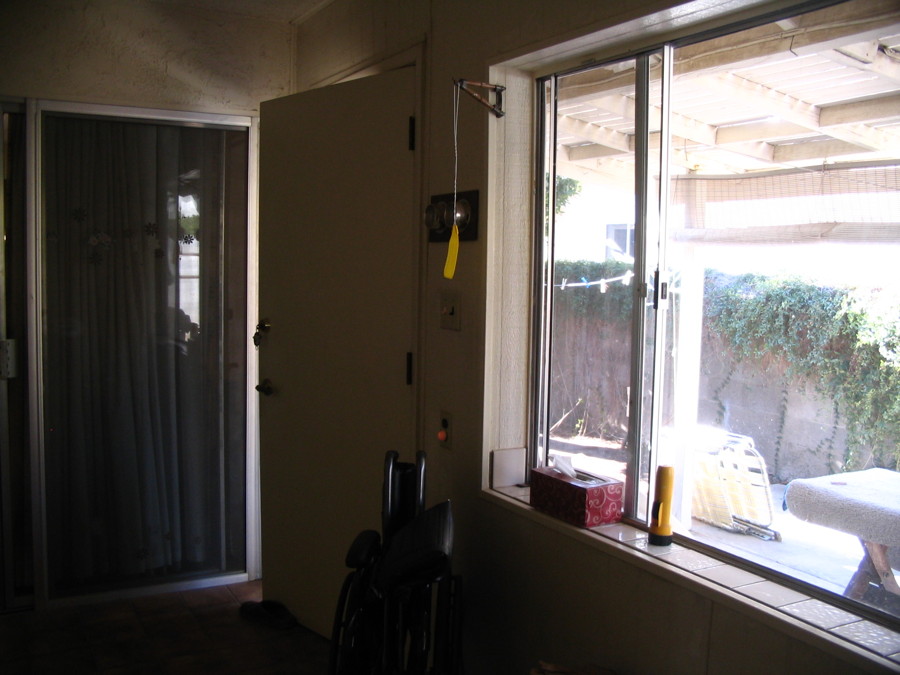 I would then eliminate this little door
(the only exit to the yard, BTW)
and make this large window another patio door.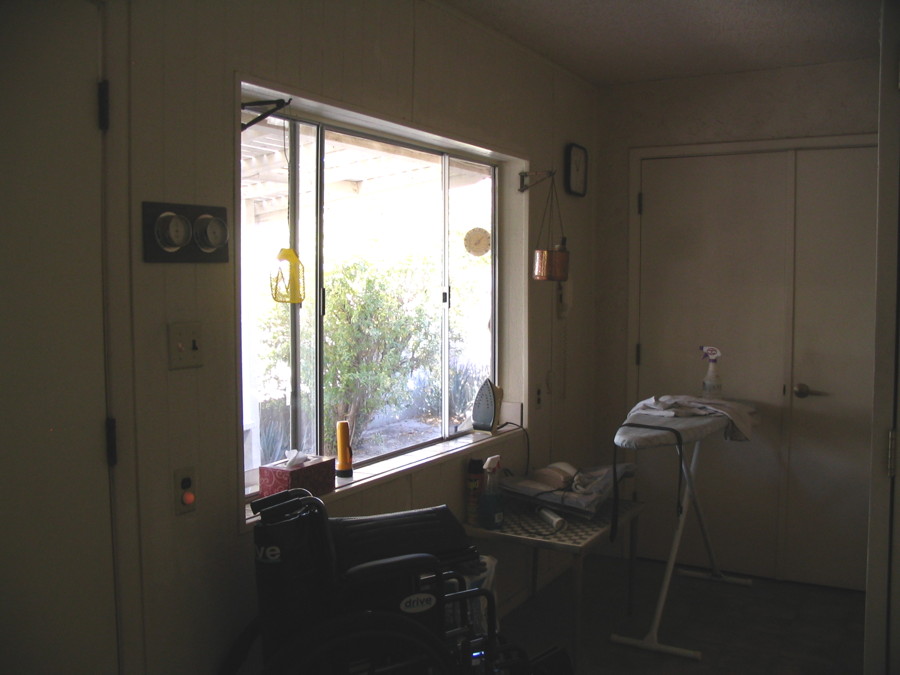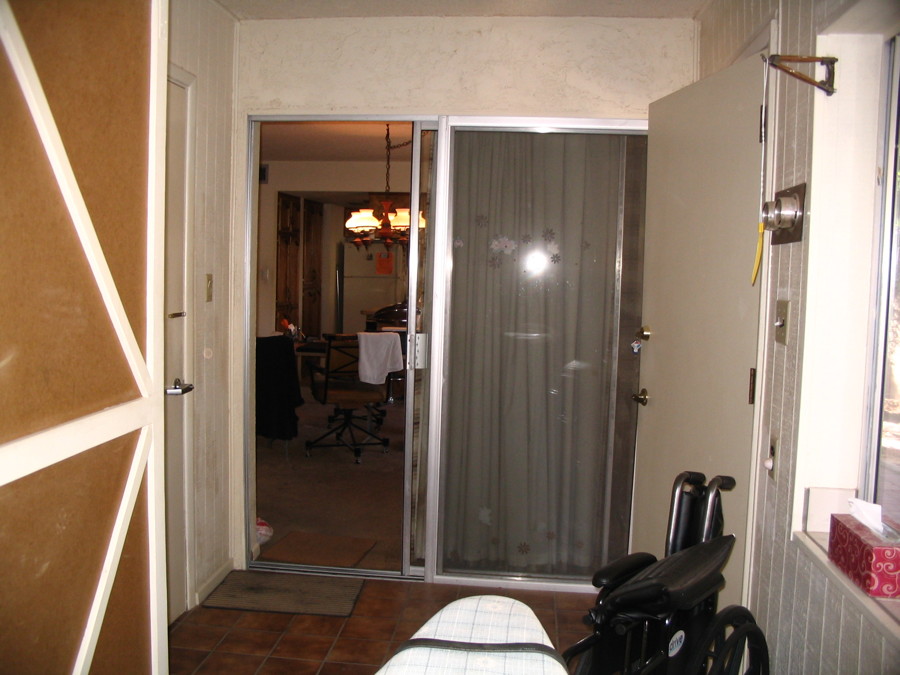 View from the other side, along with the wheelchaire
my Dad refuses to use; he would rather fall.
The cupboard on the left will be removed;
it is full of paper towels, napkins, tissues, etc.
I think he is preparing for Armageddon and by dog,
he won't be caught short of paper goods!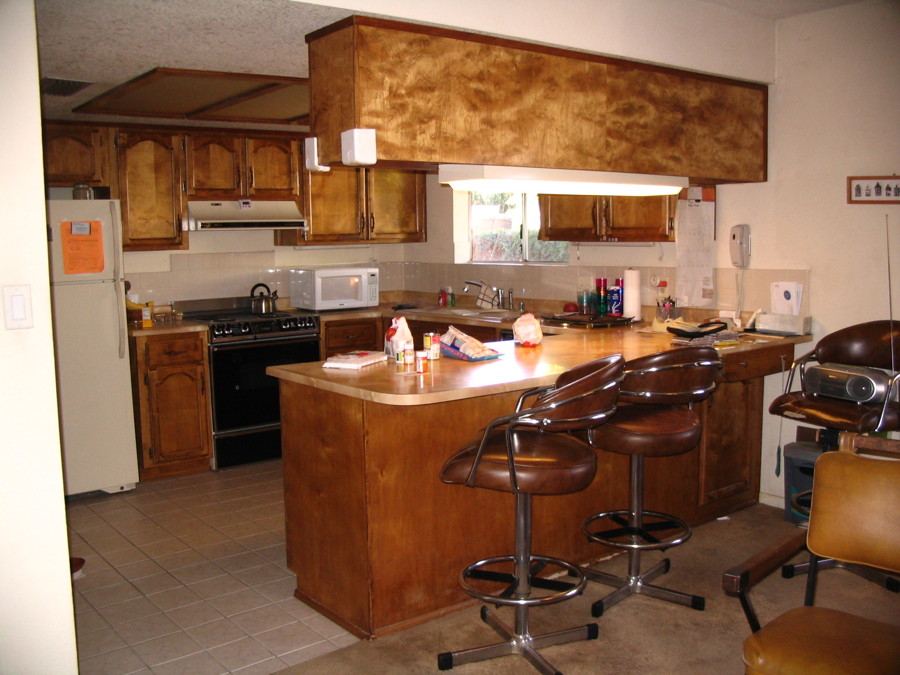 Of course, the only reason I have a kitchen
is 'cause it comes with the house . . . .
I know the appliances and the countertops
will have to be replaced. Other than that
and new chairs for the eating counter,
I haven't many plans for this area.
But I DO know where all the restaurants in town are located!