Linda Savage writes:

On 8 July 2009, CRUSA received an email from Verilee in Connecticut telling us that a female Cairn terrier had been abandoned in her neighbor's fenced yard in the middle of the night.

Verilee took this little girl to her vet to see if she was micro- chipped, which she was not. She then called the local vets & shelters to see if anyone had reported a missing senior female cairn terrier; no one had.

This little girl was given the name Astra.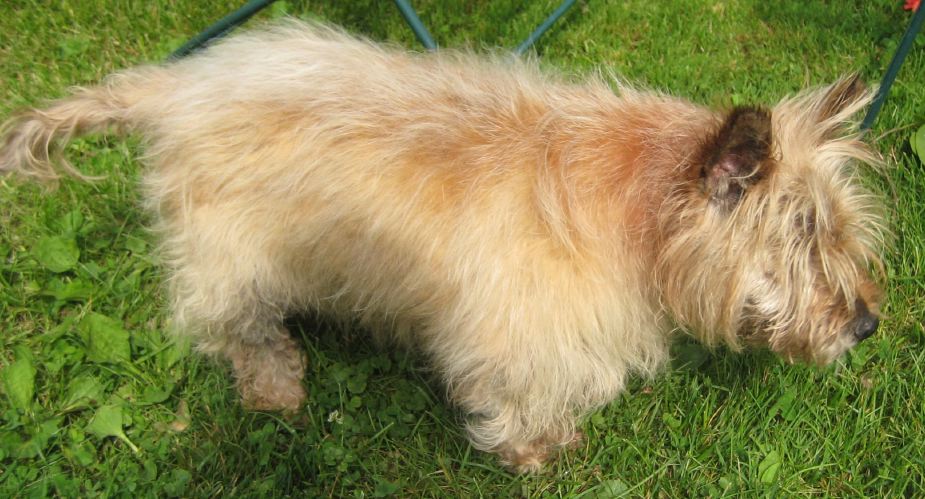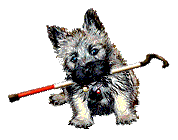 Her most distinctive feature is that her eyes have been removed; the vet seems to think that they had been removed many years ago. While she was with Verilee for nine days before she came into CRUSA, Verilee got Astra her rabies shot and reported that Astra is housebroken and will bark to let you know that she wants & needs to go outside.

When she is outside, she seems to find her way around the yard using her facial hair and does very well. Verilee reported that Astra would find her way to her back porch and waited at the door. Verilee mostly gave Astra free run of the house, but sometimes would crate her. Astra was not happy being crated, but accepted it.

On 25 July, Debbie Hodgens & Linda Savage drove to New Jersey to meet Liz St. George, who drove from Massachusetts with Astra.

Liz took Little Buddy, one of Debbie's senior foster dogs, back with her, as he was adopted and is now living on Cap Cod and enjoying his nice walks on the beach with his new adoptive Dad. Astra will be fostered by JoAnn Elliott & Deanna Tilden in Maryland.
(See JoAnn & Deanna's previous fostering story HERE)

Astra was taken to Debbie's vet, who reported that Astra was around 10 years old, her eyes were removed professionally and she has some hearing lost. She was updated on her shots and extensive blood work was done. Astra tested positive for Lyme disease and Ana plasma which is also a deer tick-borne disease. Astra is on antibiotics for four weeks, one week off and then will have her teeth cleaned. She does have two fatty lumps under her arms & belly, but the vet feels that they are just that - fatty lumps. He also reported that Astra was spayed.

Astra writes:

My savior Mom named me Astra because I sounded like the Jetson's dog, Astro. Please fill free to change it as I don't hear much. I do hear higher pitched voices when called, clapping to call me works sometimes and I have a GREAT nose to find myself back to the front door and to food - my focus in life. I will bark quite a bit if I'm hungry.

I am not always sure how to tell you I need to pee, so watch me for restlessness or take me out when it seems time and I will go. I will sleep in a crate, but prefer not to; it did help me with my potty issues at night. I am afraid of thunder storms and Linda Savage thinks a baby tee- shirt might help. We did not get to try this.

I have been eating Wellness Core Ocean, as that's what Benny dog ate. Probably would be good to get a diet food. Remember, I will eat anything on the floor. I loved it when Benny dog did not finish his food and the savior mom did not pick it up in time!

Thank you so much for giving me a home with love. I am different, but I am still a terrier and would be a very good companion.

Thanks again from
Astra Dog & Verilee

PS: Going down steps is very scary - but I am happy to go up!