DAISY2LEGS
GOES TO HER
FOREVER HOME


18 OCTOBER 2007




Daisy2Legs dragged her two useless back legs into our house,
and into our hearts. She is the youngest of
The Skrenninger Gang of Four,
but I think she just may become the Alpha Dog;
she may be physically pawdicapped, but her mind, her heart
and her attitude are strong!




SEE LITTLE DAISY MERMAID in 2007 HERE

THE GANG OF FOUR'S FIRST GROOMING in 2008 HERE

MEET DAISY FUDD in 2009 HERE

THE GANG OF FOUR'S SECOND GROOMING in 2009 HERE

DAISY'S POSSUM! in 2009 HERE

DOGS JUST WANNA HAVE FUN in 2009 HERE

THE SKRENNINGER SIX-PACK'S THIRD GROOMING in 2009 HERE

THE SKRENNINGER SIX-PACK CATCHES A HERD in 2010 HERE

SEE DAISY'S X-RAYS in 2012 HERE

Medical & transport costs for these and all the other puppymill rescues add up.
You can help by donating online through PayPal -
click either the Cairn or the button below . . .

. . . OR send a check or money order made out to Cairn Rescue USA:


CRUSA
c/o ANDREA DENNINGER
182 SUNWARD AVE
PALM HARBOR FL 34684-1548


Please include your name, mailing address & e-mail address
to receive a receipt for tax purposes.

BABY was rescued, rehabilitated and rehomed though
CairnRescueUSA.

Please stop by CRUSA's website to find YOUR match!

Click on any Cairn above or below to go to the
MENU OF CRUSA RESCUES & EVENTS
FOR WHICH I MAINTAIN WEBSITES

These Pages Constructed by . . .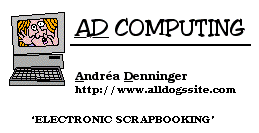 Click on the card to email me

©1996-2016 All rights reserved
Updated 28 SEPTEMBER 2016