Anim Graphic ©1997 Kitty Roach






1 APRIL 1997
WAS
APRIL'S
SIXTH BIRTHDAY!













THE
BIRTHDAY PARTY

April's sixth birthday was special, because her good friend, Bonnie the Scottie, was staying at our house and so we had a party!





---

"OOPS! Hey, is the party over already?
I haven't had any fun yet!"

"Happy Birthday to you!"

"Happy Birthday to me!"

"What?! It's not my birthday?


Other  dogs have birthday parties, too?


You're kidding!"

"Never mind."

After the Birthday Song fiasco, the girls enjoyed "pupcakes" and rawhide shoes
(the only kind they're allowed to chew!) . . .




Bonnie shown with the kind permission of Marilyn & Ken Oliak





Click here to download a QuickTime movie of April's birthday party,
including the song, 'Please Don't Forget My Birthday'
from the CD, "Songs for Dogs (and The People Who Love Them)".
(The clip is 2.5m and takes about 10 minutes to load.)


My thanks to Mr. Scuba for making the video.









APRIL & MISHA (@RB)
CELEBRATE THEIR BIRTHDAYS



We celebrate April's Birthday on 1 April (she probably was born in 1991), Misha's birthday on 25 November (she was born in 1987), Cari's birthday on 12 December (she was born in 1997), and Rico's birthday on 2 September (he was born in 2002). No matter which girl (or boy, in Rico's case) is celebrating her/his birthday, all of them receive a cupcake with lots of whipped cream on it -- but only the birthday pup's cupcake has a candle!





See Cari's First Birthday Celebration (1998) here.


See Rico's First Birthday Celebration (2003) here.















dogs have joined Misha (@RB), April, Cari & Rico on the couch since 16 AUGUST 1996. We hope you all were comfy!!















Please stop and leave a message on the




Be sure to include your dog(s)' name(s)!!












 INTRODUCING MISHA, APRIL, CARI & RICO


Remember to bring along your virtual pooper-scooper!

















These Pages Constructed by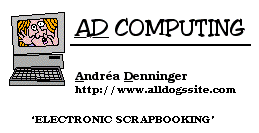 ©1996-2006 All rights reserved
Updated 29 MAY 2006