It was at this point he told me he had made a mistake and
another rescue was on its way to pick up the male.
He asked if we wanted to just take the female,
or if I wanted him to call the other rescue
to see if it would let us have them both.
He said he would call the other rescue since it was his mistake,
and I said, please do.

I was most concerned about getting the male out
if he needed to be seen by a vet for his leg.

The other rescue arrived at the shelter a few minutes after
our phone conversation. It was Janie Mudrick from Hand in Paw Rescue.
Not only did she let us take both dogs,
she let Will use her rescue as the pulling group and
the fee was half of what it would have been if he pulled them.
People are just so good sometimes!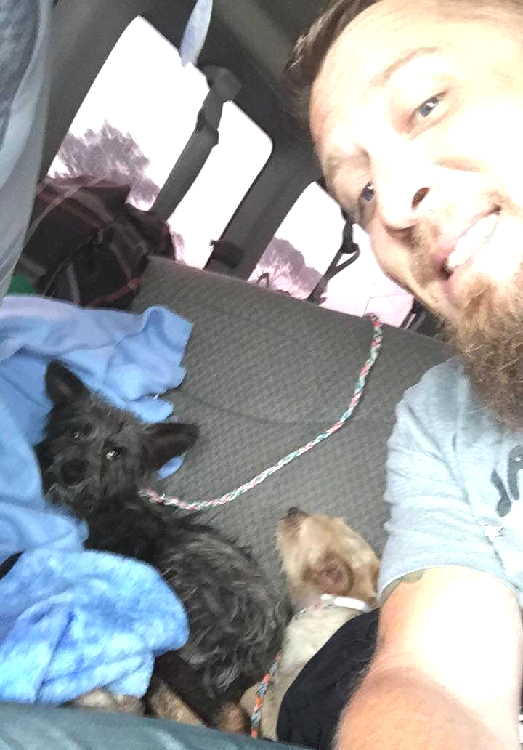 Will transported the dogs to the vet in,
North Tustin Veterinary, in Tustin, California.

The initial report that we got on the dogs was heart-wrenching.
Katie must have been pregnant when she was spayed; she was lactating.
There were problems with her incision from the spay and it looked infected.

Bob had an infection from his neuter and was oozing pus.
Both dogs had ticks, fleas, and mites.
The vet said they needed to stay overnight for IV meds;
he was literally in tears over the condition of these dogs,
saying that if they had stayed in the shelter another day,
they would have died.

The dogs were released the next day
(Friday) in the afternoon with multiple medications.

They are very timid and afraid of people and have been mostly hiding so far.
Last night, Katie was getting more curious and
starting to come out a little and explore.
Both dogs ate well last night;
their foster mom made chicken and sweet potatoes for them.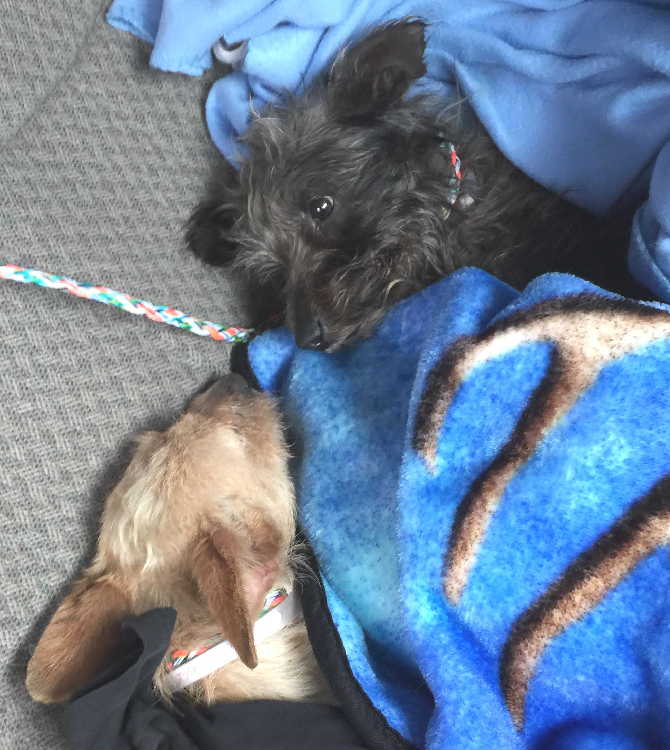 CRUSA would like to thank:
Melanie, Shell, BJ, Will, Janie & Christine;
it certainly took a village to rescue these two!

---
---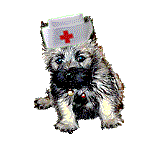 NEAL SKRENES:
Amazing effort by many yields a happy resolution for these Cairns.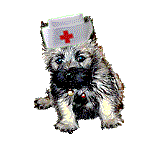 TONI BONNEY:
Oh, wow, poor kids. I hope they get into their foster home soon. Both cute.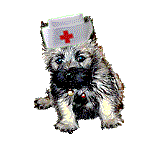 ANITA CHAROCHAK:
OMG the poor babies; we wish them all the good in the world.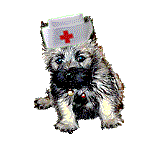 MAUREEN SCOTT
In Canada:
What an account! Those two little ones are so very fortunate that rescue groups like yours refuse to take NO for an answer. Well done!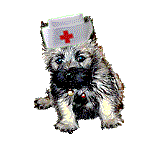 DOREEN MUNDIE:
Those poor abused Cairns . . . people are so stupid and unkind. I am glad they are young and will recover. Bless the little things . . . all that pain and misery. Won't take too long for them to learn about love.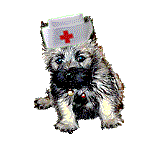 JACKIE PARKER
In England:
I'm so glad they were rescued and in safe homes where they will have love, care, and good food.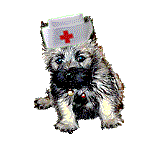 JACKIE IKE:
WOW, how horrible for these two . . . they will feel better real soon and be on their way to the best homes ever for them!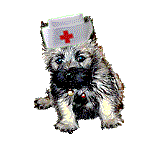 BETTE BOYERS:
My heart is smiling! CRUSA rocks!