Thank you, Victoria, for transporting Brody from the vet clinic in Clarksville.

On 14 November, Peggy writes:

When Brody's owner took him to the vet to get his eyes checked
because they were all crusty, he was diagnosed with dry eye.
The owner said she couldn't afford the eye meds,
so she told the staff she was taking him to the shelter.
They said please don't - they would find a rescue to take him.
She then told them she would take him to get groomed
and wait until the vet office could find a rescue.

Sorry for the bluntness, but the b*tch took him straight to
the animal shelter, and he didn't get groomed either.

She called the vet office to tell them she took him to the shelter.
The vet office immediately called the shelter and told the staff
that someone from the vet office would get him the next morning,
and they did. So he was basically an owner surrender to the shelter,
but thankfully he only spent one night in quarantine
to keep him away from the other dogs at the shelter.

The vet started him on his eye meds and got him UTD on everything;
his liver enzymes were a little high, so started him on liver meds,
but think it may be due to stress.

Taking him this morning to see if water therapy will help
his back leg muscles get some strength back in them.
He owner kept him crated 12 to 14 hours a day,
so he is very weak walking on them.

Later the same day:

Just got home from his evaluation for water therapy
and the vet said he was a great candidate for it.
She also said that he is blind and partially deaf.
Poor little fellow is healthy, just blind, partially deaf
and weak in his back legs.
I've already seen a big difference with his walking around,
but water therapy would get his muscles stronger faster.

Taking him tomorrow to get him groomed.

---
---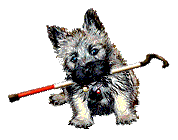 JACKIE IKE:
What a beautiful dog . . why oh why would she not give him to a safe place . . thank dog he is safe now! Thank you to his rescuers.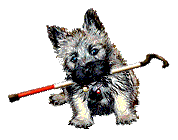 CATHY BIERSACK:
Thank goodness.