You can see here how he hunches up his hindquarters;
you can feel all his bones, so he's obviously been neglected.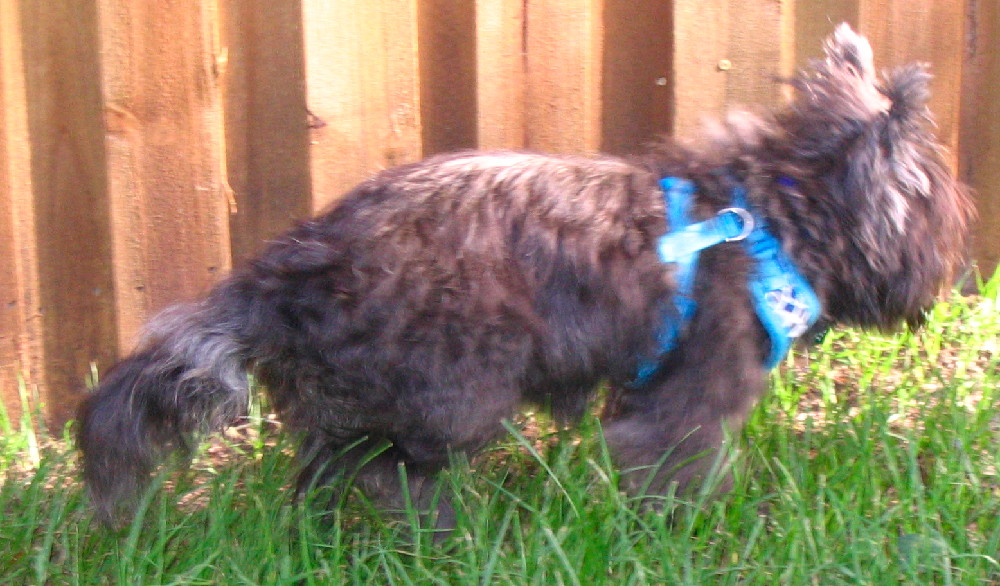 He eats well with others, thankfully . . . and weighs 12.2 pounds
(For once, not a big galoot!)

---
---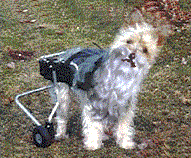 MAUREEN SCOTT
in CANADA:
You got him! Lucky lucky old man. I'm so happy that you have this old fellow.
I have a real soft spot for old dogs, especially abandoned old dogs.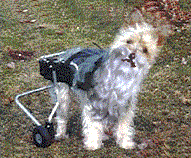 NEAL SKRENES:
Awww - poor guy. I hope he can find a good home.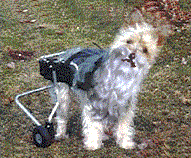 JACKIE McGUINNESS-PARKER
in England:
Welcome, Buddy, you are going to have a very nice retirement.
He looks like he has a bit of Skye Terrier in him, but no doubt
by the end of today, he will look all Cairn. He does look happy.
I'm sending you a few dollars towards his hair cut.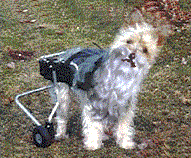 GAYLE KIESOW:
His lucky day to win you as the prize! Looks purebred from these pics;
a cutie for sure.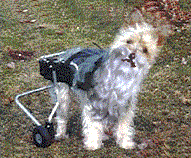 BJ ISAACS:
Thank you both so very much for getting this poor baby; isn't he just precious!
I swear I just want to kiss that cute face!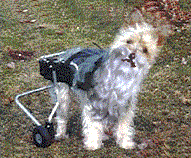 LINDA SAVAGE:
I love the black ones. Can't wait to see him groomed. Thanks for fostering.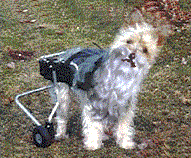 ELAINE ALGER:
Bless everyone involved in helping the little guy.
Imagine the old one just fading away in the shelter with no love or caring.

No chance of that . . . he's already taken over a couch . . .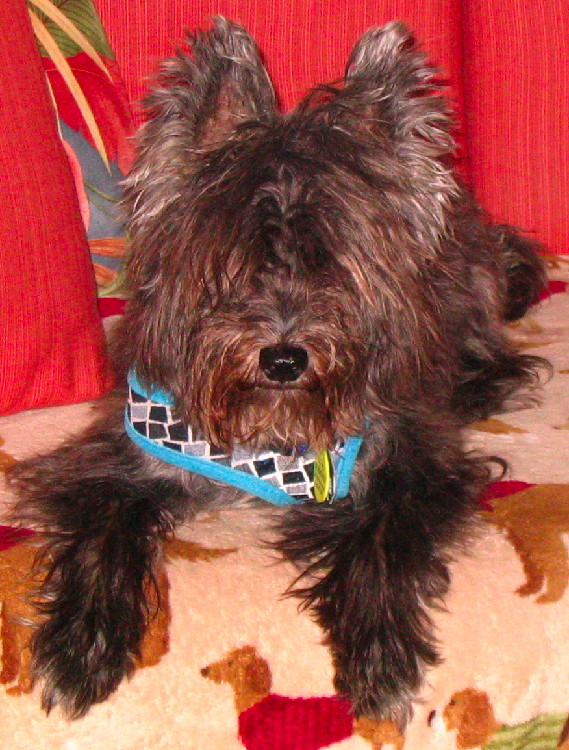 (Doesn't he look like a miniature Briard??)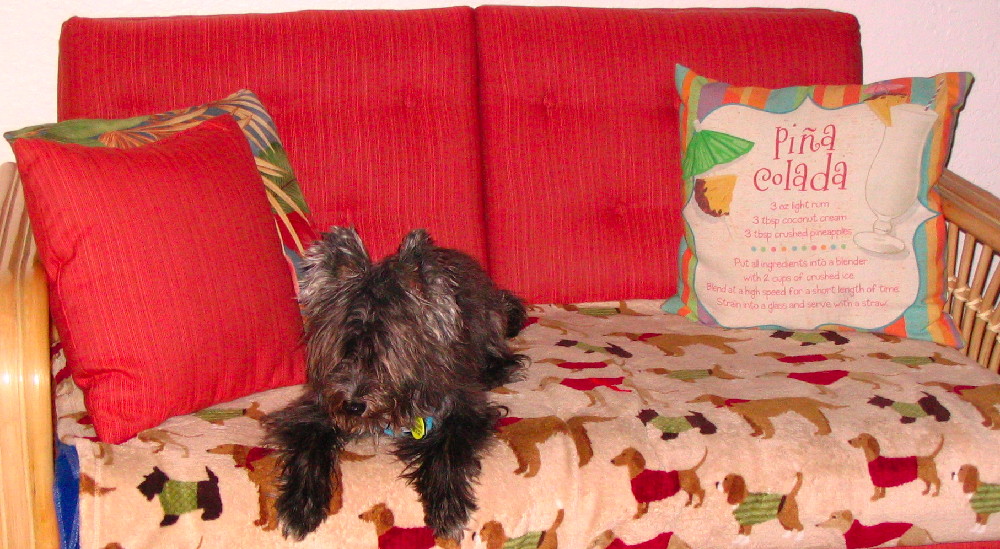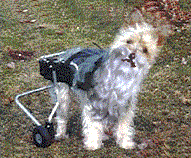 SHELL LEWIS:
Buddy is so adorable.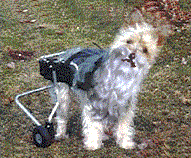 PATRICIA YARNOT:
My heart goes out to this senior boy! You know Buddy will be a character
once he feels secure and has good nutrition and care.
Can't wait to hear how the vet says he is and see his transformation.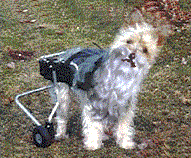 SUE HENDERSON:
Wish there were more people to take care of the especially needy rescues.
Amazing that he has lasted this long, despite neglect.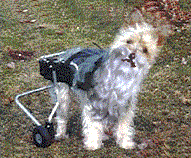 MARY BING:
You are a blessing to our fur kids.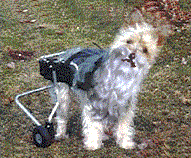 DOREEN MUNDIE:
The Angel MOM is at it again . . . he is a lucky old guy . . .
that is a ripe old age and he will feel so much better, clean & groomed
& getting loving touch & good food. I hope he does not have a lot of pain . . .
must have some to stand that way . . . no living creature deserves to be deserted at that age.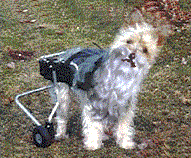 ANITA CHAROCHAK:
What a precious face!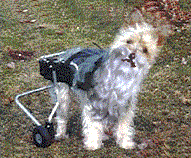 KATIE KNEESEL:
This absolutely breaks my heart and brings tears to my eyes. This poor dog!
I just don't understand people. So glad he found you!
[Actually, he first found Jackie Ike, who then found me.]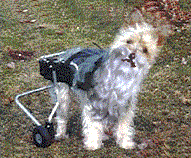 PEGGY NALLEY:
How do you give up a senior dog??? just blows my mind.
You're in great hands Buddy! Wish I lived with Andréa;
I need some tender loving care which we all know you will get from her.

Jackie replies:

The caretaker/owner died and no one else wanted or could take him.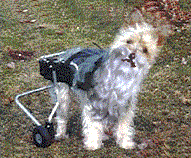 PEGGY NALLEY:
Well then, that's something that is unavoidable. But what kills me is that they
don't make arrangements with someone to take care of their dogs in case of death.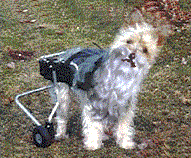 KATHY WALKER:
Really. The care of our dog (we're down to one now from a high of seven) is spelled out in our wills.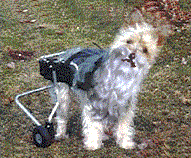 RITA COUGHLIN:
I have a soft spot for cute little old doggies. Give Buddy a big hug for me,
and tell him Robbie says 'woof!' and Goldi sends him a kissy.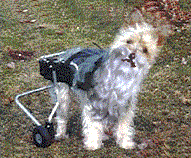 MARE MOORE
in CANADA:
I'm with Maureen, got a real soft spot for these oldies but goodies.
Really pains ya to see old ones like him wind up in a shelter;
seems such a crime to me.