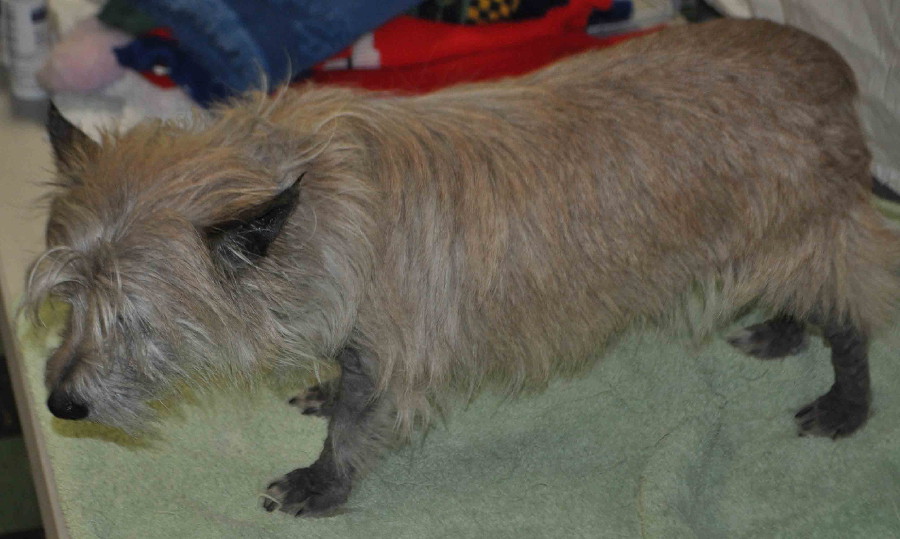 Linda Savage writes:

Buster2 came into CRUSA on as an owner surrender.
He had been purchased by the owner when her husband
was diagnosed with cancer to keep him company while
he was going thru cancer treatment. The husband died in 2009.
Buster's DOB is 11/14/05, so he's just seven years old.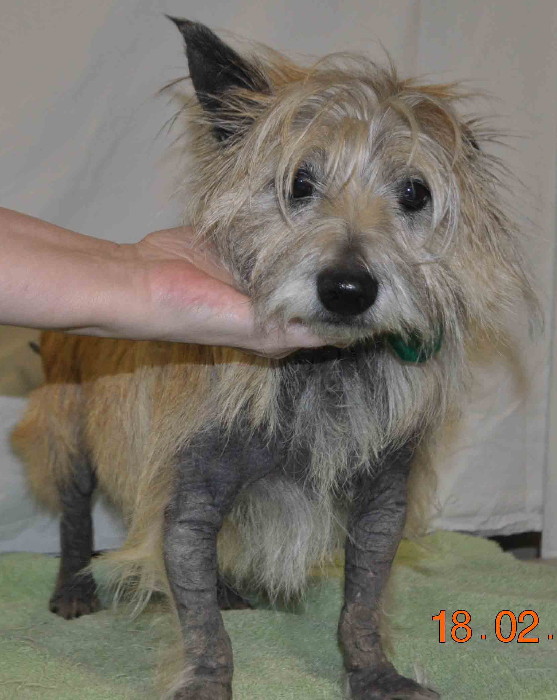 Buster2 had with allergies and was untreated until some time last year.
The owner had a baby, who is now nine months old;
she did not let Buster into the house for at least the last nine months.
Buster ate and slept in a 4' x 4' area,
just inside the back door of the house, which was
baby-gated off from the main part of the house.
He had access to the back yard with a doggie door so he
could let himself in & out when needed;
according to the owner, Buster spent most of his time in the back yard.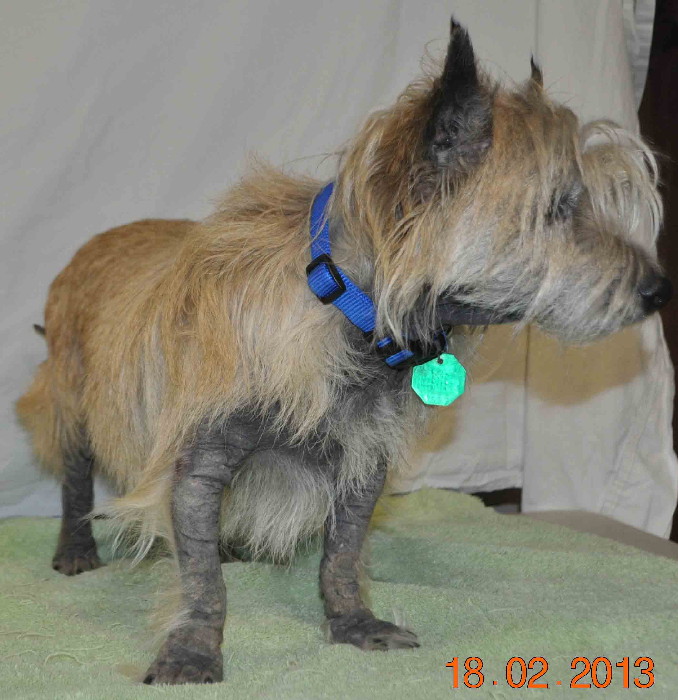 From the dates on the bottles and the number of pills remaining,
it is clear that the meds I was given for Buster2
had not been administered on a daily basis
as was instructed on the labels,
but he was eating a hypo-allergenic dog food (Hill's z/d).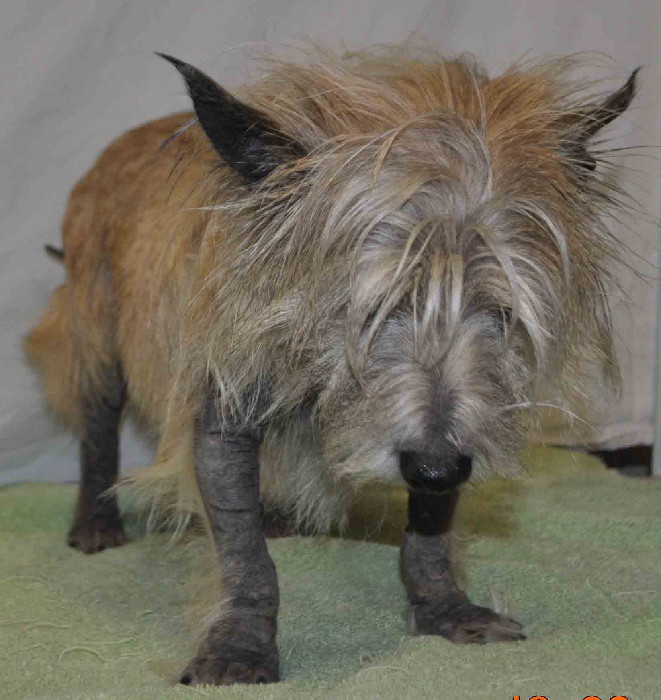 On 19 February, Herb took Buster2 to our vet,
who said that Buster2 has had this allergic skin condition
for a long time, with only infrequent attention.
He did a Superchem, CBC, T4 blood test & skin scrape.
Buster tested negative for mange,
but has a secondary fungal infection for which
the vet prescribed an anti-fungal med.
He thinks it would probably be best if Buster
were treated by a veterinary dermatologist.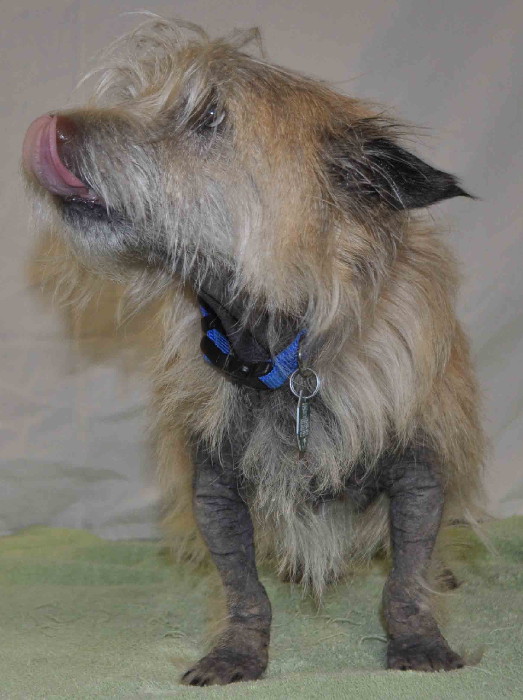 Buster's blood work will be completed on 20 February;
my vet will let us know what steps he thinks we should take
for treatment and give us a referral to a dermatologist.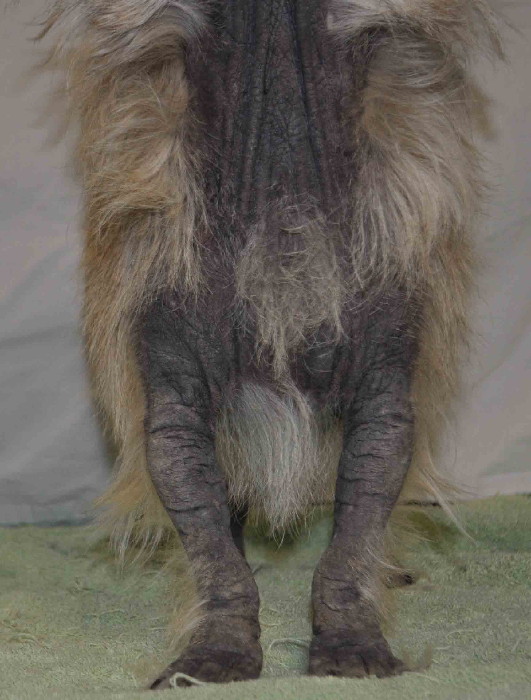 His toenails were so long,
my vet could only cut so much off without hurting him.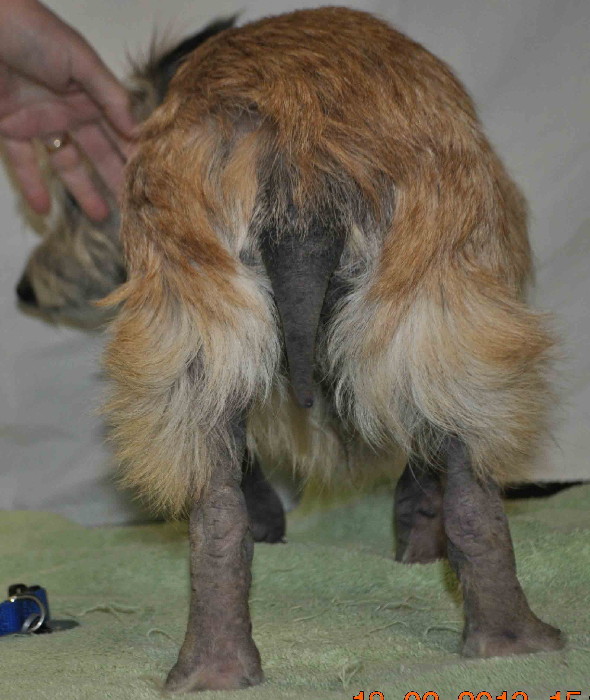 I asked the owner for any belongings such as a crate, blankets & toys.
She gave me two dirty red leads; he was wearing a filthy harness.
She said if he had any toys they are probably buried in the back yard.

This dog loves toys and he runs through the house
with them in his mouth and throws them up in the air
and catches them. He also likes balls and will bring them
back for you to throw again & again & again.
At our house, he likes spending his time inside
sleeping on a nice warm dog bed.

Buster2 is totally housebroken and gets along very well
with our dogs with no issues whatsoever.
He is a sweet & affectionate dog who just needs someone
to give him the love & attention that he asks for in those big brown eyes.