Anim Graphic ©1997 Kitty Roach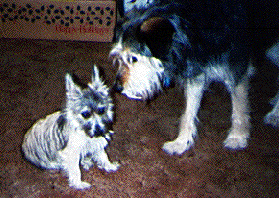 April investigates . . .







| | |
| --- | --- |
| | Cari wasted no time discovering the toy box! Every morning, most of the toys are strewn around the house. Of course, every evening, I pick them up and put them back in their box. "Who is playing with whom?" I sometimes wonder. |



Cari's favorite toy is RastaMon, which was a Christmas gift to Misha (@RB), made by Cornelia Tegart of the Yukon.





She wasn't quite sure if taking the toys was OK, but she got over her shyness pretty quickly. Now, anything lying on the floor is "fair game".











CONTINUE WITH CARI'S STORY HERE