On 8 February, Herb & I drove four hours round-trip to pick up CoCo.
His skin was inflamed & red and
he constantly scratched himself on the way home.
When I got home with CoCo, I gave him a Benadryl
and rubbed Vetericyn all over his infected areas.
By morning, his infected areas were not as red
and only warm to the touch.
I was able to give him a medicated bath on 10 February
and put a onesie on him.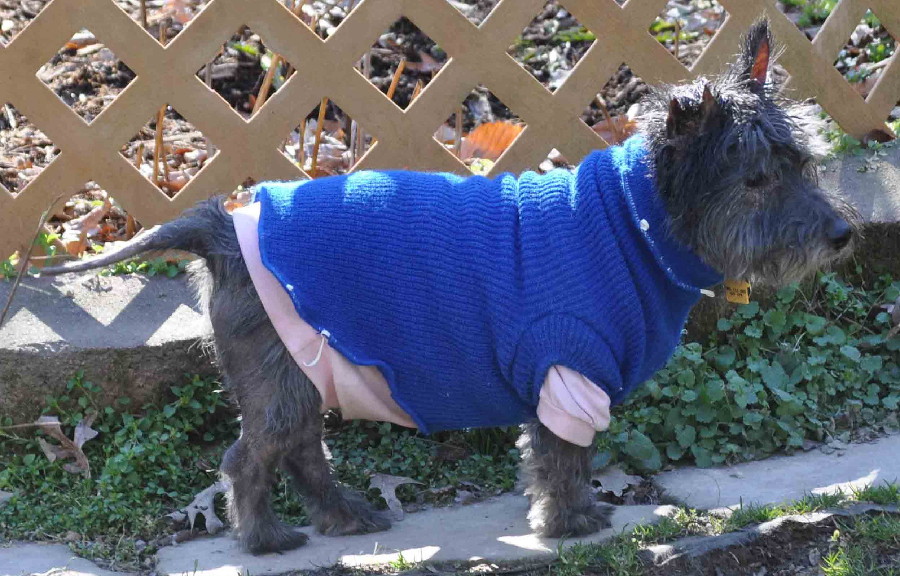 On 11 February, CoCo's skin did not look that red
and was just barely warm to the touch.
We went to the vet for an exam and all shots,
as he was not UTD on any shots.
I did learn from the shelter that CoCo was on prednisone
for many months, which is not good for any dog,
and was fed Pedigee Dog Food.

CoCo did very well at the vet without any issues.
The vet checked him out all over, gave him his shots,
did extended blood work to check his thyroid, kidneys & liver,
microchipped him, and shaved the hair out of & from around his ears,
as his ears are so badly infected that the ear canals are almost closed.
I have to clean his ears out every day and
put medicine in them to keep them clean & open.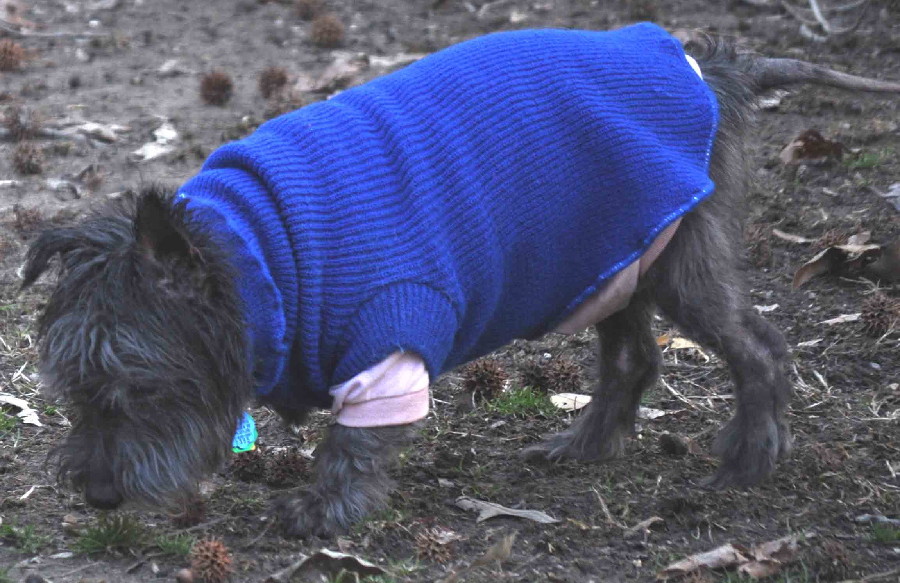 Instead of giving CoCo a bath every three or four days,
the vet has me damping CoCo's coat with water,
then rubbing Res-Ketochlor over his infected areas daily.
This will help with the infections & redness.
CoCo is also on 250 mg of Cephalaxin for 20 days and
25 mg of Benadryl two to three times a day.
Then we go back to the vet for a recheck in three weeks.

On 16 February, CoCo came down with kennel cough
and is now on antibiotics for his cough.

CoCo's hair is coming in slowly and he starting to look good.
CoCo is a sweet dog, fully housebroken,
who loves to sleep in one of the big dog beds in our bedroom.
He does not ask to get in bed with us which is fine,
as we have so many dogs in bed with us already.
He has no food issues and eats with the other dogs.
He uses the doggie door to go outside to explore and go potty.
We can tell that he is feeling much better,
as he has started playing with the other dogs,
one being our Irish Wolfhound Logan,
and the other being Ella, our-nine-month-old CRUSA foster.

UPDATE: We had a small setback,
as he has started chewing on his tail.
That is why I put the two cotton sweaters on him,
to keep him from chewing his spots and because he is cold
after having his areas rubbed with the lotion every day.

CoCo's vet bill to date is $350.00.
He goes back to my vet on 1 March for a re-check.
Not sure if it is food allergies, but both CoCo & Buster2
are on hypo-allergenic dog food and they like it
and are not missing a meal.