CAIRN RESCUE USA
PROUDLY PRESENTED . . .

CoverBoy Chip Potter
tested a recipe before DogMom Tobi sent it in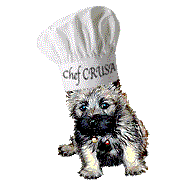 SOLD OUT!

We are PROUD to announce that we are SOLD OUT of the CRUSA CAPERS Cookbook.

The book has now become a collector's item.

I am in the process of 'closing the books' on this fundraising project, and will post the results on the DONORS & SPONSORS page.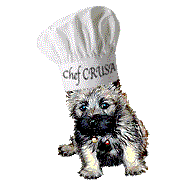 DONORS & SPONSORS,
as well as Chef CRUSA's accounting,
can be seen HERE.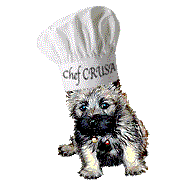 READ THE REVIEWS:

First Printing HERE.

Second Printing HERE.

If you have a review, picture(s) of your dog(s) cooking from, reading (but NOT eating) the CRUSA CAPERS Cookbook, please send to me HERE for inclusion on the CRUSA CAPERS Review Website.

We wish to thank EVERYONE who purchased a CRUSA CAPERS Cookbook, donated to the cost of the CRUSA CAPERS Cookbook, and especially those who made the CRUSA CAPERS Cookbook possible by typing, proofreading, printing & delivering it! We could NOT have done it without you!