I parked my car in the drive and stomped back up the road.
I was still shaking my head and ranting,
"How could you be so stupid? After my efforts to
keep you safe all summer and you go
and run out in front of a car in broad daylight."

I reached the little spiky brown lump and stared at it
as if I was hoping for an answer to my questions about its stupidity.
Then a big smile spread across my face and I looked round sheepishly
hoping that no one had witnessed or heard my outburst.
The little spiky brown lump was left on the road by a horse.

DRAWINGS by INEZ SMILLIE: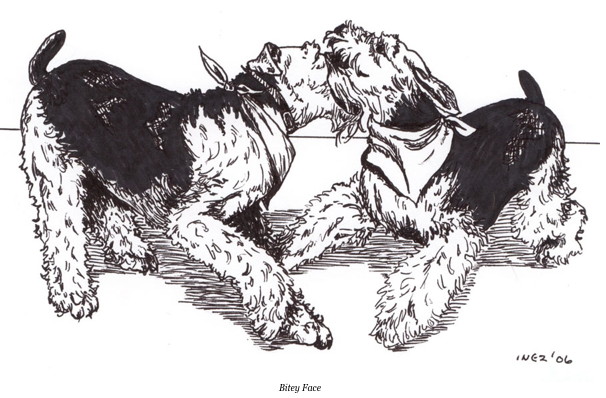 ---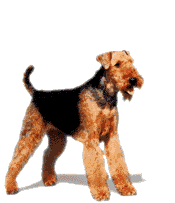 RAVES FOR
DIARY OF A BARKING MAD DOG OWNER


LELA CRISWELL:
I laughed and laughed, and shed a few tears too.
Please tell Jackie I loved her book and eagerly look forward to her second book!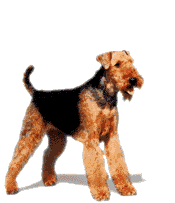 CAROLE RAISBECK:
This delightful book captures all the whimsey, goofiness,
and cocksure smartness of Airedales, and entertains those
not fortunate enough to share their lives with this marvelous breed of dogs.
Handsome to the point of envy, loyal to the last breath, Airedales can fill
a human lifespan of adventure & experiences in the years
we are privileged to have them. This book shows this all too well.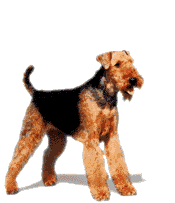 LORI WALKER:
Review on amazon.com; reprinted with permission:
5.0 out of 5 stars - December 7, 2012:
A must read for dog lovers!
This book is pure delight. Jackie McGuinness has a gift for describing
the reasons life with a terrier is merrier; well, if you can handle living with a dog
who is probably smarter then you. It's evident Jackie is wise enough
to outsmart two Airedales & a Wild Welsh Terrier. I was crushed
when the story ended; I sure hope another book is being crafted by now.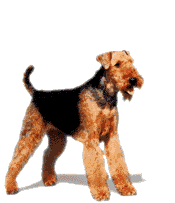 KATHY APPLETON:
Review on amazon.com; reprinted with permission:
5.0 out of 5 stars - February 26, 2012:
Entertaining!
A diary of events that happen when you live with an Airedale Terrier
(and in this case a Welsh Terrier too)!
Anyone who owns an Airedale and appreciates their outlook on life
will enjoy reading the antics & adventures of Mr Mac, Mahri & Elle.

---
AN EXTRA DONATION WILL BE MADE
FOR EVERY BOOK/eBOOK PURCHASED!

For every PAPERBACK EDITION purchased,
ANONYMOUS AIREDALE will donate
3 USD = 3 CAD = 2 GBP
to YOUR CHOICE(S) of the following:

* NAR (NATIONAL AIREDALE RESCUE)
* ATRA (AIREDALE TERRIER RESCUE AND ADOPTION), which is self-funded
* AIRECANADA
* AIREDALE TERRIER RESCUE & ADOPTION NETWORK OF AUSTRALIA
* UK AIREDALE RESCUE
* CRUSA (CAIRN RESCUE USA)
* ONE STARFISH REHOMING CONNECTIONS
Rescuer of Special Needs dogs such as
MAX, BRAVEHEART, SWEETHEART, PANDA, PHOEBE & LILLY @RB
* SOAR (STARTING OVER AIREDALE RESCUE)

For every KINDLE EDITION purchased,
ANONYMOUS AIREDALE will donate
1 USD = 1 CAD = 1 GBP
to YOUR CHOICE(S) of the above Rescue Organizations.

TO ORDER:

AMAZON USA PAPERBACK HERE
AMAZON USA KINDLE HERE
AMAZON CANADA PAPERBACK HERE
AMAZON CANADA KINDLE HERE
AMAZON UK PAPERBACK HERE
AMAZON UK KINDLE HERE

FORWARD YOUR AMAZON RECEIPT TO
adenning@wi.rr.com
AND INDICATE TO WHICH RESCUE ORGANIZATION(S)
ANON ADT SHOULD MAKE THE DONATION(S)