Anim Graphic ©1997 Kitty Roach







APRIL AS A SNORKELER

In February 1994, we discovered that April's eyes do not produce tears. Perhaps this is why she was abandoned -- this is an expensive and life-long condition which requires constant treatment and monitoring. She even has her own ophthalmologist in Chicago!!


Because Mr. Scuba and I often dive and snorkel in the waters of the Caribbean and the South Pacific, I thought this photo was appropriate. Actually, I wish we COULD get April fitted with a mask or goggles -- it would certainly protect her eyes.






The great pleasure of dogs is that you make a fool of yourself with them and not only will they not scold you, they will make fools of themselves too.
-- Samuel Butler







APRIL & MISHA (@RB) - SUMMER 1994

April & Misha (@RB) wait anxiously to see what we have planned for them
to wear next.

"Are you sure William Wegman and his Weimaraners started
this way?"


dogs have joined Misha (@RB), April, Cari & Rico on the couch since 16 AUGUST 1996. We hope you all were comfy!!












Please stop and leave a message on the




Be sure to include your dog(s)' name(s)!!









 INTRODUCING MISHA (@RB), APRIL, CARI & RICO

Remember to bring along your virtual pooper-scooper!














These Pages Constructed by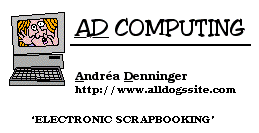 ©1996-2006 All rights reserved
Updated 29 MAY 2006