SHELL LEWIS, VICE-PRESIDENT OF
CRUSA FOSTER HOMES,
SENT OUT A CALL ON 10 MAY:

Meet Dusty!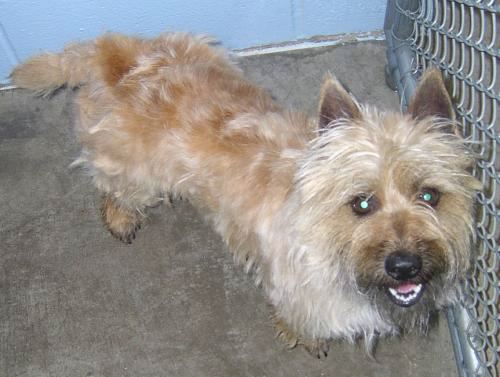 This cute little Wheaten guy is on borrowed time in a shelter in Emporia, Kansas (about 1-1/2 hours west of Kansas City). He was picked up as a stray and his fur was so so badly matted that the shelter workers couldn't even see his collar. It's believed he had been living outside on his own for days, but not weeks.

CRUSA would like to get Dusty situated in a new foster home ASAP but first . . . we need to move him in an easterly direction; possibly to Kansas City or even beyond. If you think you can help, please contact me ASAP.

Amy Cada, member of Terrier-L and involved with Scottie Rescue, responded to this plea.

On 12 May, Amy writes:

Dusty has been retrieved, Mr. Two-year-old is not even a year old; he's a young tyke! Excellent temperament, cute as a button. NO manners whatsoever (five minutes after we left the shelter, he let out a long blood-curdling scream that sent me screeching to the curb - when I flung open the side door, he stopped screaming and started wagging his tail REALLY cutely at me from inside of his crate). I got back in and drove on. Only two more episodes before he figured out it wasn't getting him anywhere, and off to snoozy-land for the rest of the two-hour trip home.

He's at the vet now being boarded until his brucellocis comes back clear and he's fully vetted (Monday evening). He'll be flying to Detroit at the end of the week.

As always, the quality of the Cairn Rescue Network astounds me!

Dusty was adopted by Ruth & Roger Goodman of Michigan and renamed Willie.