So far today, Emmie has: unmade my bed and slept on it;
slept on my stomach when I took a nap on this same bed;
eaten her food (can't find extra bowls, so she used a soup bowl);
had a bath (I could feel the necrotic skin peel off);
slept on couch and chairs (like Goldilocks,
looking for one that is "just right")
worn her pink diapers with no problem; given kisses;
pushed a pile of beach towels off the couch and played in them;
used the dogs's bathroom area several times;
and, in general, behaved like a happy Cairn.

---
---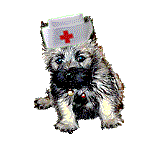 JACKIE IKE:
She seems to have been a loved dog at one time to be showing that kind of behavior. Thank you for fostering her . . . she is a beauty!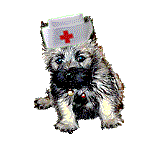 PATRICIA YARNOT:
She's adorable! But she needs the loving hands of Andréa on her skin! She's almost like a young female Rico, without the psychotic nature. Cairns are so resilient. She sounds like a really sweet girl. Can't wait to meet her. Thank you, Jackie, for springing Emmie and Andréa for taking her in.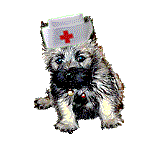 MARY BING:
She looks quite content.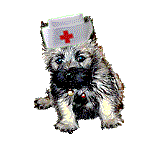 MAUREEN SCOTT
In Canada:
What a sweetheart! (you for fostering and Emmie for adjusting so well). She's adorable.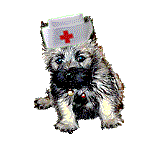 TRACIE COTTON:
Awwww . . . so sweet. Happy days ahead for Emmie! Thank you, Jackie and Andréa!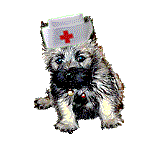 DOREEN MUNDIE:
Ah, she is going to be beautiful. I am sure she was loved and house-lived at some point . . . good for her, to end up with you.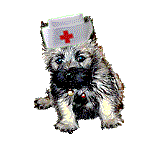 BJ ISAACS:
As I read this, I have tears in my eyes, thanking God for Jackie finding her and getting her and you for fostering her. I know she's in SUPER hands and will be looking and feeling great in no time! Sad [that] she is only five or six in that shape, when we thought she was ten; still doesn't make it right, though. Can you imagine being so young and feeling like this? I LOVE your name, Emmie.