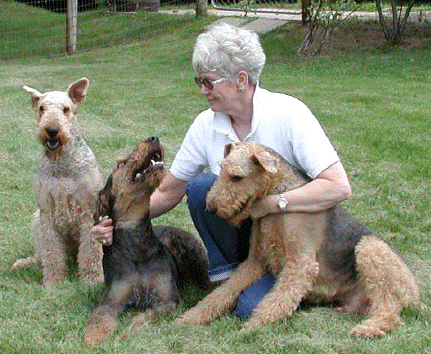 In August 2000, Mary writes: "In November 1999, Koda was taken from a backyard chain, after the authorities removed the children from the home for neglect. He was turned in to a no-kill shelter and kept there for three months before they heard about Airedale Rescue. When I talked to the shelter manager, she told me he was suffering terribly from kennel stress. He was filthy, matted, tick- and flea-infested & starved. He came to me, to foster, totally shaved and mostly black in color, and we were not sure if he was all Airedale or not. He needed to be fostered & evaluated to determine if he were in fact all Airedale and he badly needed to gain weight and get healthy. Well, we soon fell in love with him in spite of his rakish appearance and could not let him go.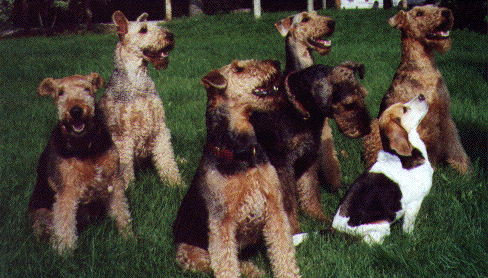 Sadie . . . Dolly . . . Lucy . . . Koda . . . Lucytwo . . . Emma . . . & Reggie

Six months later, in May 2000, another foster entered our lives. His name was Reggie and he was a two-year-old who had been in a wonderful home, but due to health problems was turned over to Rescue. During our foster time, he too wrapped himself around our hearts & soul and we are now a three-Dog-Airedale family. Milt also fell in love with these last two and the pack now consists of two uprights & three furkids.

We had a family wedding this June; the kids came home and we were a family of SEVEN dogs . . . six Airedales & one Beagle. What a hoot that was for two weeks. I am usually up to my ears in Airedale Rescue but I would have it no other way. I hope I can continue to be an ATRA volunteer until my dying day. I get back much more than I give.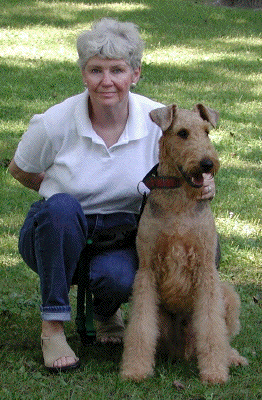 Mary & Reggie