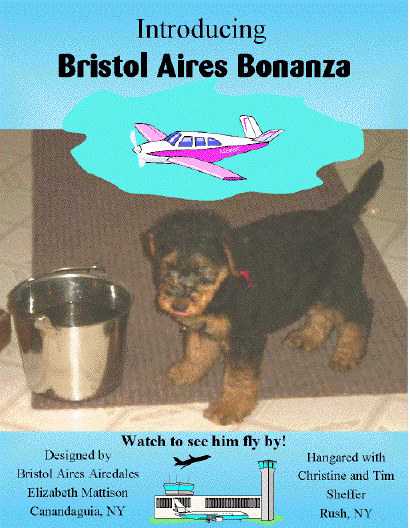 Bristol Aires Bonanza - call him "Baron" for short - arrived at the Sheffer Hangar on Leap Day 2004. Bristol Aires Bonanza was born on January 4, 2004. He is cute as a button at eight weeks old. He may also be the brightest puppy we have ever had, already mastering the step into the family room.

We are clicker training him using Corally Burmaster's Puppy Kindergarten. He is doing great! He saw there was an Airedale in the video and wants to be just like him. Seriously, it is an excellent training video for little Airedales.

He certainly has the energy of the airplane for which he is named. We think he might be a "turbo".

We are thrilled that Elizabeth Mattison has made it possible for us to have this very special young puppy. As a friend and a mentor, Liz has taught us an enormous amount. We are grateful. Elizabeth co-owns this little guy with us.

Baron is out of Bristol Aires Fanfare and Bristol Aires Victoria's Secret. Tori can be seen here.

Bristol & CeCe are still checking out their new brother. Bristol is her typical reserved self. CeCe is counting the days until he is big enough to chase around the house. She plays with him under constant supervision right now.

Tim is looking forward to learning even more about grooming Airedales. I'm looking forward to having my own agility & obedience dog. We are both looking forward to seeing this guy in the show ring. I'm predicting he will be as lovely and strong as his dad. He already has his mom's temperament (lively Airedale curiosity).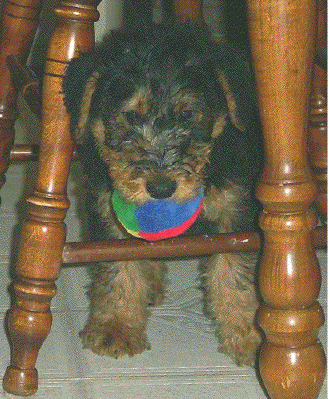 Christine writes: He is so cute and curious. He is exploring all over the kitchen.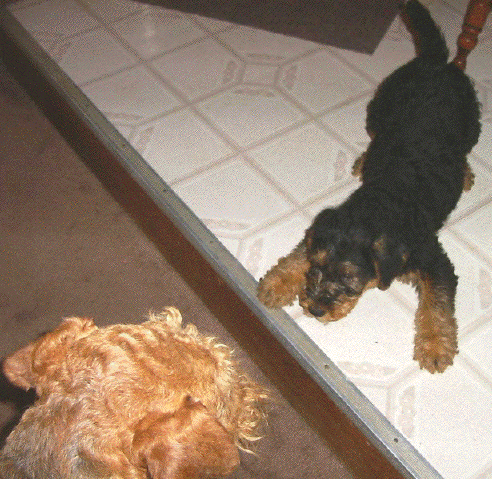 He likes Bristol & CeCe. Bristol is ignoring him. Typical. CeCe is semi-interested but not quite sure yet. She has been very gentle and nice so that is a good start. He is all tired out and in his crate taking a nap.