On 31 December, Sue Stoughton writes:

As we ring in the new year, we are fortunate enough to have a new member of the CRUSA family.

Coming from a shelter in southern Illinois who acquired this little guy from an auction, he looks like a little sweetheart. We will get him on Saturday.

Thanks to Diane G. and all the others who forwarded on his information, and to the many rescue groups moving over 20 dogs through Illinois, Missouri & Wisconsin this coming weekend. They have added Tiger Spice to their transport so that he can get to his fabulous foster home as soon as possible.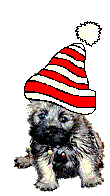 PERLA CHIAFFITELLA:

How sad he has never been touched and loved by a human!


CLICK ON MUTTS FOR STOP PUPPY MILLS INFORMATION