THE "VISITING NURSE" PART
On Thursday, 9 October, about an hour after Misha ate her dinner as usual, she went outside and refused to come back in, even with the enticement of a treat. When we finally got her inside and she literally spit another treat half-way across the room, we knew something was the matter. When I barely touched her side and she screamed, we knew something was really the matter!

After an inconclusive trip to the Emergency Veterinary Clinic, where x-rays were taken and we were told that "Something doesn't look right by the spleen", we took Misha back home to wait for her regular veterinarian to be in his office.

She (and we) survived the night, and we were at the Veterinarian's office before it opened on Friday morning. We got her inside, and Dr. Pisarik looked at the x-rays. We discussed doing more x-rays and ultrascans, but the end result would be the same: exploratory surgery. We chose to have it done immediately, left her there, and went home to wait.

At 10:30 a.m., Dr. Pisarik called us and said we had made the right decision: A growth of some kind had developed inside the spleen and had ruptured, probably at the time that I touched her side and she screamed. She had been slowly bleeding to death internally since the night before!

Misha came home at 4:30 p.m. that same day, and has been acting like a puppy since.

MORAL: Be attuned to your Canine Companion(s). If anything is unusual in his/her behavior, pay attention to it AND ACT UPON IT. In the words of Antoine de St.-Exupéry: "You become responsible for what you have tamed."

Here is what her scar looked like when she came home (notice that she was able to climb up on the couch almost as soon as she came home!);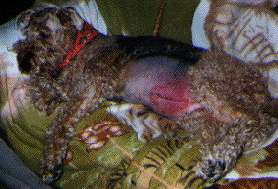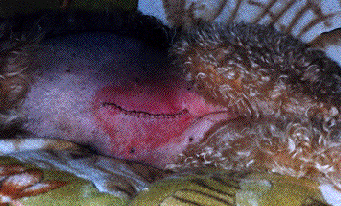 This time, when Bonnie came for her sleep-over, we explained to her that Misha had just had surgery and could not take the stress of being challenged for her spot in the pack. Bonnie walked in the house, took a look at Misha's scar, and never growled at her or bothered her for the entire week!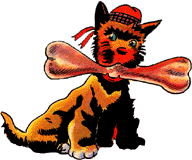 My name is MacDunald, and I'm as braw a Scot as ever chewed up a pair of slippers. I'm stubborn and I'm canny, I'm short-legged and close to the ground; what I lack in size I make up in courage. The Scotch are a fighting race and the tartan of my clan has never dragged the dust, my breed has never known defeat and we die game, do we Scots. My hair is coarse and wiry and my tail is carried high. I want to tell you these facts so you won't think me a sissy even if I do live a soft life in a fashionable neighborhood.

-- John Held, MacDunald

Bonnie shown with the kind permission of Marilyn & Ken Oliak

Misha, April, Cari & the Resident Hoomans thank Marilyn & Ken for sharing Bonnie with us, and allowing us the privilege of "Scottie-sitting" her.

---
For more about the infamous Bonnie the Scottie,
please visit the following pages:

MISHA (@RB) & APRIL'S HOUSEGUEST

MISHA (@RB) & APRIL'S HOUSEGUEST REDUX, OR, "OH NO, THE PEST, WE MEAN, THE GUEST, IS BACK!"

MISHA (@RB) & APRIL'S HOUSEGUEST THREE: "THE B*TCH IS BACK!&quot

MISHA (@RB), APRIL, CARI & RICO'S FRIENDS, CANINE & CYBER, O











dogs have joined Misha (@RB), April, Cari & Rico on the couch since 16 AUGUST 1996. We hope you all were comfy!!











Please stop and leave a message on the




Be sure to include your dog(s)' name(s)!!













 INTRODUCING MISHA (@RB), APRIL, CARI & RICO<

Remember to bring along your virtual pooper-scooper!










These Pages Constructed by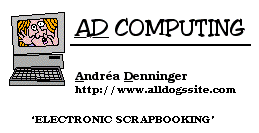 ©1996-2006 All rights reserved
Updated 1 SEPTEMBER 2006