MISHA (@RB) & BONNIE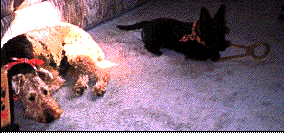 Misha & Bonnie play together separately. Bonnie looks so innocent, chewing on what she is supposed to be chewing on. Right before this photo, however, she stole my snorkel out of my dive bag and chewed off the mouthpiece (which was made of the same material as this Nylabone tug toy). "How was I supposed to know the difference?" she said, and I guess she had a point.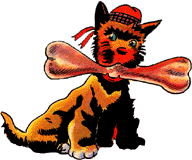 My name is MacDunald, and I'm as braw a Scot as ever chewed up a pair of slippers. I'm stubborn and I'm canny, I'm short-legged and close to the ground; what I lack in size I make up in courage. The Scotch are a fighting race and the tartan of my clan has never dragged the dust, my breed has never known defeat and we die game, do we Scots. My hair is coarse and wiry and my tail is carried high. I want to tell you these facts so you won't think me a sissy even if I do live a soft life in a fashionable neighborhood.

--John Held, MacDunald

Bonnie shown with the kind permission of Marilyn & Ken Oliak

Misha, April, Cari & the Resident Hoomans thank Marilyn & Ken for sharing Bonnie with us, and allowing us the privilege of "Scottie-sitting" her.

---
For more about the infamous Bonnie the Scottie,
please visit the following pages:

MISHA (@RB) & APRIL'S HOUSEGUEST

MISHA (@RB) & APRIL'S HOUSEGUEST THREE: THE B*TCH IS BACK IN TOWN!

MISHA (@RB) #8; APRIL'S HOUSEGUEST PART FOUR: THE VISITING NURSE

MISHA (@RB), APRIL, CARI & RICO'S FRIENDS, CANINE & CYBER, O











dogs have joined Misha (@RB) , April, Cari & Rico on the couch since 16 AUGUST 1996. We hope you all were comfy!!











Please stop and leave a message on the




Be sure to include your dog(s)' name(s)!!













 INTRODUCING MISHA (@RB), APRIL, CARI & RICO

Remember to bring along your virtual pooper-scooper!










These Pages Constructed by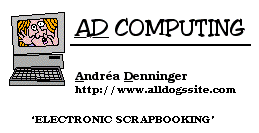 ©1996-2006 All rights reserved
Updated 1 SEPTEMBER 2006