Jackie McGuinness writes:

My little Wild Bunch experienced its first ever blizzard last night: gale-force winds, driving snow that stabbed at your eyes, six inches of snow in an hour.

The wind lifted the lid of the hot tub, so I battled with that. Then I went flying with the driveway five-bar gate as I tried to shut it; the wind took it and me hanging onto it for a short flight, so I gave up and anchored it open.

All night the wind howled round the house like a ghostly wolf pack and things frequently went bump in the night. Mahri curled up into the smallest ball at the back of her crate. "I'll hold till morning," she glowered at me when offered a midnight walk in the garden.

Elle was up for it: "I'll eat all the snow flakes and bark at the wind till it goes away!" No tiny paw prints in the snow from Elle to admire; just huge scrabbled areas where she hauled and stretched to get at anything that moved.

Mr Mac bounded over to the nearest tree and back in as few moves as possible so he would not get snow on his feet.

Once all were safely tucked up in their beds it was my turn to curl up and drift off to sleep . . . wrong. After 30 minutes of trying to ignore the bumps and bangs, I gave in and went to investigate. Just as I got out of bed, the power went off. I headed for the fuse box in pitch black shuffling my feet so as not to trip on a discarded dog toy. Suddenly my foot banged into something large; I screamed and leapt in the air! Mr Mac screamed and leapt in the air! I know that because he tried to occupy the exact same airspace as I.

I eventually got the power back on and checked poor Mr Mac; he was a quivering wreck: How could I treat him so badly, he seemed to say as he looked at me with his ears still turned inside out. The storm must have scared him and he must have felt safer if he lay in the middle of the floor rather than in his bed and I thought it was safe to walk in the middle because he usually lies with his back against a wall.

Jackie and The Wild Bunch who are going out to build a snowthing this p.m.

I had told Tom I didn't want to move back to Scotland when he finished in the army cos it was too cold. I said there's polar bears stealing people's coats up there, and guess what . . . there is no snow in Scotland. East Anglia got the worst of the weather; I live in East Anglia.

Nita has just sent me a pic on my phone of Elle covered in snow; her beard makes her look like Santa Claus.

Later that day, Jackie and her staff were sent home;
that's how bad the weather continued . . .
however, once she was home, the fun began.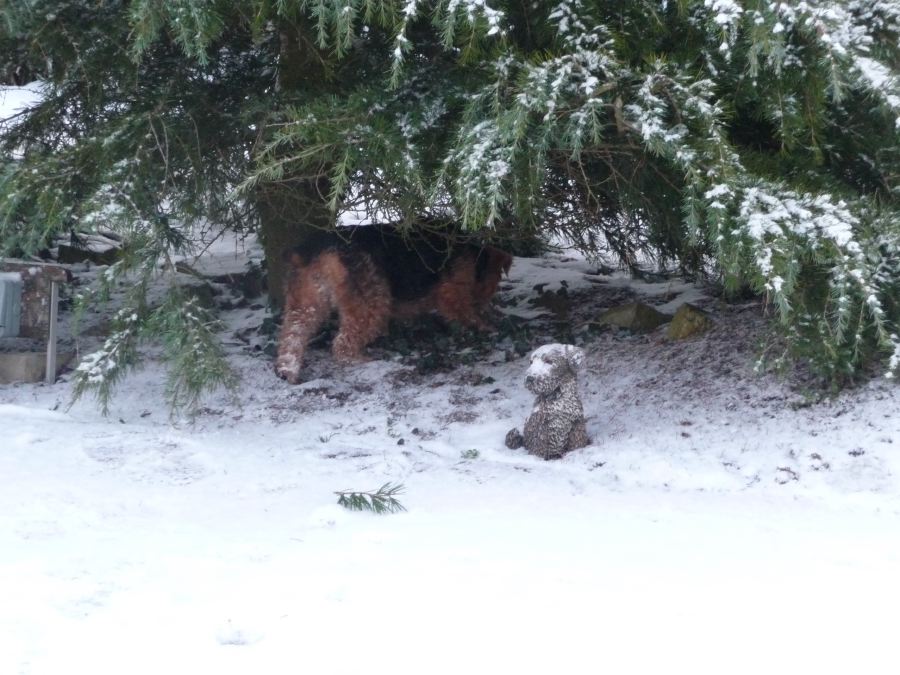 Elle hunting for mice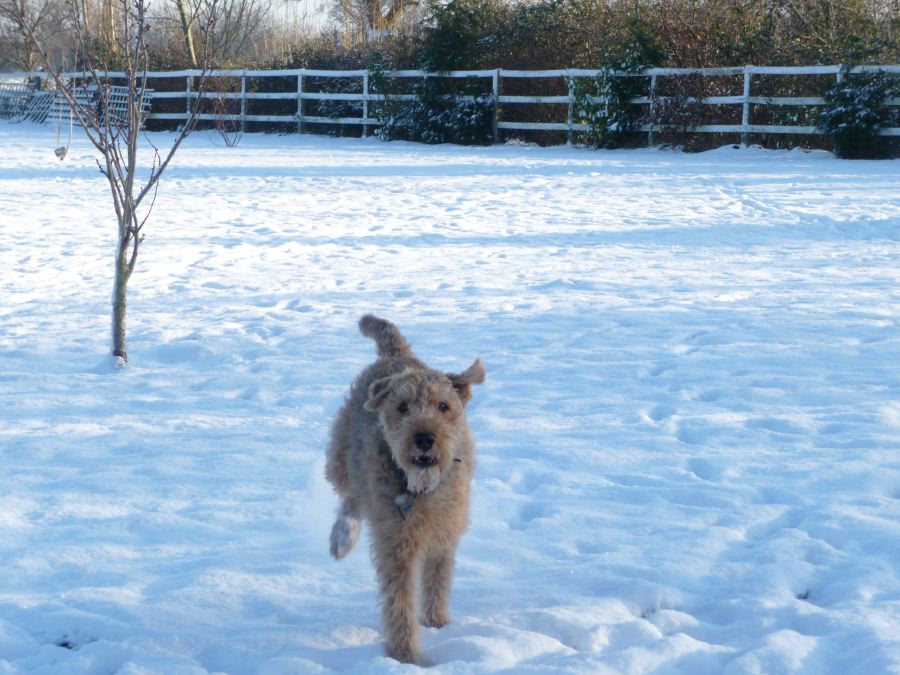 Mahri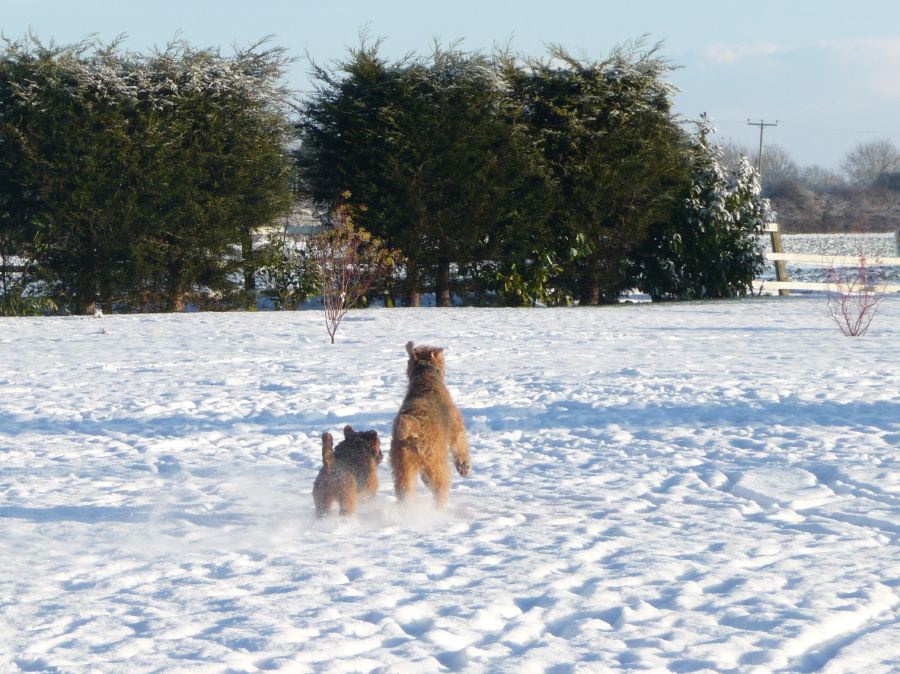 Elle loves to play CHASE

Mahri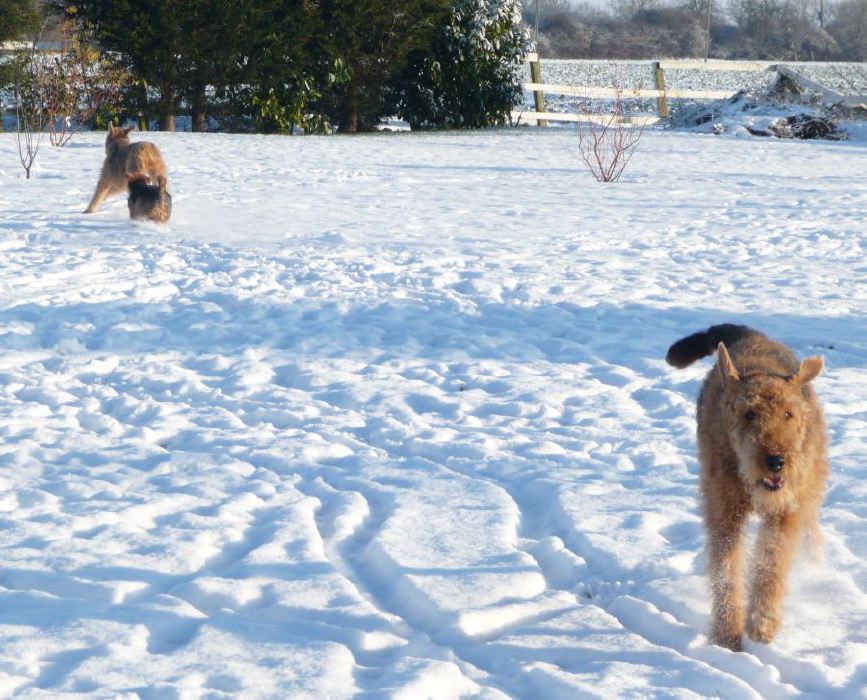 Mr Mac going the wrong way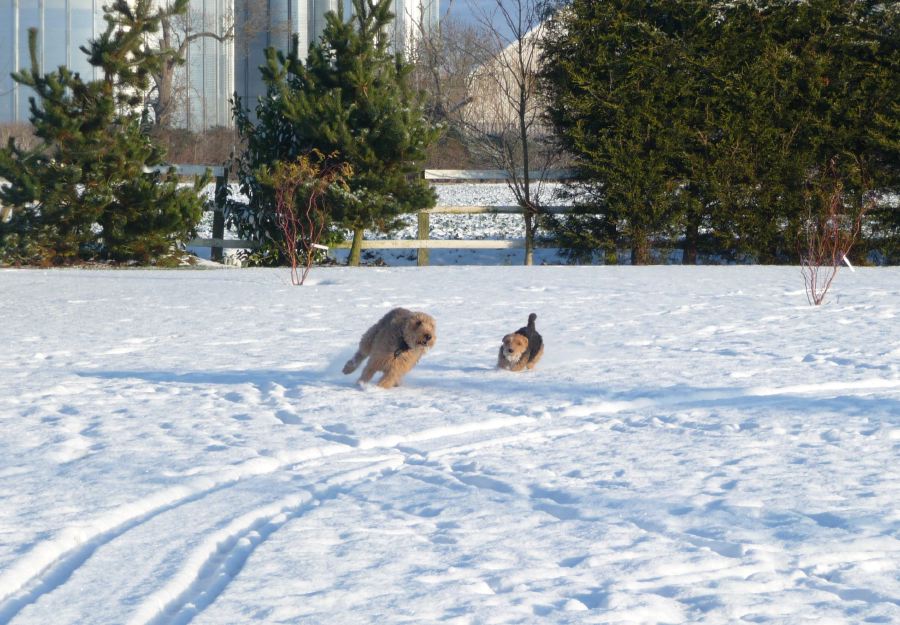 Elle chasing Mahri:
Elle is very fast, but Mahri is faster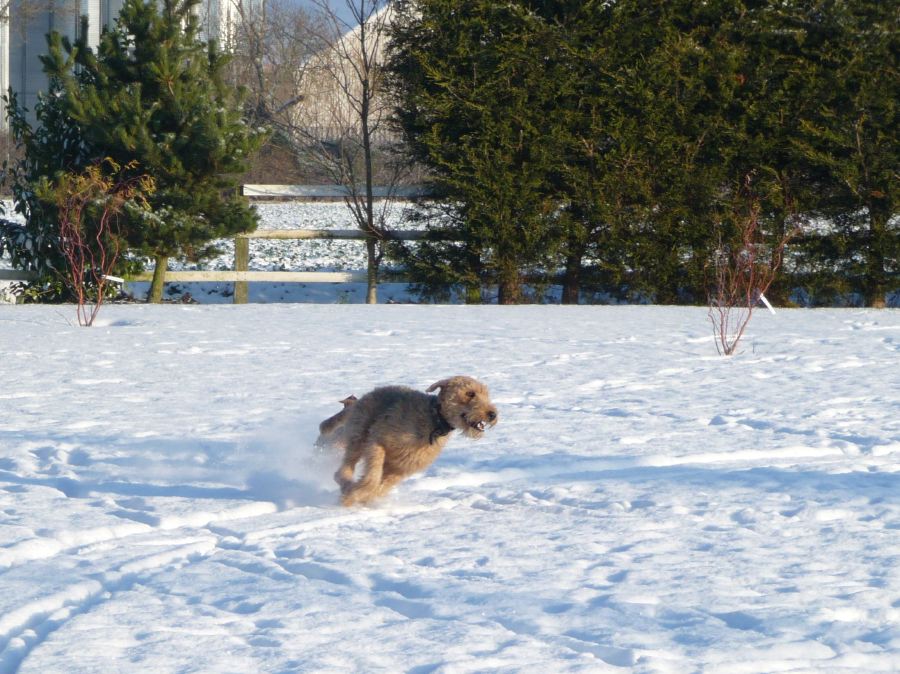 Elle nearly catching Mahri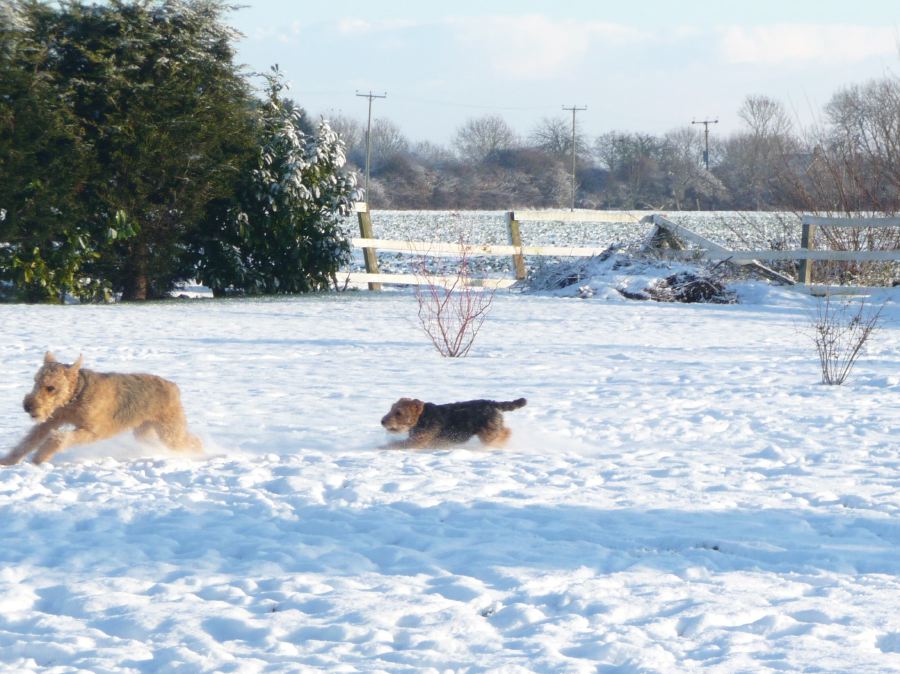 Elle & Mahri: The second circuit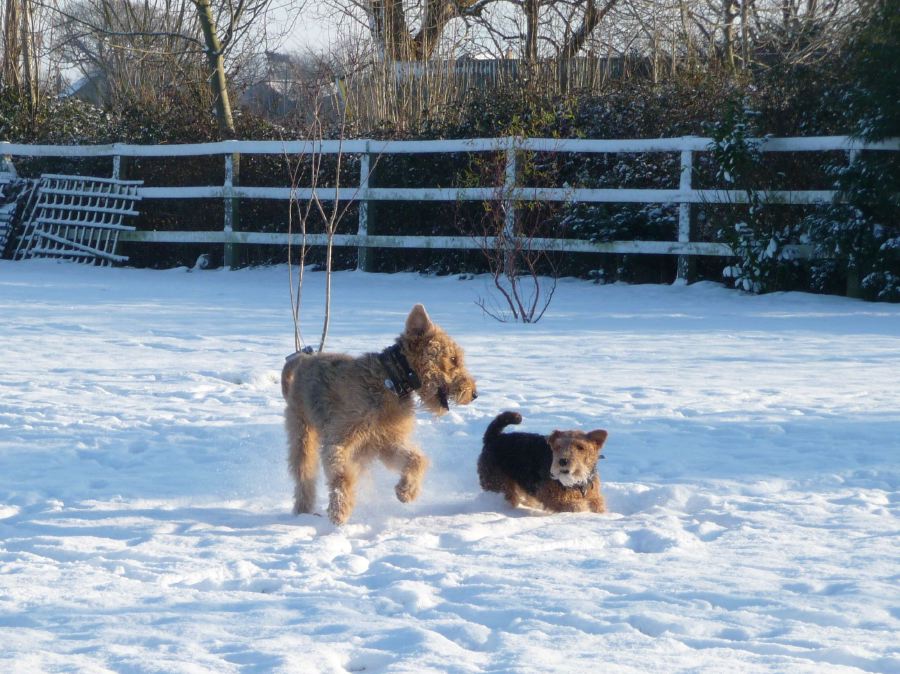 Elle & Mahri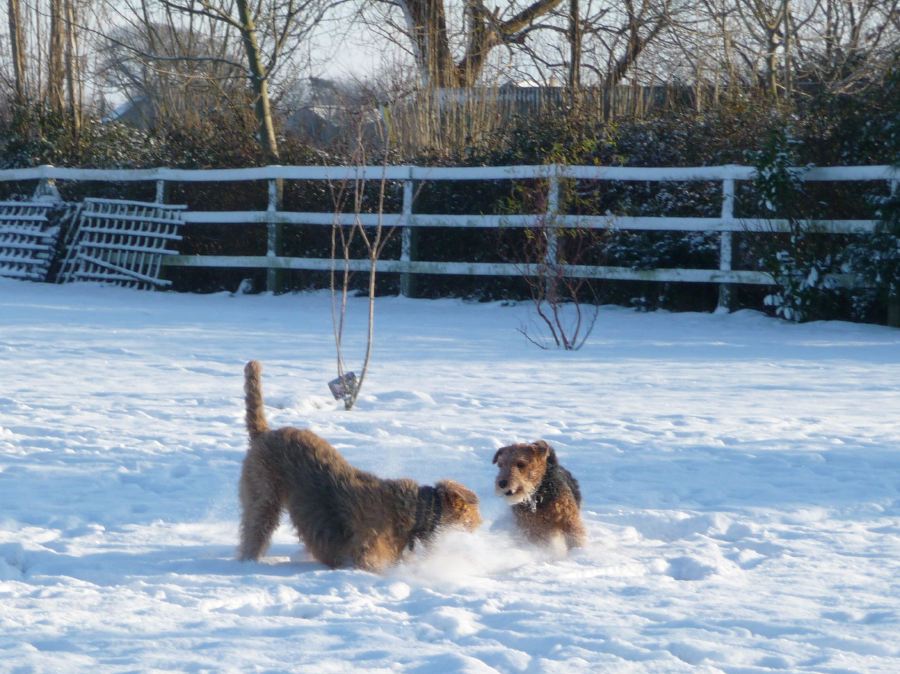 Let's dig!

Elle in the snow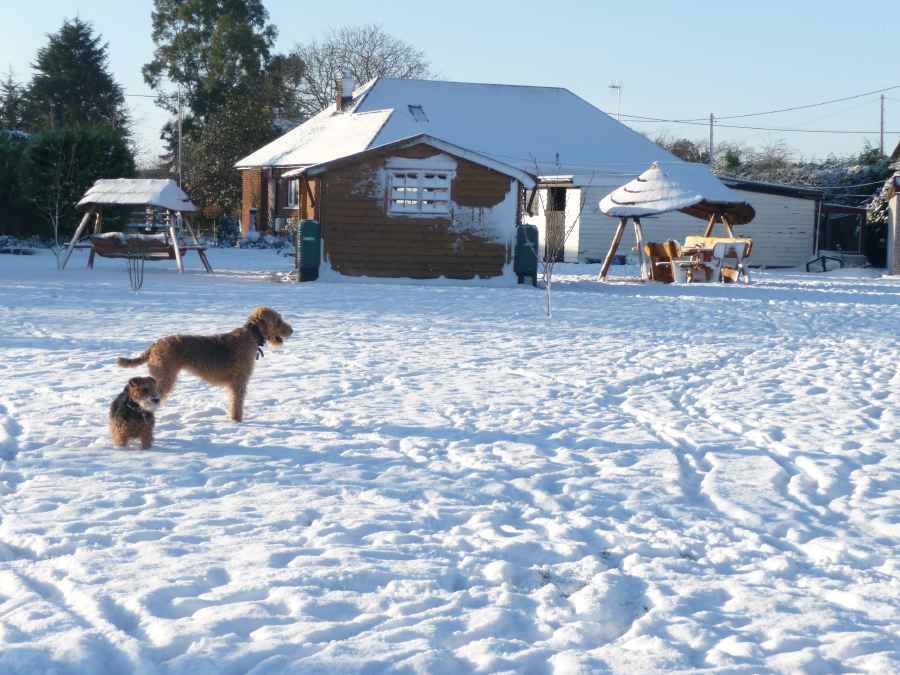 Where's Mr Mac?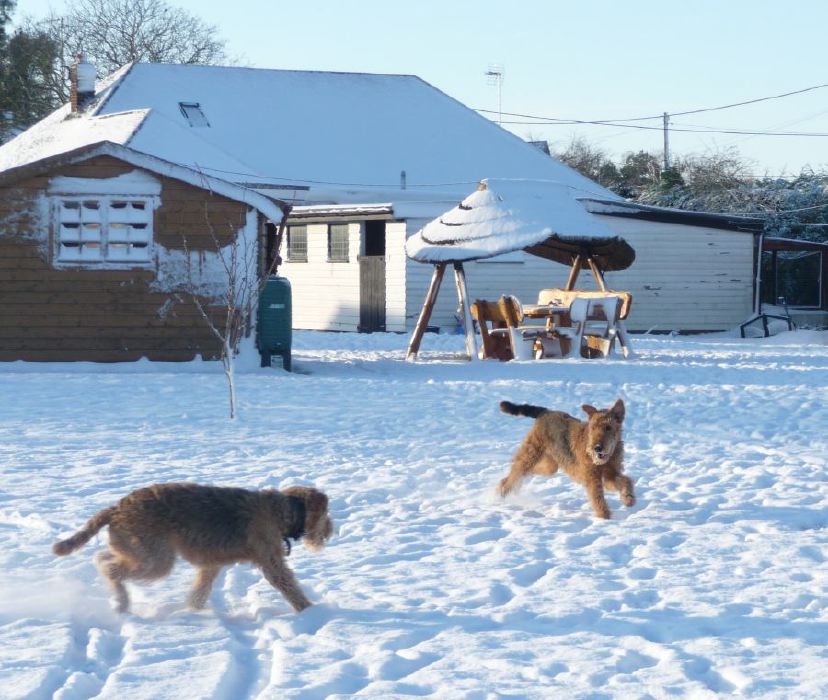 There he is!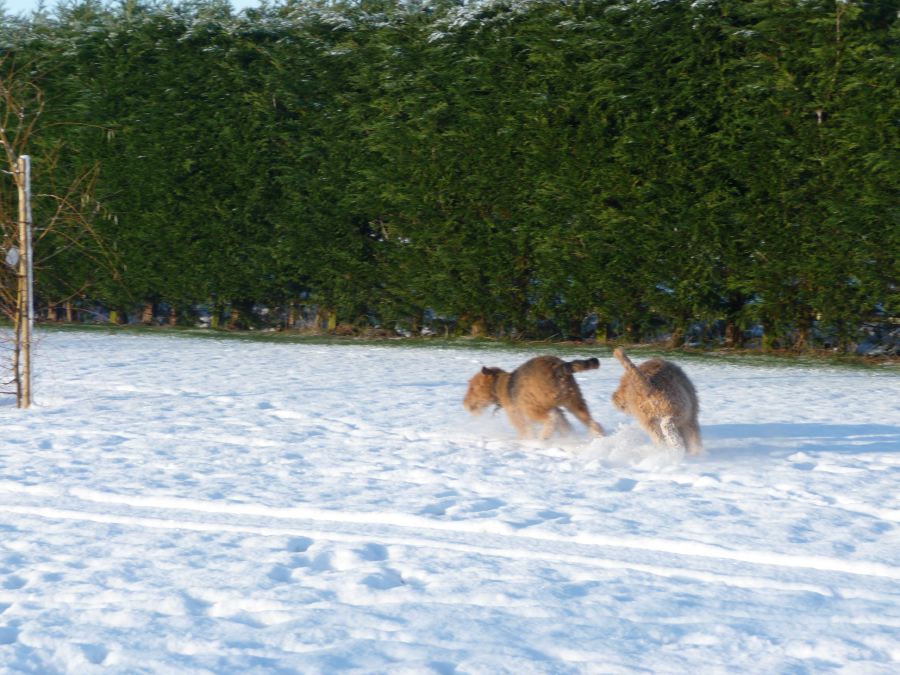 Mahri chases Mr Mac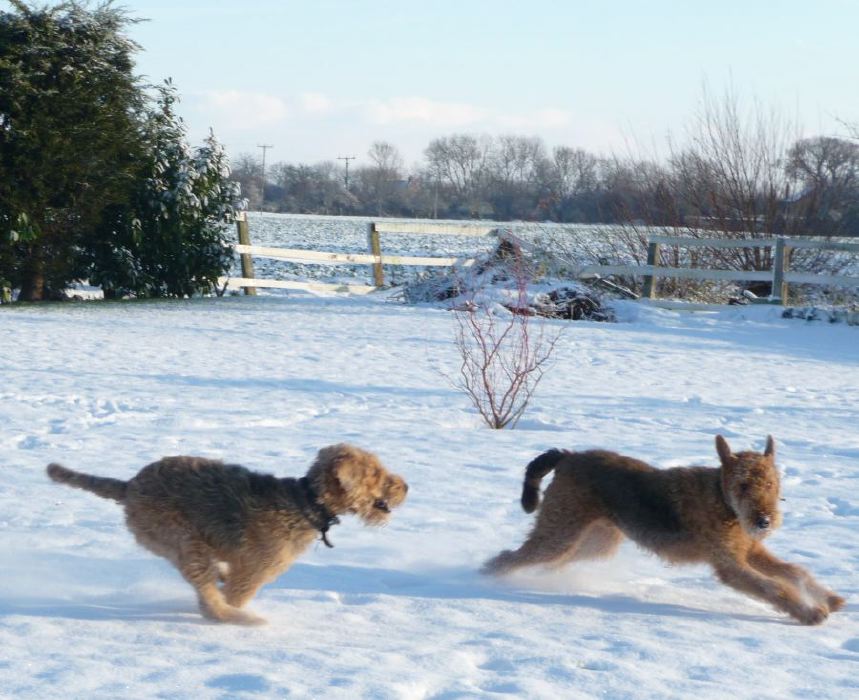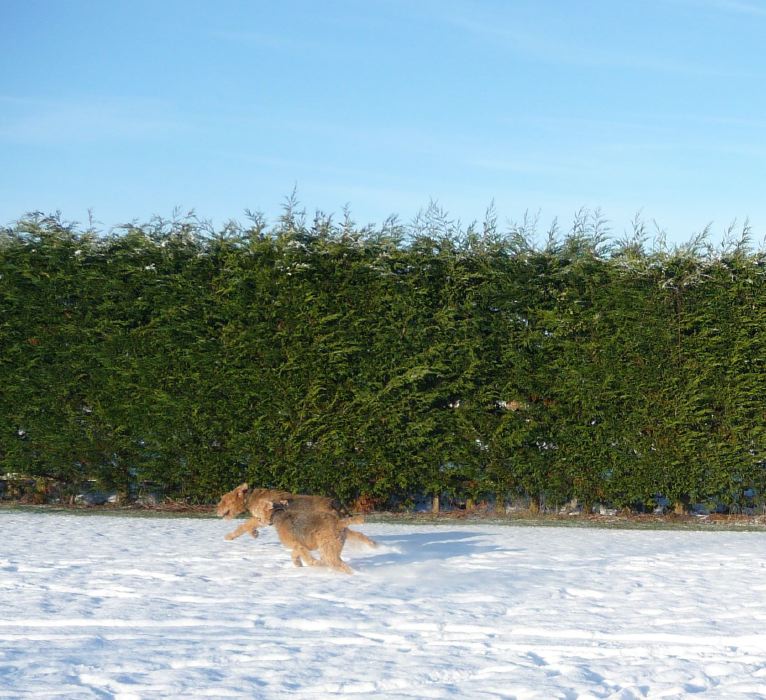 Mr Mac is faster than Mahri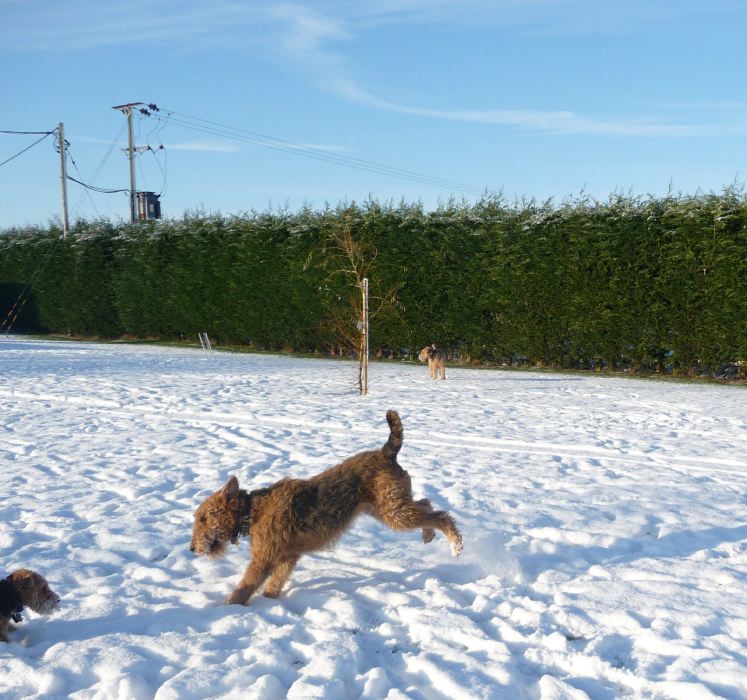 So much snow; so little time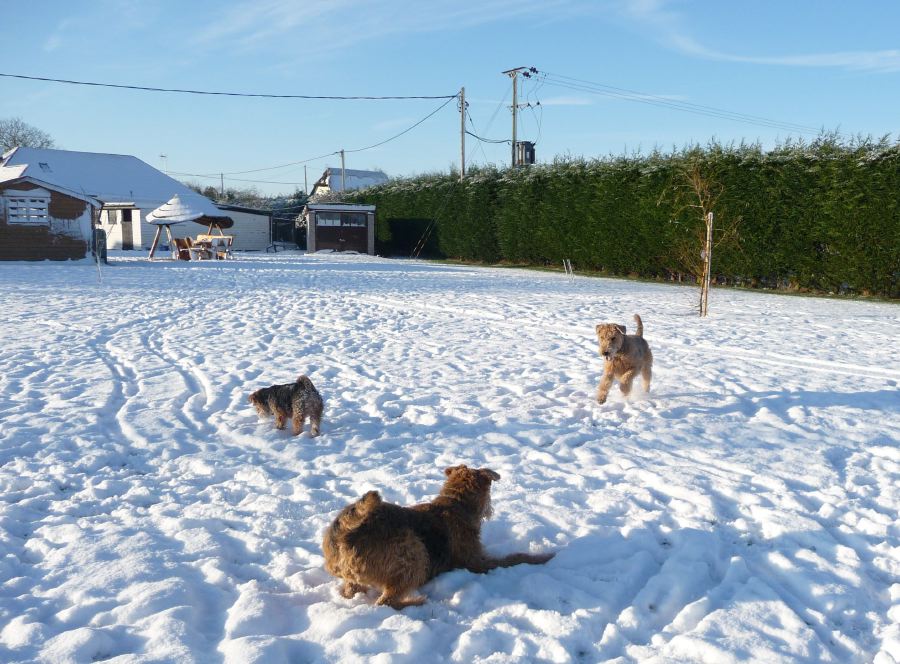 GOTCHA!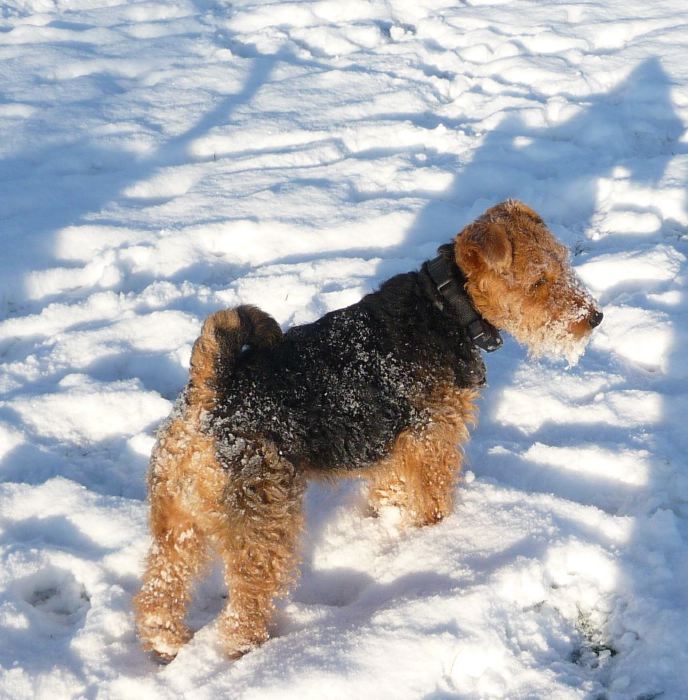 Pensive Elle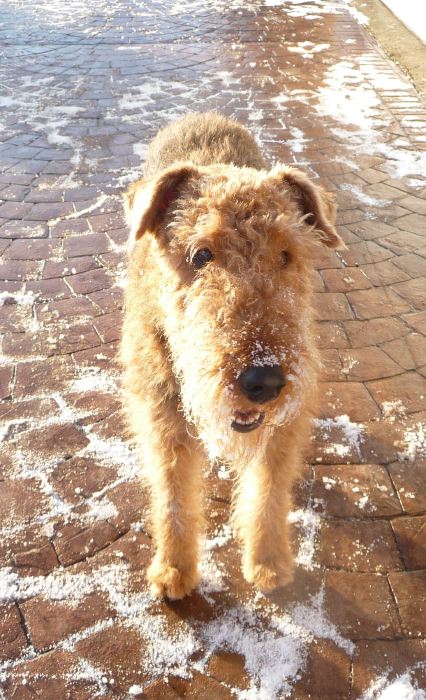 Next year's Howliday Card?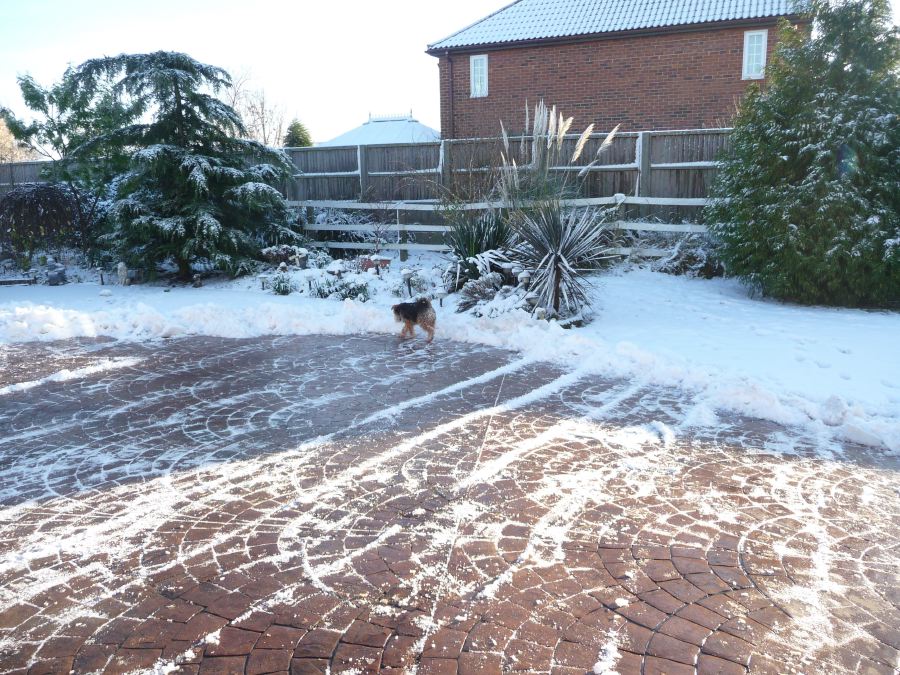 Elle still hunting the mouse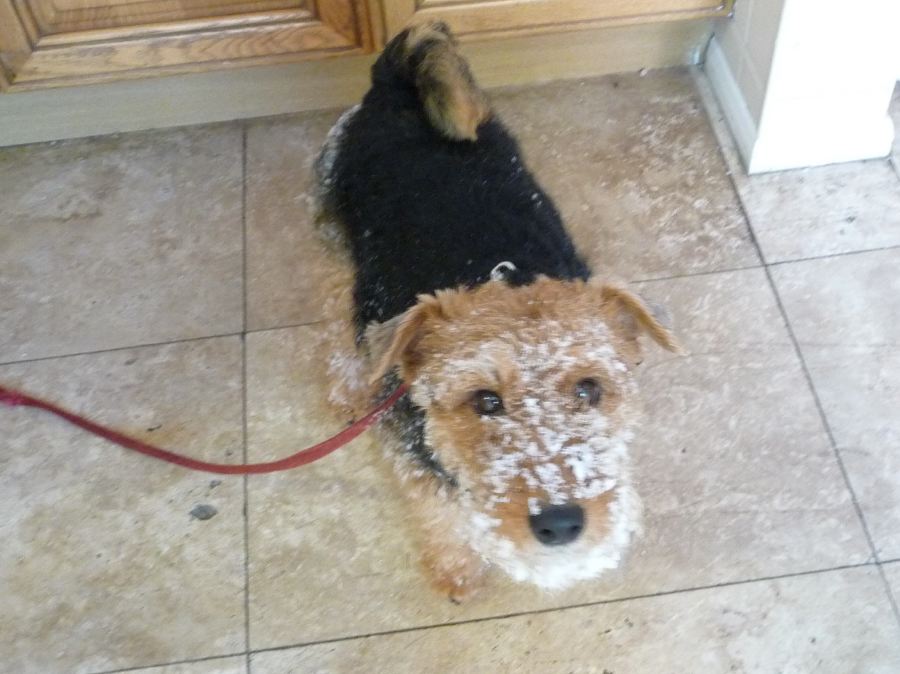 I want to stay out in the snow!
Elle just didn't want to come in.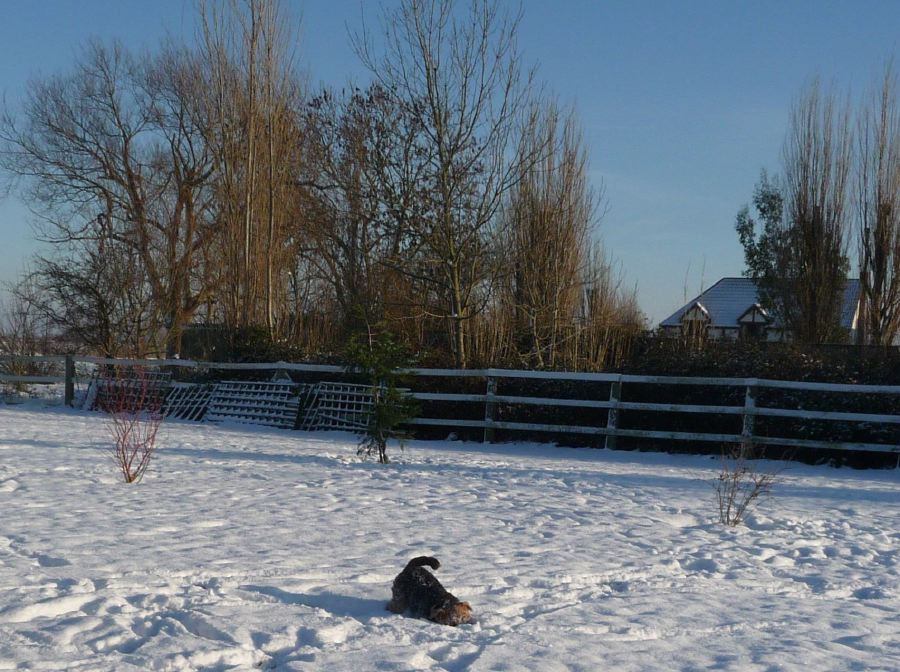 You can't see me!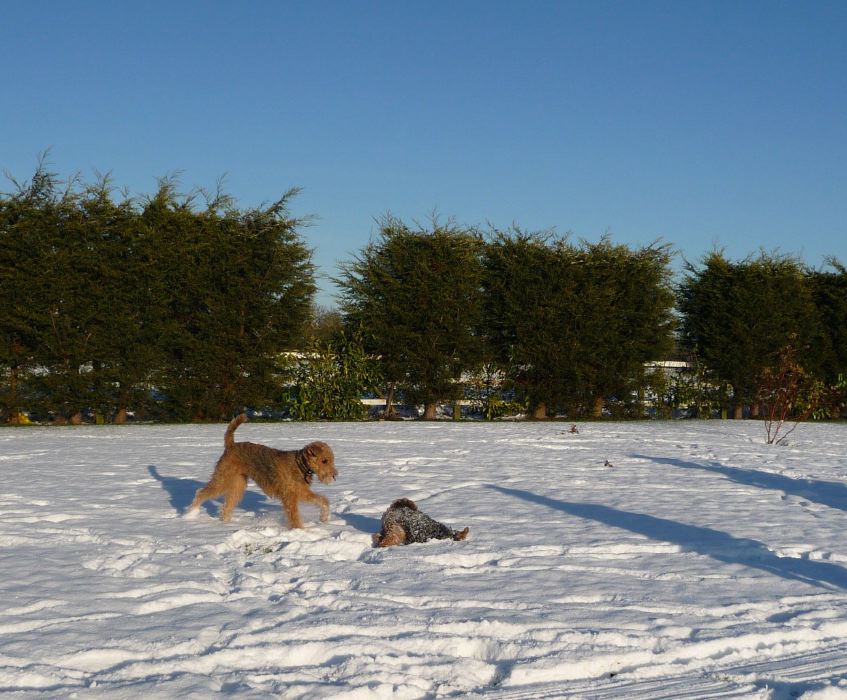 Is it a mouse?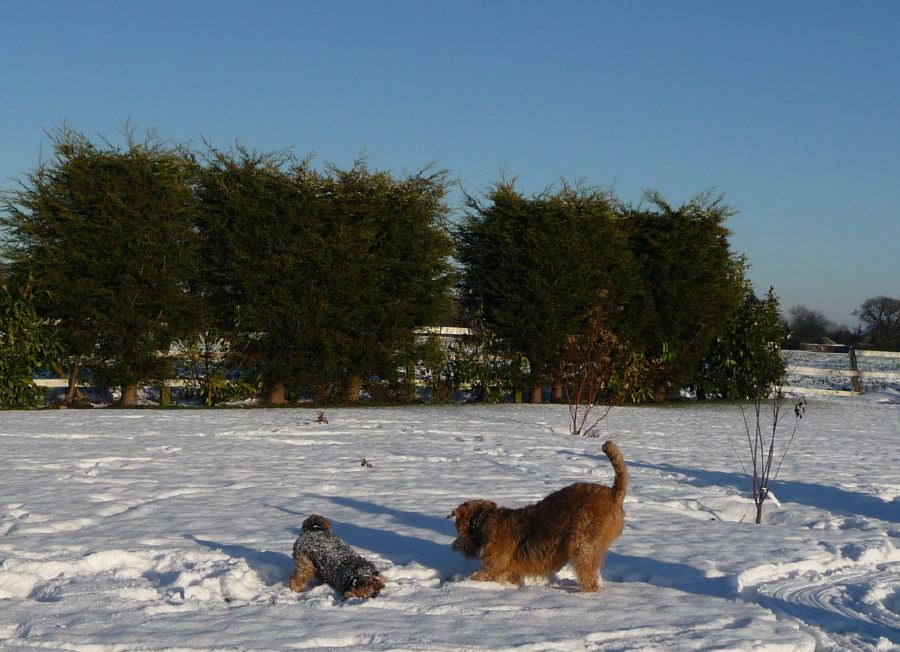 Where'd he go?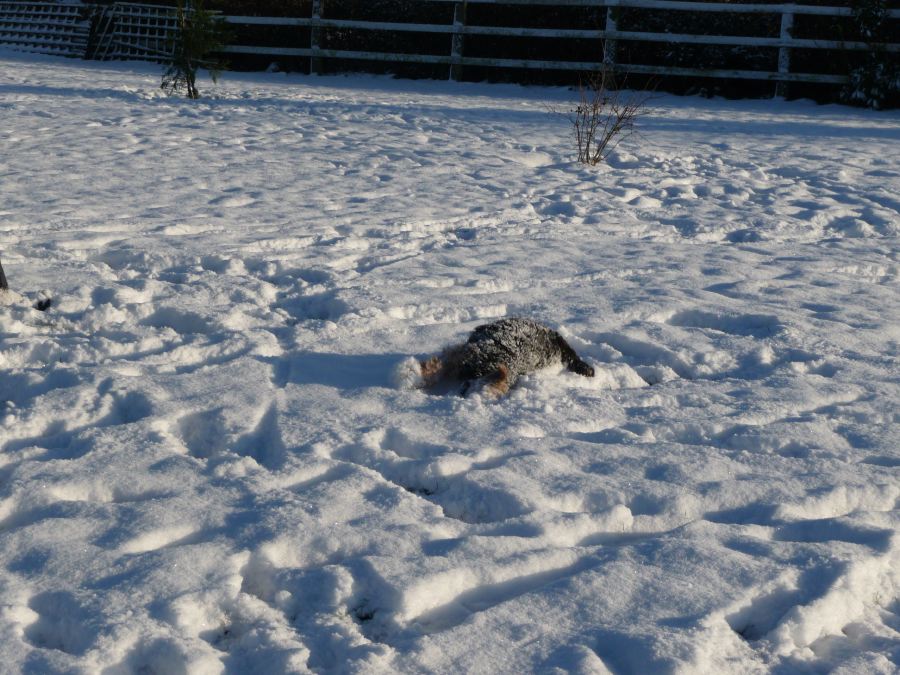 Where's Elle?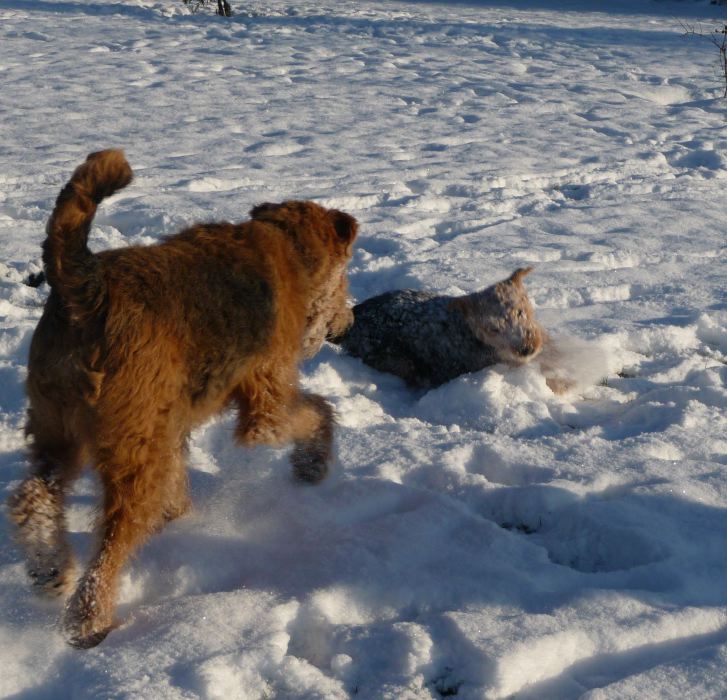 I found her!