Diane Durkee writes to CRUSA INTAKES:

I am Long Island coordinator for STCGNY Rescue
(Scottish Terrier Rescue Group of NY).

I received a call from an East LI vet attendant this evening,
who had received a call from her friend who works
at the Riverhead emergency clinic.

They have a nine-year-old male Cairn who is diabetic.
His main problem right now is that his elderly owners
cannot remember to administer his meds on a regular basis,
thus he is exhibiting some health issues.

The vets believe he is in otherwise good health,
and the current symptoms will reverse when meds are given appropriately.
The family wants him "nuked" ASAP.

The Riverhead vet is holding him overnight as they believe he is very placeable.
The vet attendant who called me can foster him for a few nights
"against the wishes of her family".

We at STCGNY have beyond a full house right now,
so we just have no room.

Please let me know if you can help this poor boy.

As we live on LI, we could do a leg of transport if that would help.

Deirdre writes:

Jack has arrived at his foster home in Hempstead.
He spent a 1/2 hour wrestling with my little terrier
and is now taking a nap. Everything seems to be going well.
I have notes on his daily routine and some of his medical history.

Diane writes:

This is very encouraging news -
and thank you so much for keeping me in the loop.
Yesterday, my mom called to ask me if I had heard anything
and I told her I would reach out today.

Thank you all for saving this little guy and putting him
on the road to a wonderful forever home -
of this I am certain!

FosterMom Dierdre McGuire writes:

I had to rush Jack to North Shore Animal League,
in Port Washington, New York,
after he showed signs of hypoglycemia.
I had been giving him the vet-prescribed units of insulin, which was too much.
He will be in the clinic two or more days and it will cost $400-$600
depending on how long he stays in the hospital.
I fear that he hadn't been monitored long enough
to know exactly what dosage he needed.
His blood sugar was only 38.

I don't know how this will affect his Sunday transfer.
I expect to have an update tomorrow.

And later . . .

Jack is slowly improving; his sugar level this morning was up to 57 from 38
and he is eating ferociously.
But his level has to be between 100 and 200.
He will be kept there and monitored until he can produce his own sugar.

I know this is a financial concern for you.
Let me know what you want to do.
Maybe we can see if we can get an additional discount because of his situation.
Perhaps you can write an email to explain our rescue group and our financial constraints.
They have treated some of our rescues in the past and we have always paid our bills.
This is more than we can handle at this time.
I've already spent $98 on insulin & syringes.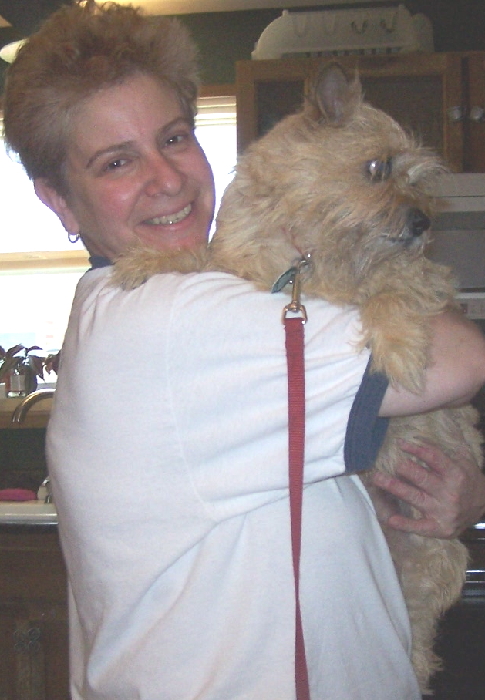 Nicky Kyriacou & Shelby,
whom she adopted from CRUSA two weeks ago.

Linda Savage writes:

The lady who adopted Debbie's foster Shelby
wants to adopt Jack and we were going to transport him
down to her on Sunday, 14 August.
She has/had a diabetic dog.
I hope Jack survives and she can adopt him.

On 9 August, Linda Savage writes:

I talked to Deidre tonight;
she told me that the vet said that Jack is doing better
and that it might take about five days for him to get
where they are comfortable to let him go home.