They said the vet thinks he is okay as he is,
but I don't know when that even was.
I told them we would try to see what we could do,
since money seems to mean more than the dog to them.

I was given this address by someone with the rescue in Denver.
Thanks so much for your consideration of Jacopo.
We will need to let them know as soon as possible.
Hope to hear from you soon.

Shell adds:

Jamie shared with me that this dog had come in five years ago as stray . . .
owmer was tracked down. . . and they took dog back,
but acted as though they really could not have cared less that he was back.

Jacopo is 14 years old; Heather Shea will be his FosterMom.

Andréa writes:

While looking up the name, Jacopo,
I came across the following information.
WHICH do YOU think this poor soul was named after . . . ?

Jacopo (also Iacopo) is a masculine Italian given name,
derivant from Latin Iacobus.
* Jacopo Bassano, Italian painter
* Jacopo da Bologna, Italian composer
* Jacopo Comin, Italian painter otherwise known as Tintoretto
* Jacopo Carucci, Italian painter otherwise known as Pontormo
* Jacopo Corsi, Italian composer
* Jacopo da Leona, Italian poet
* Jacopo Peri, Italian composer
* Jacopo Riccati, Italian mathematician
* Jacopo Bellini, Italian painter
(Thanks for that one, Bob Shire)

Fictional characters:
* Jacopo, a key character in the 2002 film version of
The Count of Monte Cristo (and a minor character in the book).
* Jacopo Peterman, character portrayed by John O'Hurley in the sitcom Seinfeld

---
---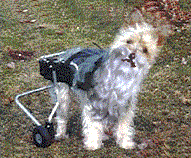 NEAL SKRENES:
Some people! Can only hope that karma turns around and slaps them around the face.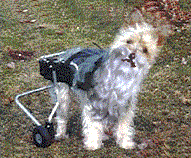 DOREEN MUNDIE:
Poor little guy . . . to get old and weak and not have love . . . horrid situation. Blessings on those trying to help him.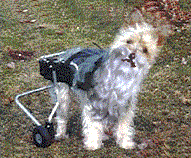 MAUREEN SCOTT
in CANADA:
I tell my two Airedales every day how fortunate they are to live here with us where they are fed nutritious food and cared for properly, walked regularly and accompany us on holidays. Poor little Jacopo........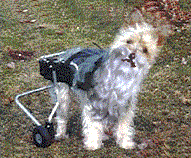 JACKIE PARKER
in ENGLAND:
The poor boy. I agree with Neal: what goes round comes round and I hope it gets them with a double whammy.