She loves me most and wants lots of attention,
but is learning (a little) how to share my love with Frosty & Jeff.
She follows me everywhere,
and Frosty follows her (he is mesmerized with her,
which is an absolute shock since he never
likes any of the new dogs we bring here).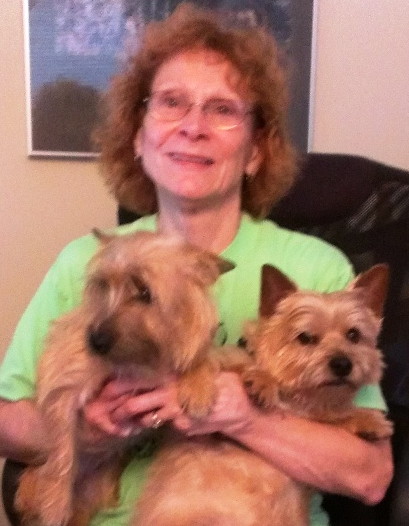 Marilyn holds Katie & Frosty,
who does NOT look happy about the new girl in town!

She is very BUSY - likes to move clean laundry to different rooms,
likes to pick up anything from a closet with an open door,
loves to check out our pantry when the door doesn't latch all the way.
Yesterday I saw her dashing through our bedroom with some of
my clean socks - finally found them a while later.

She has not had an accident in the house yet - knock on wood.
She is pretty skinny, but loves to eat, so we will fatten her up quite soon.
She loves our daily walks in the woods,
and we will be working on leash walking.
I am sure she will become more independent of me in time,
and we will be working on that too.

She finally slept through the night in her crate
for the first time since we got her (yay!).

I know Gypsy is telling her the rules of our house
and smiling her approval from the Rainbow Bridge.
[Gypsy can be seen HERE]

Thank you, Shell & Gayle, for helping to bring this sweet little girl into our lives,
thanks to Barb for arranging the transport and transporting Katie to us,
and to Keith Hembrey (foster dad) for transporting her to meet Barb,
so we could get her in one day!
Fabulous CRUSA volunteers, can't say enough!

Barb replies:

Thanks for the updates on Katie.
She sounds like she has taken over the house, Frosty & your lives.
I am so glad I was able to help get her to you & Jeff.
I love being able to help transport these cute loves
and get them into loving furever homes.
I could tell when I met Keith that he loved her
and would sorely miss her.

On 11 January, Shell Lewis writes:

I'm sure most of you know Marilyn Royle of Michigan.
She & husband Jeff are tireless CRUSA volunteers who have
fostered, conducted home visits and most notably,
Marilyn edits our superb monthly online newsletter,
Carin' for Cairns. This past fall,
Marilyn & Jeff lost their beloved Norwich, Gypsy,
leaving a huge hole in their hearts & their home.
But this past week a little retired breeder girl named June Bug
(now Katie) became a permanent member of the Royle household.

A big CRUSA thanks to Keith Hembrey who fostered June Bug;
Midwest Intakes Director Gayle Kiesow & hubby Bob
who subbed for Keith when he went to Europe;
Barb Miller of Indiana who helped move June Bug in the right direction;
and mostly to Marilyn & Jeff for giving this little gal such a bright future!