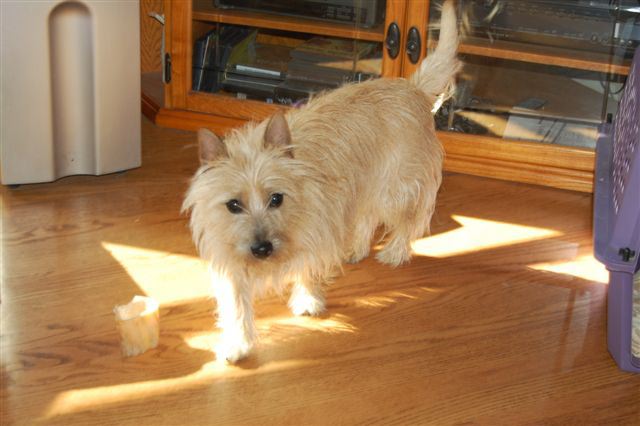 Shannon Radosevich writes:

Some time ago, I had received an email about a dog on Craigslist that was in Stevens Point, Wisconsin. I am from Stevens Point, so Gayle Keisow asked me to see if this dog was still available. Her name is Kea and she is 15 months old, wheaton in color and completely vetted. They were letting her go because the husband said, "The dog has got to go". They were having a hard time potty-training her and he had had enough. Long story short, we made arrangements to go and get her. The morning we were to leave she called and said she just couldn't do it . . . so the deal was off.

Then this past week she emailed me and said Kea really had to go and this was for sure. So Joe & I hopped in the truck and drove to get her this morning. She is adorable and a typical Cairn terrier! Where she came from, she was allowed to run free on their three acres, so having to have a harness on and to be tied up while outside doesn't make her happy! She'll just have to learn that's just the way it goes around here!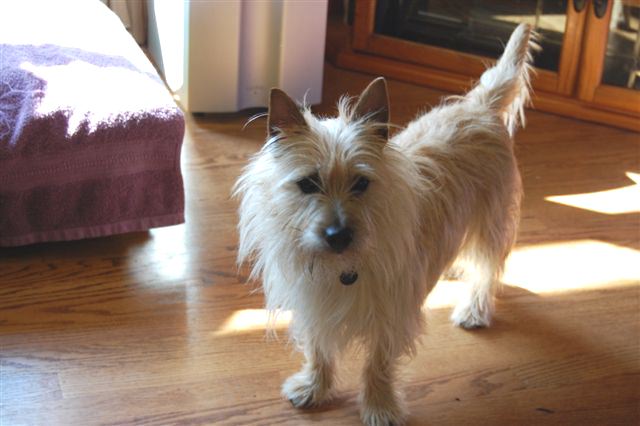 Very sweet temperment; loves to give kisses and her tail wags all day long! But she does think she's going to be top dog and the funniest thing is our Maggy, who is this docile, sweet, gentle puppymill dog, begs to differ with her. I have NEVER heard Maggy growl and snarl until today . . . usually MR.Grumpy takes on this job!!

I heard a noise in our dining room tonight and came around the corner to see what the noise was and here was Kea standing in the middle of our dining room table waggin' her tail like crazy . . . if she could have talked, she would have been saying, "Hey Mom, look at what I can do!" I just about died . . . couldn't help laughing especially with the look she had on her face . . . I think they forgot to tell me some of these things, and maybe why they REALLY let her go!!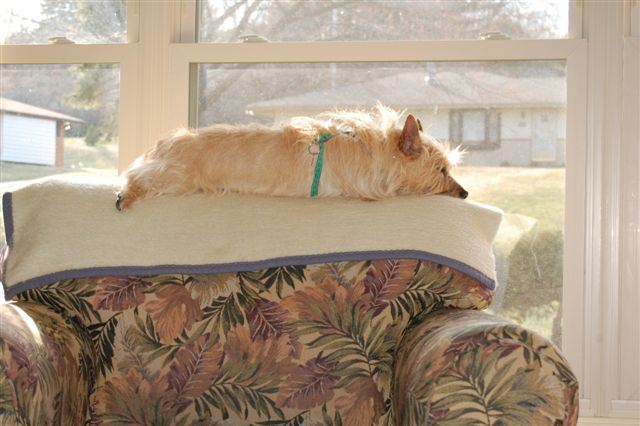 Kea liking her new home!! just chillin' after a rough day . . .