From the Kenosha News, 17 December 1997:

To hear Misha (@RB) & April "Wish You A Merry Christmas", click on the article above.

The following songs from the CD, "Bark! the Herald Angels Sing" are available for you and your Canine Companion's listening pleasure. These were created using RealEncoder, and are approximately 300k each.


Angels We Have Heard on High


Away in A Manger


Here We Come A Caroling


Jingle Bells


Jolly Old St. Nick


O Little Town of Bethlehem


O Tannenbaum


We Saw Three Ships Come Sailing In


What Child Is This?

Thanks to Mr. Scuba for creating these audio files.

See Misha (@RB) & April's HOWLIDAY CARD - 1997






dogs have joined Misha (@RB) and April on the couch since 16 AUGUST 1996. We hope you all were comfy!!






Please stop and leave a message on the






 INTRODUCING MISHA (@RB), APRIL, CARI & RICO

Remember to bring along your virtual pooper-scooper!





These Pages Constructed by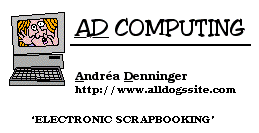 ©1996-2006 All rights reserved
Updated 29 MAY 2006

>