CLICK ON AN AIREDALE WITH A
FRAME TO GO TO THAT SITE


SEND*NO* FRUITCAKE FOR THE HOWLIDAYS
; BENEFITS NAR
Organized by Andréa Denninger


THE STARFISH STORIES 2
WRITTEN BY MAUREEN SCOTT
. BENEFITS AIRECANADA
Organized by Maureen Scott


COMING SOON
2011 NAR ORNAMENT
DESIGNED BY ANN CURRAN
; Organized by Jan Williams


ROLLING FOR RESCUE 2
2011 (PHASE ONE) & 2012 (PHASE TWO & PHASE THREE)
Featuring Debbie Butler; PHASE ONE raised for NAR


2010 NAR ORNAMENT
DESIGNED BY ANN CURRAN
; Organized by Jan Williams


HOWLIDAY CARD WEBSITES MENU
1997-2011
Organized by Andréa Denninger


2010 AIREANADA ORNAMENTS
DESIGNED BY INEZ SMILLIE
Organized by Maureen Scott; raised for AIRECANADA


ADT GIVING TREE FUNDRAISER
2009
Organized by Jan Willliams; raised for NAR


RETROSPECTIVE OF SALLY BABCOCK'S AIREDALE ART
SALLY CROSSED THE RAINBOW BRIDGE IN JULY 2009
Organized by Andréa Denninger


THE STARFISH STORIES
WRITTEN BY MAUREEN SCOTT
Organized by Maureen Scott; raised for AIRECANADA


SIXTH ANNUAL (AND LAST) SENIOR AIREDALES FUNDRAISER
27 APRIL-16 MAY 2009
Organized by Christine Sheffer; raised for NAR


*NO* CHOCOLATE BUNNY FOR EASTER
APRIL 2009
Organized by Andréa Denninger; raised for NAR


*NO* BEER FOR ST. PATRICK'S DAY
MARCH 2009
Organized by Andréa Denninger; raised for NAR


THE WOMBAT BEND FIRESTORM FUNDRAISER
FEBRUARY-MARCH 2009
Organized by Kirk Nims; raised = 4,150 USD for SUE FORRESTER & BILL MOLYNEUX


*NO* CHOCOLATE FOR VALENTINE'S DAY
FEBRUARY 2009
Organized by Andréa Denninger; raised for NAR


*NO* FRUITCAKE FOR THE HOWLIDAYS
DECEMBER 2009
Organized by Andréa Denninger; raised FOR NAR


THIRD ANNUAL (AND LAST) PENNIES FOR AIREDALES
1-30 NOVEMBER 2009
Organized by Barbara Durance & Maureen Scott; raised = 5,243.90 USD for AIRECANADA


SECOND ANNUAL PENNIES FOR AIREDALES FUNDRAISER
1-30 NOVEMBER 2008
Organized by Barbara Durance & Maureen Scott; raised = 5,244 USD for AIRECANADA


COLORADO ADT ROUNDUP 2
5 OCTOBER 2008
Organized by Mary Gade


COLORADO ADT ROUNDUP 1
22 JUNE 2008
Organized by Mary Gade


FIFTH ANNUAL SENIOR AIREDALES FUNDRAISER
8-22 FEBRUARY 2008
Organized by Christine Sheffer; raised for NAR


FIRST ANNUAL PENNIES FOR AIREDALES FUNDRAISER
1-30 NOVEMBER 2007
Organized by Barbara Durance & Maureen Scott; raised = 3,260 USD for AIRECANADA


FOURTH ANNUAL SENIOR AIREDALES FUNDRAISER
FEBRUARY 2007
Organized by Christine Sheffer; raised for NAR


KEKOA THE ALMOST-AIREDALE FROM HAWAII FUNDRAISER & RESCUE JOURNAL
2006-2007
Organized by Christine Sheffer; raised


ROLLING FOR RESCUE 1
2006
Featuring Christine & Tim Sheffer; raised for NAR


CANADA AIREDALE WEEKEND
27-28 MAY 2006.
Organized by Maureen Scott


COQUITLAM AIREDALE WALK
12 MARCH 2006
Organized by Maureen Scott


THIRD ANNUAL SENIOR AIREDALES FUNDRAISER
FEBRUARY 2006
Organized by Christine Sheffer; raised for NAR


LITTLE FORREST, THE WOMBAT FROM OZ FUNDRAISER & RESCUE JOURNAL
2005-2006
Organized by Sue Forrester & Bill Molyneux; raised = 1480 USD


SECOND ANNUAL SENIOR AIREDALES FUNDRAISER
FEBRUARY 2005
Organized by Christine Sheffer; raised for NAR


FIRST ANNUAL SENIOR AIREDALES FUNDRAISER
FEBRUARY 2004
Organized by Christine Sheffer; raised for NAR


WEEK OF THE AIREDALE
28 MARCH-5 APRIL 2003


THE *ORIGINAL* AIREDALE RESCUE QUILT
1999
Conceived by Lesley Mattuchio; organized by Andréa Denninger


BOSTON ADT WALK
11 JANUARY 1998
Organized by Lesley Mattuchio


FOAMF (FRIENDS OF AIREDALES MEMORIAL FUND)
Conceived by Shelley (DeMerchant) Stotts; managed by Sally Babcock (@RB) & Andréa Denninger


AIREDALES ON PARADE/SPOTLIGHT ON RESCUE
Website Maintained by Andréa Denninger







dogs have joined Misha (@RB), April (@RB), Cari, Rico, Daisy2Legs & RosieVi on the couch (WHERE ELSE?) since 16 AUGUST 1996. We hope you all were comfy!!








INTRODUCING MISHA (@RB) & APRIL (@RB)
CARI, RICO, DAISY2LEGS, ROSIEVI& LUUCEEE
Remember to bring along your virtual pooper-scooper!






These Pages Constructed by . . .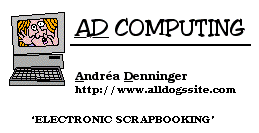 Click on the card to email me

©1996-2011 All rights reserved
Updated 20 NOVEMBER 2011