A long, long time ago (April 2007, to be exact),
in a land far, far away (SouthEast Wisconsin),
Pam Simpson emailed to Shell Lewis:
Could we do some kind of get-together
for area CRUSA folks this summer?

Shell replied: Well, sure, and I'll help. And POOF! she disappeared into a puff of exhaust fumes, picking up dogs here, dropping off dogs there . . . although she did pause long enough to contact PPU and write:

Ok girls . . . I'm so excited, I'm "ferklempt"!

I just called Proper Paws University daycare in Racine and spoke with the NICEST woman. She was VERY excited at the prospect of having us rent their place out for the day. They've done it before and they're really trying to build up relationships with rescue groups. The gal I spoke with (who raises bloodhounds) is one of the instructors there and she has to have the owner call me back. She couldn't quote me a price but she says it's EXTREMELY REASONABLE. She invited any of us to go over there any time and look at the facility. They have the indoor facility . . . an outdoor doggie daycare area and then they have a 1.5-acre dog park and it sounds like it's all together although I can't really visualize it. They have a kitchen. It really sounds like it could be great. And the more I'm thinking about this, the more people are coming to mind.

So Pam thought:

Hmmmm . . . who in the area is retired, loves to organize to the point of obsession, and could do a website for us, too?

For some strange reason, the name ANDREA floated into her head, who immediately wrote:

MIDWEST CAIRNFEST! Shall I start a website, put up an invite, take care of RSVPs and such?

Ideas were thrown into the mix, tossed out of the mix, brought back in; a Yahoo! egroup was begun; more ideas were thrown in and taken out . . . the emails flew fast & furious. And POOF! Shell disappeared again into a puff of exhaust fumes, picking up dogs here, dropping off dogs there . . .

We finally decided upon: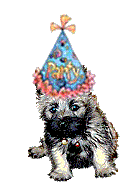 THE DATE:
SUNDAY, JULY 29, 2007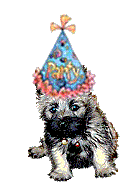 THE TIME:
11:00 A.M. UNTIL 4:OO P.M.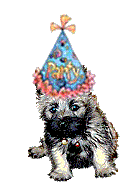 THE PLACE:

2625 EATON LANE
RACINE, WISCONSIN


VISIT PROPER PAWS UNIVERSITY HERE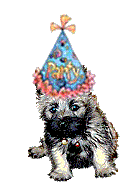 THE DEDICATION:

CRUSA MIDWEST CAIRNFEST 2007 was Dedicated to the Memory of CRUSA co-founder Eileen Czablewski, who was with us in spirit.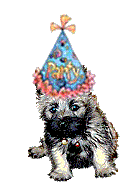 GUESTS OF HONOR:

Fred & Stephen Czablewski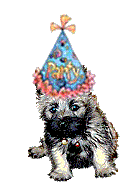 WHAT THEN? you ask . . . follow me to CRUSA MIDWEST CAIRNFEST 2007 - THE EVENT . . . HERE