On 9 October, Shell Lewis writes:

Coming into CRUSA from appropriately-name Devil's Elbow, Missouri, are four dogs (three females; one male); the plan is that we take these dogs on a STAGGERED basis; that is, we take the pregnant female and one of the other females first. Then several weeks later (or when foster homes open up), we go back for the remaining two dogs.

I would move the pregnant female and one of the other females to Dr. Tolliver and then wait for the pups to be born. Once they are born and it's safe for them to travel, then I would plan a transport north. Mike & Linda Carter in Illinois have offered to foster another dog and I would place the non-pregnant female with them.

Carol Koehmsted, a breeder of show Cairns whom I know through the dog shows, has offered to foster the pregnant female & pups. Carol lives in Illinois (far northwestern burbs), so when the transport is figured out, the transporter should plan on delivering the mom & pups directly to Carol at her A+ Boarding Kennel.

(Why is this Rescue Mission called
OCTOBER'S TRICKS? you ask. Read on . . .

(Of course, this did not go at all as planned. The puppy miller delivered ALL the dogs to Dr. T at once, despite the prior arrangement agreed to, whereupon mother Cairn, Wire Ty, went into labor [she was reprtedly due 19 October]. Plans were drastically revised, but that is all part of Rescue!)

On 1 November, Jackie Stidham and her mom again made the drive to Waynesville, Missouri, to pick up new mom Wire Ty & her six pups - three males & three females.

Pam Simpson donated to the NAME THE CAIRN(S) fund: Joel, Aaden & Collin (males) and Hannah, Alexis & Leah (females).

Unfortunately, Ty has rejected the runt we're calling Hannah, so she is being hand-raised and bottle-fed. Bruce, Bear, Stephanie & Kayleigh also joined the transport. Apparently the breeder's husband left her and she had to get rid of all her dogs, closing down her kennel. I would say that's a good thing!

A special thanks to Dr. Korn, who is associated with Dr. Tolliver, for taking Ty & her pups home with her the past two weeks, an alternative to the original plan that Ty would go to A+ Boarding Kennel in Illinois BEFORE she went into labor.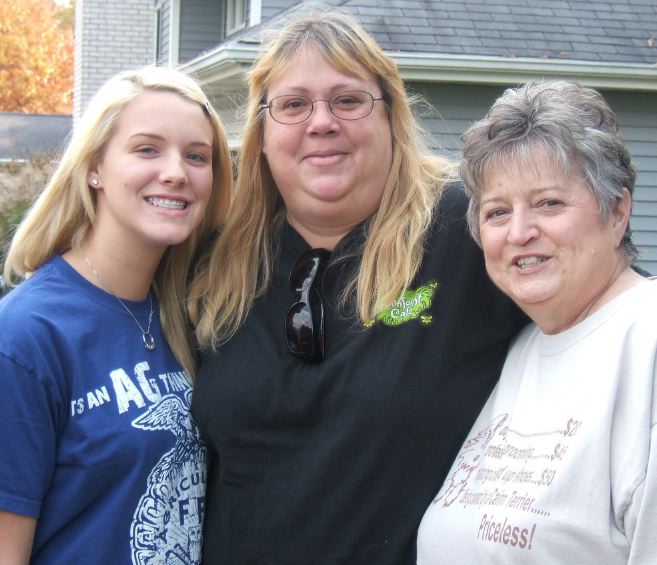 Jessi, Tammy & Gayle

Gayle is wearing her Cairn T-shirt, available at the
CRUSA ONLINE HOWLIDAY BOUTIQUE HERE.
All sales benefit CRUSA Cairns!

Jackie handed her vehicle over to sister Tammy & her daughter Jessi in St. Louis and bless their hearts, they brought all 11 Cairns to Gayle & Bob Kiesow's house in Illinois. A big round of applause for the entire Stidham family, who go above & beyond when they are needed.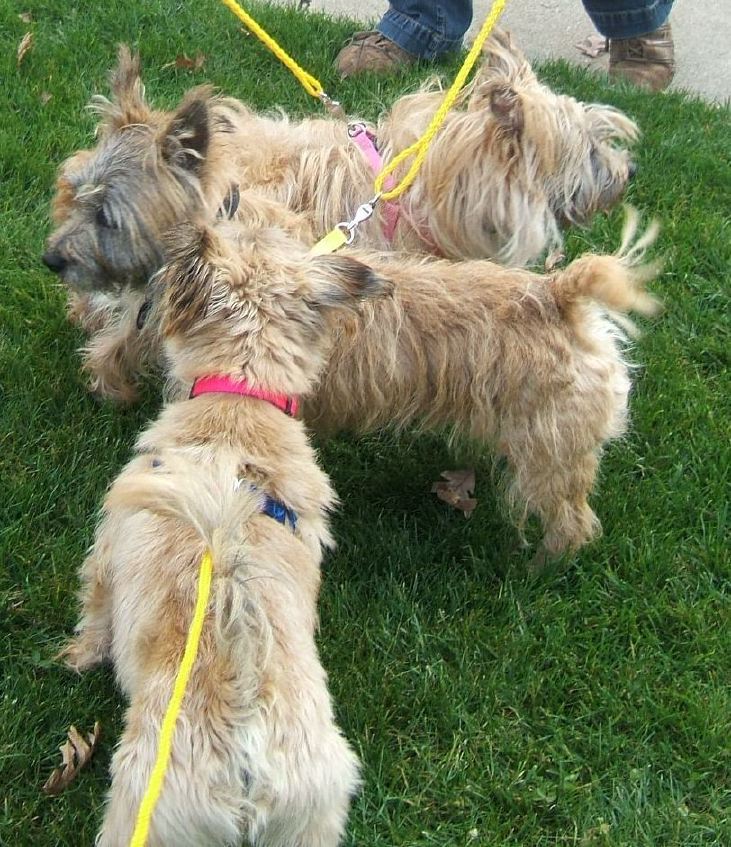 Kayleigh, Bear & Bruce