So many of our Airedales have been given a second (and even a third and a fourth) chance for a good life by Airedale Rescue, which is made up of Airedale folks all over the World. Here are some stories, several with before & after photos, of "Second-Hand 'Dales".


The Airedale can do anything any other dog can do and then whip the other dog. -- Teddy Roosevelt

O'CLANCY GADE (@ RB)
(The Continuation of Oliver Babcock's Story)

CHARLIE (@RB), TOGGLE, NELL, HARRIET & STARR GIESE

MARY GADE'S FOURTH OF JULY PARADE 1999,
WHEREIN AIREDALE RESCUE WINS A TROPHY!

JUNE DUDLEY'S FAMILY OF FOUR 'DALES

SADIE SCHWARTZMAN, THE THREE-LEGGED WONDER 'DALE

RALLY HALL, THE PARALYZED PUPPY (@RB)

LANCE (@RB) & ANNIE MACINNES FROM CANADA, EH

MURPHY DUDLEY - THE SENIOR GUY

ERIC THE RED [DENNINGER/JACOBSON] (@RB)

HELLO DOLLY!
Visit the Hello Dolly! Fundraiser for a hip replacement HERE

PIRATA DE MEXICO
(now known as CAPTAIN JACK or CJ)
Visit the Pirata de México Fundraiser HERE

ENZO OF CZECH REPUBLIC & AUSTRALIA (@RB)
Visit the Fundraiser that brought Enzo back to Australia HERE

MEGHAN
Visit the Fundraiser for Meghan's back surgery HERE

GUSSIE
Visit the Fundraiser for Gussie's medical bills HERE

COLDIE OF THE GOLDEN MOUNTAINS (@RB)
Visit the Fundraiser that paid for Goldie's rehabilitation and therapy bills HERE

LIZZY IN THE HEART OF TEXAS
Visit the Fundraiser for Lizzy's heartworm treatment HERE

JUDY (@RB) & TYNER (@RB) IN CANADA

THE LEXI & SHIRLEY SHOW
IN COLORADO

PEARL (@RB), LILLY, CROCKETT & THEIR PUPPIES IN OKLAHOMA

ALL BAD EXCUSES

Twelve million dogs are abandoned in America every year. The Seattle Society for the Prevention of Cruelty to Animals surveyed the most common reasons:

No time
A move
A divorce
An aggressive dog
Can't afford the dog


One woman said she gave up her dog because it no longer matched the décor of her house.

--  365 Days of Dogs Calendar, 16 March 1999

If you have a Second-Hand 'Dale and would like to share her/his story, please e-mail me.







Thanks to Karen Clouston for the Airedale Graphics














INTRODUCING MISHA (@RB), APRIL (@RB), CARI (@RB), RICOBADBOY,
ROSIEVI THE SHY (@RB), DAISY2LEGS, LUUCEEE YOU GOT SOME 'SPLAININ' TO DO (@RB),
CHRISSI-ONE-EYE (@RB), HEATHER, SWEETEA, ZOE (@RB), BUDDY (@RB), PANHANDLE BONNY,
TIPSY GIPSY & EMMIE IN FLORIDA

Remember to bring along your virtual pooper-scooper!







These Pages Constructed by . . .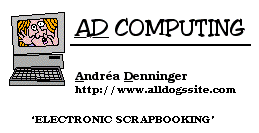 Click on the card to email me

©1996-2018 All rights reserved
Updated 29 JULY 2018