ANGELS FOR ANNA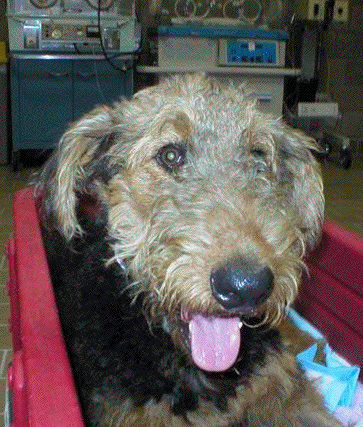 ATRA (Airedale Rescue & Adoption) received the call about Anna the day the lights went out from Michigan to the East Coast [Summer 2003].

Anna was a stray that had wandered too close to a highway the evening before in a rural area of southeast Minnesota near the Iowa border. Her first Angels were the people in the car that hit her. It was an accident and they could have easily left her on the side of the road and no one would have known any different. But their compassion for her and their initial action to take her to a nearby vet ultimately saved her life.

Unknowingly, they took her to the same vet used by ATRA's volunteer, Julie Chapman. This vet, who was her second Angel, initially thought Anna belonged to Julie and called her immediately. Julie's Airedale was safe and sound - so who did Anna belong to? She wore no collar or tags. And what would happen to her now? She had multiple fractures in her pelvis and hips. Julie wouldn't hear of her life being saved without the chance for a happy ending. She became her third Angel and contacted Jennifer Miller, Minnesota Coordinator for ATRA.

Jennifer, Anna's fourth Angel, set the wheels in motion, made some inquiries, and the decision was made for ATRA to take her in and try to help. Jennifer transported Anna to the University of Minnesota Small Animal Hospital in St. Paul. It was late Friday by the time she got there, so Anna was to spend the weekend in ICU while they kept her stable for her upcoming surgeries.

On Monday, the vets at the University of Minnesota contacted ATRA with the details of what Anna was facing. She had multiple pelvic fractures. Her ilium (the wing of the pelvis) was fractured in several places. Her acetabulum (hip joint) on the left side was fractured. There was also a fracture to the head of her right femur. All of these fractures could be repaired with plates and implants and this was the preferred way to repair them.

However, the fracture of the head of the femur was the one they were the most concerned about. If there had been disruption to the blood supply to the head of the femur, it would begin to disintegrate after about four weeks and they would have to go in again and do FHO surgery (remove the head of the femur). Even if they had to do the second surgery, they said she would still have around 80% of her mobility.

In addition to her injuries from the accident, Anna had a bolt rolling around in her tummy that needed to be removed. The vet who would be doing the surgery felt the prognosis was good, though, seeing as she appeared to be only around ten months old.

ATRA gave the go ahead for surgery, which began around 10 a.m. We didn't hear back from the vet until later that evening. Anna's surgery lasted eight hours. They had put two plates in her hips and repaired the other two fractures. As for the fracture in the head of the femur, the vet felt that there was a greater than 50% chance that the repair he did would be just fine when she healed. She was in recovery and they were giving her morphine for now. The plates would make her feel cold for a while so they had some heat on her.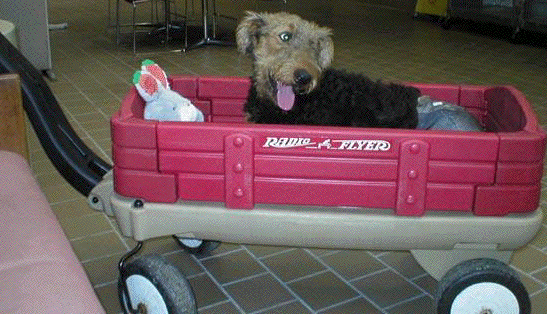 Anna is on the long road to recovery. The number of Angels watching over her are more than can be tracked. She is expected to be well enough to go into a special foster home by the end of the week. Two families have volunteered to help.

For the first two weeks, she needs to be supported when she walks and should not be allowed to run or jump. She has been urinating on her own and the vets felt that incontinence would not be a problem for her. As for arthritis, they said she may start to get arthritis earlier than she would otherwise, but all in all, she should be able to lead a relatively normal life.

The bills for this special little girl will be something over $6,000. This is not an expense we were expecting, but it is one we felt was the right thing to do for Anna. If you can make a donation to help defray the costs, any amount would be appreciated. To use your VISA, Mastercard or Discover, you can fax the information to 517-540-0982 or call 517-546-8303. We would need the card number, expiration date, name and address and the amount you would like to donate. If you would like to write a check, make it out to ATRA and mail it to:

ATRA
1123 Vesper Rd.
Ann Arbor MI 48103

Remember that ATRA is a 501(c)(3) organization and your donation is tax deductible.