On 28 March 1999, Sally wrote to ADT LOVERS LIST:
"I Rescued Max Today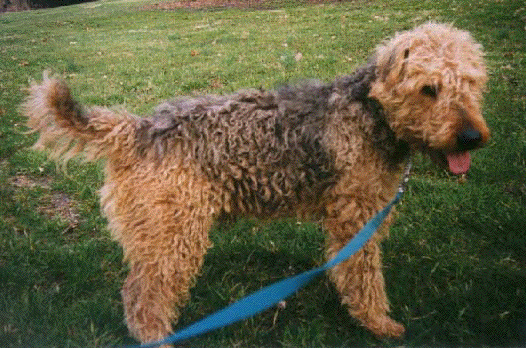 "Oh Goodness - why me? Am I the only one among all the thousands of Airedale Rescue volunteers who manages to get involved with rescues where truth is stranger than fiction? Remember Oliver, now O'Clancy, last October whom we saved from the jaws of death and brought through some pretty threatening illnesses so that he is now a happy, healthy boy?

"Well, today Ron & I met Forrest Gump (no, his real names isn't Gump, but it's pretty darn close) who called last week from an area about an hour south of St. Louis, wanting to 'get rid' of this 'big old ugly dog'. Mary Gade talked to him extensively and set all the wheels in motion. Now, 5.5 hours after picking up Max, a three-year-old, un-neutered male, I'm ready for the funny farm.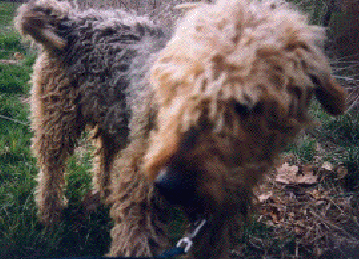 "Max is a mess - long, stringy, matted hair, and he smells pretty bad. Supposedly, Max is up-to-date on all his vaccinations, but Forrest couldn't get the records to bring. (I did get the vet's name, though.) Anyway, Max was a 'farm dog', and if you ever see this as part of an advertisement, know that it means WILD MAN! No manners. Although I was told he is housebroken - wrong. Riding in Forrest's pick-up was the first time Max had been inside a vehicle. He usually rode in the bed. Max has never been on a leash, nor in a crate. And, he has never gone up or down stairs before. Unfortunately, our dog yard is down a flight of stairs and out.

"About an hour ago, I took Max out for a walk. As I stepped off the last front step to the sidewalk, he bolted like the proverbial bat out of Hell - knocked me down. My knee hit the concrete and pain shot through my leg. As I pulled myself up to a semi-sitting position, the dog lifted his leg on me. HaHaHaHaHa! I couldn't believe it! Of course, it would have been a whole lot funnier if it had happened to someone else. Then he had the audacity to give me a kiss.

"He's only about 75 pounds, but boy, is he like a bull Airedale! The other really funny thing is how masochistic he is when doing his business. He lifts his leg, then, with leg high in the air, he squats a bit and goes. It's incredible.

"The good news is that he really is a sweetie. So far, he's all wiggles and wags, and there doesn't appear to be a mean bone in his body. He seems quite happy and affectionate. He's lying here beside me - on leash. Indy & Rodney seemed to be okay with him at first, but now Indy is getting a bit nasty so off to their separate corners they all go.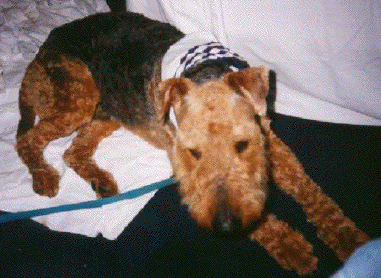 On 31 March Sally writes: "He's at the vet's being neutered as I write this. Max is very small (61 pounds), malnourished and very nervous. He's fine as long as he's right next to me - but won't be left alone or confined at all. He just wants to be loved.

"I can't begin to tell you how filthy he was when we picked him up. And I'm not sure you can really tell in these pictures how matted and dirt-caked he was. The worst part, though, was that there wasn't one inch of him that wasn' filled with ticks. Oh Gawd! I didn't know it that first night. The vet saw them right away, and I scurried him off to the groomers right after that. I then went home and sprayed and sprayed with some supposed tick killer, but I'm watching my two carefully.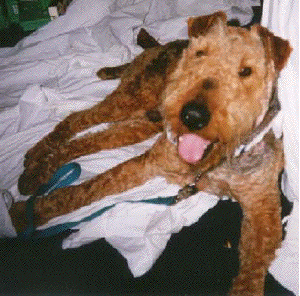 "Anyway, the groomers treated him, but could not remove all the ticks. They said they were dead and would fall off for a few days - YUK!! I pulled some off last night, but I can't see them very well.

"He's now on his way to recovering from utter neglect, getting medical attention, good food, lots of treats, and emasculated. I think he will do well behaviorally and is already showing signs of being a quick learner. He is eager to please."

---
On Easter Sunday, 4 April, Sally writes: "Max - A Week Later

"I'm not so exuberant this morning. In fact, I'm bawling like a big baby. Max just left. This must have been the fastest placement on record.

"Dr. Caroline neutered him on Wednesday, and while he was 'under', she was able to give him a thorough going-over. She said she found 'signs of abuse', but I didn't want to go there. It's just plain miraculous that this dog is as sweet as he is. Have you ever seen an Airedale ignore a cookie when he has a choice between it and a pat from you?

"This gal, Sandy, who lives in Springfield, Illinois (100 miles from St. Louis) and her husband lost their seven-year-old Airedale to (cancer) in January and were utterly devastated. She swore off Airedales. (Ha!) They looked at all kinds of puppies of various breeds, but she ultimately decided she had to have an Airedale. Sound familiar?

"Just two weeks ago, her husband asked her what she wanted for an Easter present. She responded, 'An Airedale'! Then, while she was shopping, she discovered an antique store called Airedale Antiques. The owner introduced her to her two Airedales and told her about Airedale Rescue. Sandy had never heard of Airedale Rescue before. I guess it was shortly thereafter that she contacted Carol Domeracki in Michigan and began to pursue a Rescue.

"The application process went into whirlwind mode this week, but Carol did a thorough 'screening' job. Sandy called me on Thursday night and we had a long, long chat. I could tell she was a true Airedaler. She was anxious to meet Max. I offered to meet her somewhere equi-distant between us, but she wanted to drive down here Saturday afternoon. Well, the 'meeting' was heartwarming. She WANTED him! She had brought pictures of her home and nice fenced yard - but what really threw me was that she was all dressed up in what I would call an 'Easter dress' - high heels and all.

"Fate intervened in this match because she has a huge hole in her heart, and Max needs so much love, attention and work that this is all just too coincidental. I was most impressed with all she had done in preparation for the possibility of adopting Max. She even made a trip to her vet's Saturday morning to confer with him.

" So anyway, I packed Max's - now Murphy (he didn't know his name anyway) 'suitcase' early this morning, complete with 20 pounds of dry food, canned food, his medication, vet records, boxes of vanilla wafers and cookies, knuckle bone, chewies, a fleece teddybear and pigs' ears (gads, he'd accumulated a lot in just one week), and we sat hugging one another for over an hour. I can't tell you how sweet this guy is.

"Sandy was most considerate of my feelings, though I was trying to be a tough guy. Didn't work. During my last hug, I broke down. So they drove away, leaving me sniveling on the curb.

"That's the story of Max, rather Murphy. Another Lucky Dog happy ending. I feel both ecstatic and miserable. Please send your good thoughts to Springfield for a mistreated boy so he may shake off all remembrances of his past and move into a new, wonderful life."