ANNABELLE
BABCOCK




On 13 July 1999, Sally writes:


"Annabelle, the elegant Airedale, came to me in late June 1999. I didn't know what to expect, as the family was dumping her because she had supposedly killed the neighbor's cat. I feel, however, that this was a rationalization, and it was more of a convenience thing. She had been well-cared for in terms of medical attention and grooming, except for ear infections and a big flea problem, both of which were corrected immediately.





"Five-year-old Annabelle was extremely depressed the first week, but her behavior was absolutely perfect. She is gentle, lady-like and highly respectful of my home and possessions. We've not had one incident of any kind to complain about.




"It took a few days to introduce her to Indy & Rodney, but now they are all together, co-exisiting beautifully. She is undoubtedly one of the finest Airedales I've ever been around - perfect in standard, ears, tail, coat etc. - and perfect in temperament and behavior. She is truly a fine example of the breed.





"At the same time, she is pure Airedale, with great energy and affection.





"There is a bit of baggage, though, but nothing that detracts from her good behavior. She has some paranoia in a couple of situations, demonstrating to me some insecurity stemming from neglect. She has shown no aggression in any form.








"So, after lengthy discussions with a family in Wisconsin with young children, I am sending her up up there to a loving new home. This is another heart-breaker for me. I'm still not over darling Mollie yet."





Read ANNABELLE TAKES THE "A" TRAIN for her journey to Wisconsin via ATUR





Annabelle shown with the kind permission of Sally Babcock

The Airedale can do anything any other dog can do and then whip the other dog. -- Teddy Roosevelt

If you have a Second-Hand 'Dale and would like to share her/his story, please e-mail me.

Be sure to visit FRIENDS OF AIREDALES MEMORIAL FUND. Your memorial will make a difference in an Airedale's life.

Back to AIREDALES ON PARADE/SPOTLIGHT ON RESCUE







Thanks to Karen Clouston for the Airedale Graphics








 INTRODUCING MISHA (@RB), APRIL, CARI & RICO

Remember to bring along your virtual pooper-scooper!











These Pages Constructed by . . .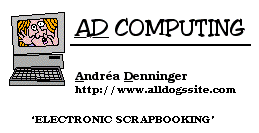 Click on the card to email me

©1996-2007 All rights reserved
Updated 15 APRIL 2007