My foster mom just got back from the airport. She said she had to get the airplane ready to take me to you. She had to plug it in and put gas in it. She got some new charts and is planning our trip now while I am writing this to you. I don't understand all the colors & symbols on the charts, but as long as my foster mom does and she gets me to see you as soon as possible, that's fine with me!

I saw in your note that you said I was going to live with a Beagle. I live with a German Shepherd right now and he's cool. Max will have to learn though, that I want to be the queen of the house.

My foster mom & dad tried to get some pictures of me last night, but I really didn't want to sit still. I was too excited. Besides, I had to live up to my nickname of BusyBody Brandy.

My foster mom said it was going to take about three hours to get to the airport near your house once we leave. She will give you a call to let you know just before we take off from Michigan.

See you soon!
XOXOXOX
Brandy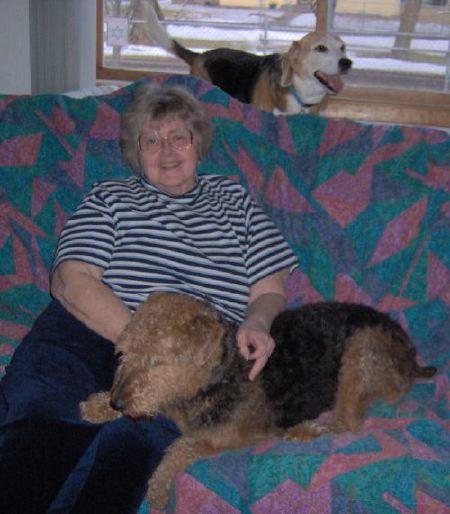 Joan, Max & Brandy, Home At Last

On Sunday, 13 February 2005, Joan writes:

Brandy's first night was confusing to her I am sure. She has been accepted by resident dog, Beagle Max. She is more interested in him than he is in her. She would like to stay closer to him but he just walks off.

She wandered around the house and found a beautiful Airedale in a full-length mirror in a hallway. She was wagging her tail and moving toward the dog and then backing away; after about ten minutes gave up on that dog and lay down on her bed.

This morning it is raining and neither dog wants to go outside; our one trip resulted in our mission and a dry towel felt good to be dried off with. She squiggled & wiggled and got goofy, did some prancing & a playbow. Lots of hugs & a nose kiss and telling her she is such a good girl. Brandy is now napping & snoring softly.

I know she has trouble seeing with light changes, like from a lighted room to a dimly lit room, stairs are taken with care, dog door is a mystery yet, and she is right beside you or behind you and you better look before you move as she is right there.

She may move a little slower, not see as well as she once did, but she still has a lot of life in her and I can't wait for a dry day when she can investigate the yard and to see her reaction to being able to wander around and sniff all the country smells. Yes, I plan on spoiling her rotten.

On Monday, 14 February 2005, Joan writes:

I have deliberately waited 'till this morning to sign the final papers that show Brandy is in my care now forever. It is my gift to Brandy. Happy Valentine, sweet girl.

On Friday, 27 January 2006, comes the sad news from Joan:

Brandy's health started to fail around Christmas. On New Year's Day, with the help of Brandy's vet, and me holding her in my arms, Brandy crossed the Rainbow Bridge. I tried so hard to make it to her 14th birthday in February, but Brandy was ready to leave now.