September rolled into October and there were a few opportunities to adopt, but none was suitable for our little group. October rolled into November when finally an e-mail came from Carol Adams of New York Rescue. She knew of a 'dale in need of family and we were a family in need of a 'dale! Could this be the one Kelso picked for us?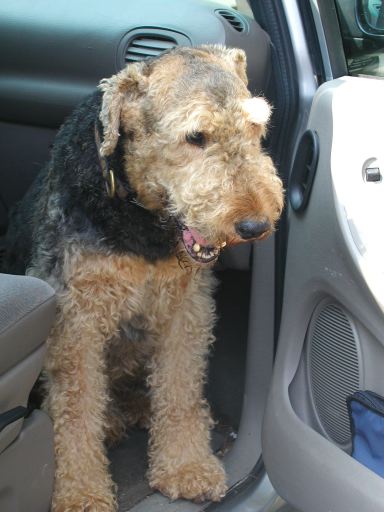 After several phone conversations and a couple of e-mails with her present owner, we began to see the light . . . Portia (as she was known then) was looking more and more like a perfect fit. So we hopped in the car and drove west! It was about four hours to Poughkeepsie, New York from our home in Burlington, Massachusetts and the excitement in the car was palpable. The kids were brainstorming new names for our potential little beauty and Otis was just thrilled to be out in the car. David & I were silently chanting the mantra, "I hope the dogs like each other, I hope the dogs like each other". Neither one of us wanted to think what the ride home would be like if they weren't compatible!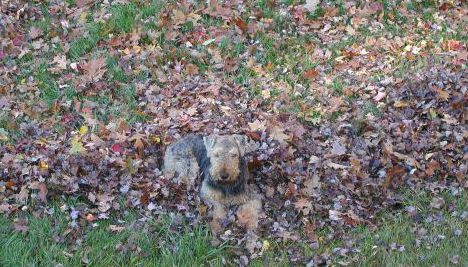 Find the Airedale . . . Otis is hiding from Piper

We met Portia at the door of her home and it was love at first sight! She was an absolute ball of energy, something we had not seen for a while. All of our past rescues had been seniors. We walked her a bit, let her get to know us and then made the big introduction. You could hear a pin drop from the uprights, waiting to see how it would go. Portia thought Otis was the bees' knees. Otis thought Portia was just a bee buzzing around him. But, there were no teeth, no aggression, no growling, no problems. . . Portia was coming home to Burlington.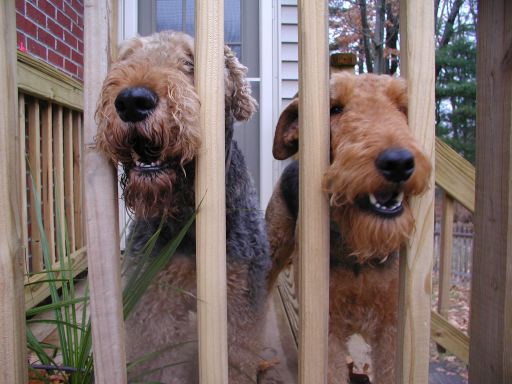 Otis (@RB) & Piper

Well, we still haven't answered the question yet. Was this the dog Kelso had chosen for us? We know she is and let me tell you why. We came home after another four hours in the car, tired but excited. The kids were already calling family & friends from the car to let them know. Portia came in the house, made two circles around the first floor and went directly to a remote corner of the living room. She began digging like crazy under the chair. She was like a dog posessed. I tried to distract her and calm her, but it wasn't until my son, Ethan, pulled the chair out that we saw the cause of her strange behavior. Under the chair was Kelso's favorite tennis ball, missing since the day before he died.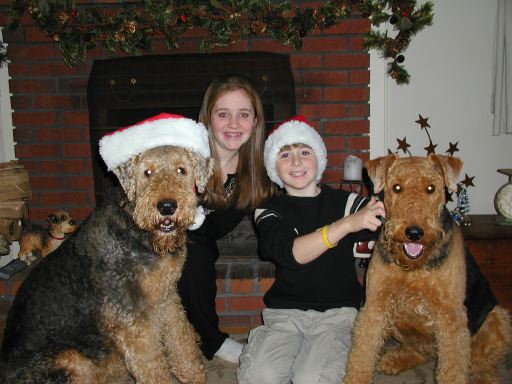 Otis, Jamie, Ethan & Piper
Christmas 2004

Portia, now Piper, was home.