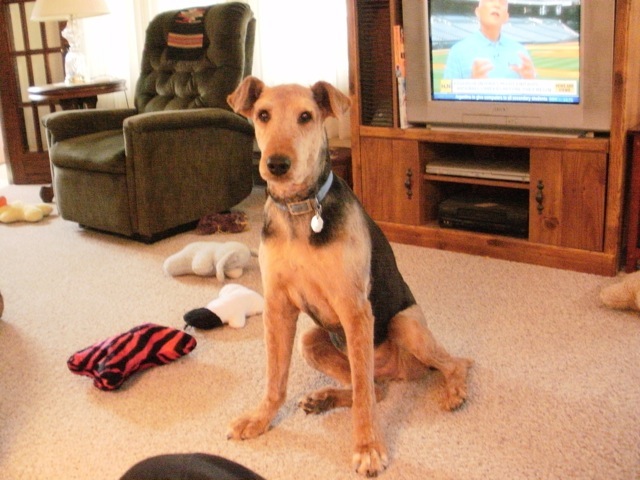 Paula Lackner originally wrote that Disney needed a new foster home due to changed circumstances. However, before this site was finished, a new foster home was found.

Paula writes:

Welcome to the world of ten-year-old Disney, born in February 2000. This young-at-heart girl is wishing on a star that she will find a new home that will love & appreciate her.

Disney was dumped at a shelter because her family had a new baby and she was no longer part of the new family. Her new foster family welcomed her with open hearts and arms. She was overdue for a bath & groom, so her foster Dad got her to the groomer the next day. She looks like a million bucks now and prances around because she knows she looks beautiful again.

She has resided with a male Airedale buddy with whom she loves to play. Her foster Dad says she walks great on a leash and enjoys her walks with her new buddy. She is great with people & other dogs, but not cats or squirrels!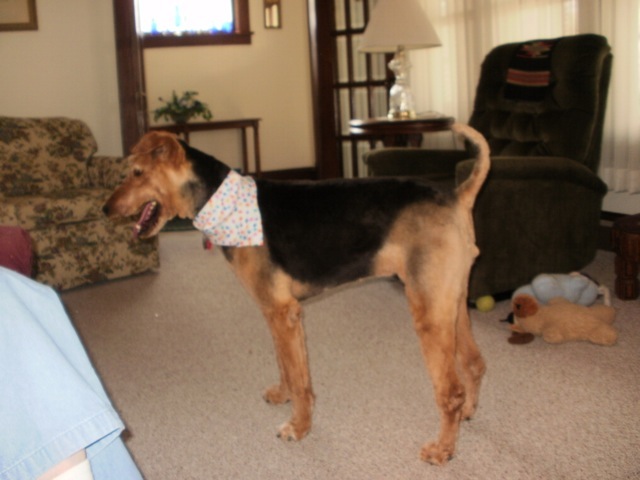 Disney loves her toys & treats, and especially likes to sneak human food off the table. One of her favorite pastimes is to countersurf. Her foster parents say they are working on that!

Overall, she has adjusted well in her new home and is a happy girl. Her foster family feels she needs a fenced yard, as she is a runner and given the opportunity, she will take off. She has lots of pep so do not let the age fool you. She weighs in at 63 pounds, is in good health and recently had her teeth cleaned. She is up-to-date on her vaccinations and microchipped.

Are you willing to grab on to her star and give her the wish she so deserves - a new forever home? Paula Lackner would love to hear from you HERE. She is so much more fun than any ride at Disney World, and you can have her all year round!