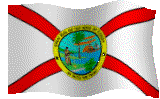 MURPHY
THE SENIOR
On 15 June 2000, June writes: "About two years ago, when Murphy was nine years old, he started having problems walking - he would fall over when he lifted his leg and we had to hold him up to go to the bathroom. He was diagnosed with Lupus and Addison's disease. The vet I took him to gave him Prednisone and herbs.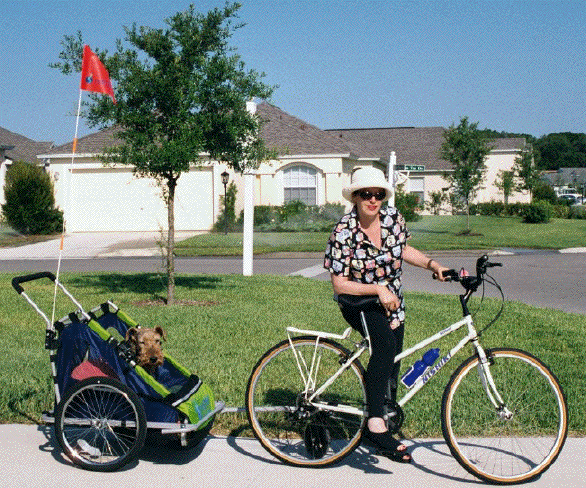 "They helped for a while until a little over a year later when in typical Airedale fashion he found a pair of nylon kneesocks in my visiting daughter's suitcase and ate them. He was very sick and could not keep anything down. This meant the Prednisone wasn't getting into his system. (He did finally vomit the kneesocks on our front lawn.) He completely stopped walking and we took him to the University of Georgia hospital. There after many tests he was diagnosed with Discospondalytis and Rocky Mountain Spotted Fever. He was treated with antibiotics. It was a long road almost back. I had a young rescue that I was fostering and had to keep Murph isolated to protect him. We had to carry him (50 pounds) up a down the stairs, and hold him up outside.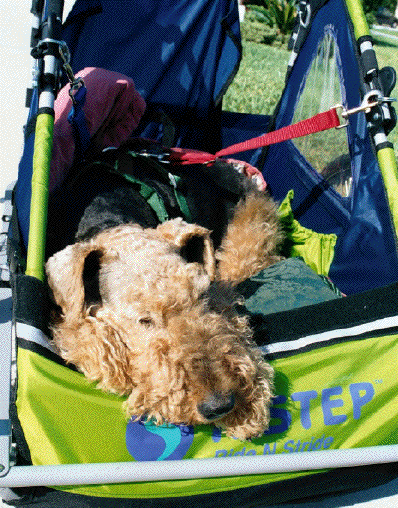 "Murphy started walking, but not much and walked sideways when he did. I had new x-rays taken here in Florida and the Discospondalytis returned, along with a low thyroid. He just could not walk much and was getting depressed. I thought a cart to ride him around in would be the solution. I would get exercise and he would get out and around. He is so happy and content now. Where we live was meant for bike riding and getting out and about so this has been a wonderful solution for a senior ailing Airedale who needs the stimulation and attention.

"The only way to get him out is to say we are going for a ride, he will head straight for the cart. After the ride, he won't get out so I wheel it inside our fence and let him stay put while we sit on the lanai.

"I would recommend this for anyone."
Murphy shown with the kind permission of June Dudley

The Airedale can do anything any other dog can do and then whip the other dog. -- Teddy Roosevelt

To see another Airedale-In-A-Cart (whose legs are paralyzed), visit RALLY HALL

If you have a Second-Hand 'Dale and would like to share her/his story, please e-mail me.

Be sure to visit FRIENDS OF AIREDALES MEMORIAL FUND. Your memorial will make a difference in an Airedale's life.

Back to AIREDALES ON PARADE/SPOTLIGHT ON RESCUE







Thanks to Karen Clouston for the Airedale Graphics








 INTRODUCING MISHA (@RB), APRIL, CARI & RICO

Remember to bring along your virtual pooper-scooper!











These Pages Constructed by . . .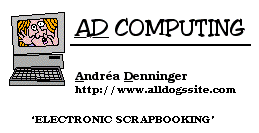 Click on the card to email me

©1996-2007 All rights reserved
Updated 15 APRIL 2007










Get your own FREE Home Doghouse at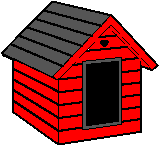 GeoCities Homesteading Homepage