On 11 August 1999, Patty writes: "ATRA was called by a local Humane Society about an eight-year-old female that was dropped off to be euthanized along with a small Schnauzer. Their owner had died and the son didn't want to keep them.

"My husband and I went right away to pick her up. They warned me at the front desk that she was smelly and needed to be trimmed . . . that was an understatement! This dog was the saddest-looking Airedale we had ever seen. The dreadlocks were six inches long on her legs. The stench was so bad, my husband took her outside while I sprung her. The girl helping me was shocked that we had come so quickly. She had calls into other rescue groups that she had place up to two weeks prior! I told her we are very organized and very serious about what we do in ATRA.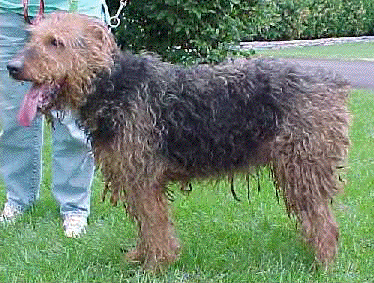 CeCe, the Rasta Dog

"In spite of how she looked, CeCe just wagged her tail and tried to do a little ''happy dance' at the prospect of going for a windows-down car ride. We took her to our vet for shots, tests, and exam so we could arrange to have her spayed. The next morning we found out she had a severe urinary tract infection, which needs to be cleared up before any surgery is done. Fortunately, no heartworms.

"The next step we needed to do was get her cleaned up and smellin' good. With the expertise of ATRA volunteer Annette Hall, and the use of a friend's facilities, we got her cut and bathed . . . and bathed . . . and bathed.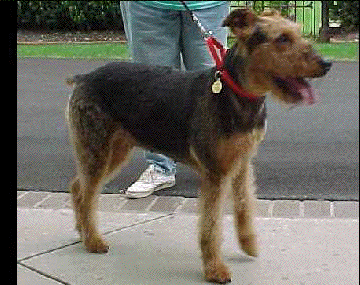 "We're pleased that in less than 24 hours from saving this girl from death row, she is on medication, is happy and ready to go to her foster home.

"ATRA works very hard to keep the doors open for all Rescue groups. I wanted to show these pictures to all of the generous Airedale lovers who donate the appreciated dollars that allow us to keep going. This is what the donations allow us to do . . . almost daily. CeCe thanks you and ATRA thanks you.

"Patty Eisenbraun"