Steph Callahan writes:

His name is Finn and he's just five years old.

Finn's journey began in 2008 when he was two.
That was the first time his owner contacted ATRA
(AIREDALE TERRIER RESCUE AND ADOPTION) about surrender.

According to the owner, as soon as the family adopted Finn at age 1,
they noticed he had trouble getting up from the floor
and was hesitant to use the stairs. He was overweight
and had been diagnosed with hip dysplasia.
Finn took prescribed medication to help with the hip dysplasia,
but the family was limited as to what they could afford.

To make matters worse, at home Finn was separated
& secluded from the family much of the time because
there were young children in the house. His owner stated,
"At this time, Finn is behind on his shots, in need of a trim,
and has not been on meds for about a month. Our financial
priorities have sort of left him on the back end. We believe
that Finn would be much happier in an environment that
was more conducive to his size & gentle exercise needs."

An ATRA volunteer arranged to bring Finn into rescue,
but the family suddenly hesitated; all contact with ATRA ceased.

Until February 2012.

On February 22, the owner again contacted ATRA about Finn.
The family was breaking up and in "desperate need" of surrendering Finn.
It was also revealed that Finn's hip dysplasia had worsened
to the degree that the pain caused him to bark & moan in agony.
He was also beginning to snap at the children when agitated.
"He is a sweet boy and wants to play, but can barely walk,"
the owner stated in an e-mail.

When I finally met Finn, he was in the back of a truck in his portable kennel.
He could not get out of the truck.
We had to lift the kennel to the ground and he struggled,
leaning his weight on his front legs to stand and get out of his kennel.
It was heartbreaking to see how he was suffering.
It was shocking to see the effects of the hip dysplasia and
Finn's efforts to relieve the pain that had contorted his body.

Although a little larger in height than is typical for an Airedale,
Finn tipped the scale at 115 pounds . . .
20-25 pounds more than his physical build should carry.

His butt is very small compared to his chest.
He has lost his muscle in the back legs because
he has been leaning forward, putting his weight
on his front legs in an effort to make
the pain in his back legs go away.

Finn has been walking on hips that have been grinding together,
causing them to further deteriorate and be painful all this time.

Through it all Finn has been happy & sweet, giving out
tail wags & kisses whenever he meets someone.

Finn has hip dysplasia - the failure of the ball & socket to develop normally.
It is one of the more common skeletal diseases in dogs
and is most common in large breeds.
Genetics, obesity & nutrition are causes of hip dysplasia.
If left untreated, the deterioration of the hip joint
can cause crippling lameness & painful arthritis.

X-rays revealed another serious problem for Finn:
A torn Anterior Cruciate Ligament (ACL) on the right side.
It's likely Finn's hip dysplasia and
the excess weight caused the ACL rupture.
When the ACL is torn, weight-bearing movement causes
the upper bone of the leg to slide down the lower bone.
Not only is this painful, but causes the knee to give out while the dog is walking.
This type of injury is often accompanied by a CLICK that can be heard when a dog walks.
Finn has an audible click when he walks, which is bad.

Left untreated, Finn's leg will likely become arthritic & painful from instability.
Such an injury can be debilitating, regardless of the dog's age.

A dog's knee joint is similar to ours . . .
imagine the pain we'd be in if we experienced
an ACL rupture in both knees. Now, imagine what Finn is going through.
Through it all, Finn is still happy to see me.
He's such a nice boy and greets people with his tail wagging.

After consulting with veterinarian Dr. Scanlan at Otter Lake Animal Care,
we decided the first thing was to put Finn on a diet to get his weight down.
We felt that would give him some relief,
in addition to improving his overall health,
while we considered the next steps.

However, things did not work out as planned.
Because Finn was putting all of his weight on the left leg
- the less painful of the two legs -
in less than a week after he arrived into rescue he ruptured his other ACL.

Finn didn't come all this way for us to give up on him.

It will take two surgeries to mend the damage to Finn's legs.
The first surgery will repair the right ACL and hip.
A titanium plate & screws, spacers & a bone graft
stabilize the thigh bone from moving downward over the sloped shin bone
and femoral head ostectomy (FHO) where the hip joint will be modified.

The goal is to relieve Finn's load from the ligaments to the quadriceps muscles.
After Finn has recovered from the first surgery,
with the help & love of his ATRA foster family,
a second surgery will be performed on his left ACL & hip.

During the recovery, because of Finn's weight,
he will need a cart for support.
As the repaired leg starts to feel better,
the tendency will be for him to shift the weight to the good leg.
The cart will support him, letting him use the legs,
but bearing the weight to keep him from
re-injuring the one that was just repaired.

ATRA is determined to help Finn.
Paula Lackner sent a cart that belonged to Patrick O'Malley,
her Airedale that crossed The Rainbow Bridge.
We tried it for Finn, but after working with
the company that made it, found it was too small.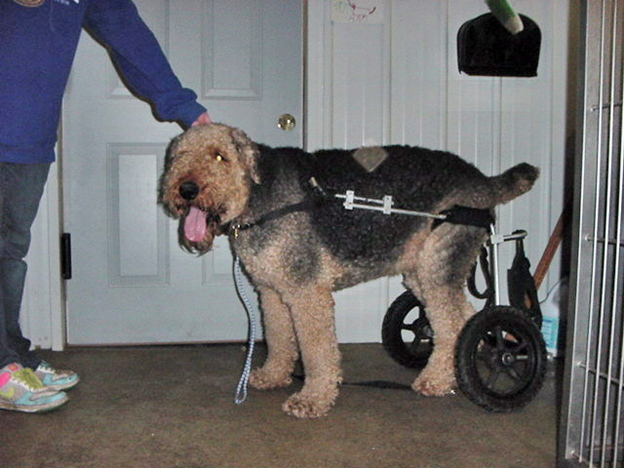 This is the old cart; notice how it pulls his back end under.