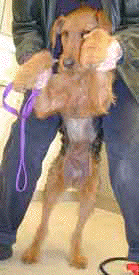 On 29 March, Mary writes: I went to the clinic to see Tessa today. She is a little sweetie. Her incision is SO big. Dr. Vana said the chunk of bones, stones and sticks was huge, and all stuck together! She would not have lived another day. Now she is a wiggle worm, and full of kisses!

I think we will start a fundraiser campaign and call it ...............are you ready???

T-SHIRTS FOR TESSA!!

Thanks to all of you who have bought our shirts and support RMARC or any rescue! I will keep you posted on little Tessa. She sure was worth saving!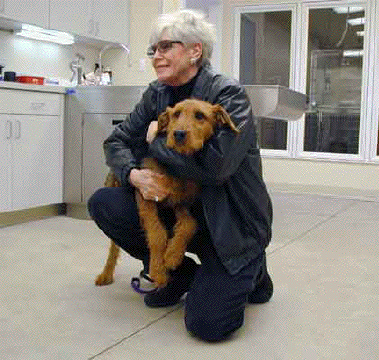 Tessa & Mary

Later that day, Mary writes: Tessa is just a little sweetie. Kisses, kisses, kisses!

She is just skin over bone and will be on a special home-cooked diet with a lot of crate rest for ten days. I have never seen such a large incision! The gunk was all mixed together and blocking her intestine and in a hard mass! She had not eaten nor drunk for about eight days. Dr. Vana is a wonderful surgeon. She told me Tessa was weak and shaking when brought in and would not have lived long.

I have a wonderful foster/adoptive? home for her. She will be picked up at the hospital Tuesday.

This one turned out SUPER!

Monica Mahn writes: Helping Tessa

Just wanted to pass on the news that you don't HAVE to buy a T-shirt to help Tessa . . .

You can simply PayPal a donation - it's as easy as 1-2-3!

1.  The RMARC recipient email address for PayPal is pauldiggins@rmarc.org.

2.  Select Quasi-cash as the type of payment and . . .

3.  Make reference to Tessa in the notes section.

You'll sleep better tonight knowing that Tessa and other dogs like her are being helped!