On 10 July, Mary reports:

Casey will have his second heartworm treatment next week. Meanwhile our foster mom got him in to see the holistic vet near Oklahoma City. I really liked this vet. She's in Mustang and her name is Dr. McNeill. I spoke with her this evening and it's a good thing we raised the money we did for Casey as he has all kinds of problems.

First, his left femoral neck is spindly and the head was damaged also. The vet said it was from either avascular necrosis or a tumor. He may need hip surgery, but he also needs a lot of calcium she said. Unfortunately, he has a very sick liver so he is unable to absorb the calcium. She put him on two medications for the toxins and Immuplex to treat the infection.

She also found what looked like a healed fracture of his pelvis and mild spondylosis of the lumbar spine on the x-rays. This dog had a lot of fluid when he came to his foster home and he has lost it by now. He still weighs 105 pounds and the vet said she didn't think he was overweight. He also had some acupuncture today for his liver and kidneys to help clear out the toxins which may have been caused by and were certainly exacerbated by his heartworm treatment.

Please send zen for our boy, Casey, that he continues to improve as he was really sicker than we thought. He has a ways to go, but he's getting good treatment and he obviously has an iron constitution.

On a lighter note, he loves playing with his toys and he's been "helping" to take care of the two pups staying there that will be going to Utah on Saturday.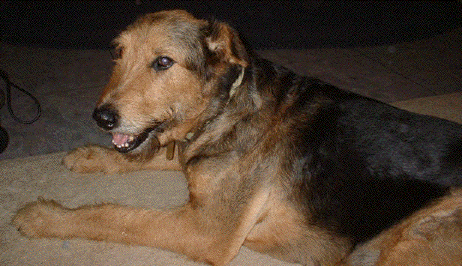 On 9 August, Mary writes:

In June we rescued a senior dog from the Kansas City shelter that turned out to be heartworm positive. We were able to save him, thanks to the generosity of listmembers here.

He has completed his treatment at his foster home in Oklahoma and we now need your help again. Casey needs a permanent home. He is a big boy (abouut 95-100 pounds) and has some hip soreness so he will need supplements or medication. We may be able to subsidize some of this if necessary.

He has an Airedale sense of humor and loves to play with toys. He tries to keep up with the other young dogs in his foster home. We need your help in coming up with a home that he deserves, where he will get love and good care. He behaves himself when his foster mom is at work and gets along well with the other dogs in his foster home, so he would be very easy to incorporate into a new home setting.

Please think long and hard about whether you or someone you know might be a good home for Casey. If you think you might be interested, please contact Heather Scharbach.

Remember that rescue involves two steps: saving the dog from harm or death and then placing him/her in a good home where s/he can thrive on love and attention.

On 19 August, Evie Fieseler writes:

URGENT

Some time back we saved this big boy's life, first by getting him out of the kill shelter in Kansas City shortly before he was to be euthanized, and then again by donating money to provide heartworm treatment for him. He's been fostered since then and he's a calm, happy boy who is perfect in the house, but he hasn't yet found his forever home.

Now Casey is in trouble, because his Foster Mom's life situation has changed and she can't keep him any longer. Casey has an urgent need! If any of you can offer him a loving forever home, you know the lovelook you would put permanently into his eyes! If his very own forever home isn't ready for him yet, then Casey needs a new foster home. No way are we sending this sweetie back to the shelter!!

If you can help Casey, email Mary Giese. I just know somebody can come up with something for sweet Casey! Let's not let location be a factor here. We can manage to get him to where he needs to be. He's not a youngster, and he deserves a safe and loving home for life! Let's all see what we can do for this guy.

On 22 August, Marcia Jensen-Barnett writes:

We will be meeting his current foster mom on Sunday and bringing him to our home in Eastern Oklahoma . . . more later after we get to know him!

On 24 December, Mary reports:

Some of you may remember Casey, the dog from the animal shelter in Kansas City that needed your help this past summer. People on this list kindly donated money for his heartworm treatment, which he had. We also discovered that he had hip dysplasia and was hypothyroid. He passed through two foster homes but it did not look like he would be finding a home soon due to his health and age.

Since my move [to Arkansas], I have had much better surroundings for the dogs, more indoor amenities and a bigger yard. So, I decided to adopt Casey, which makes five dogs here. Casey came about two weeks ago and, sadly, was not in good shape. He had an ear infection and a staph infection on his skin. I took him to the vet first thing the following Monday (he came Saturday afternoon) to get medication. He was very crippled and his vision was not so hot. He also smelled from the ear and lack of bath. The girls welcomed him with open paws, but Toggle was a bit skeptical. I was just concerned because he fell down so much.

Casey is doing well in his new surroundings. His skin smells much better as does his ear now that he has been treated. He has stopped chewing his skin and is loving his new food, his treats and the attention. He is walking better and seems to be able to see what he needs to see. My best guess is that he is an Airedale-Irish Wolfhound cross. I plan to let him recover from his various infections and then consider whether he should have hip surgery.

Mary & the *Razordales* (Nell, Toggle, Harriet, Starr & Casey (@RB))