Lisa reports:

We took Goldie for a nice spin outside today.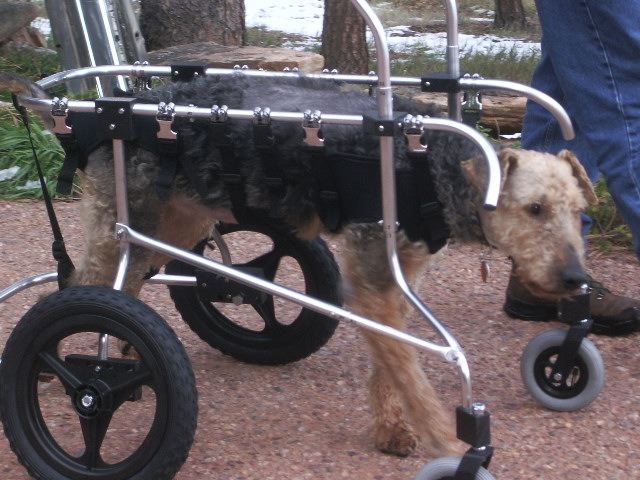 She's definitely getting the hang of it and using her front legs to propel herself. She tries to use her back right leg some of the time but really doesn't use her back left leg at all while she's in the chair. We keep her left back leg in the sling, and after a few minutes usually put her back right leg in the sling, too, as she tends to start dragging it. We certainly hope this will change with time.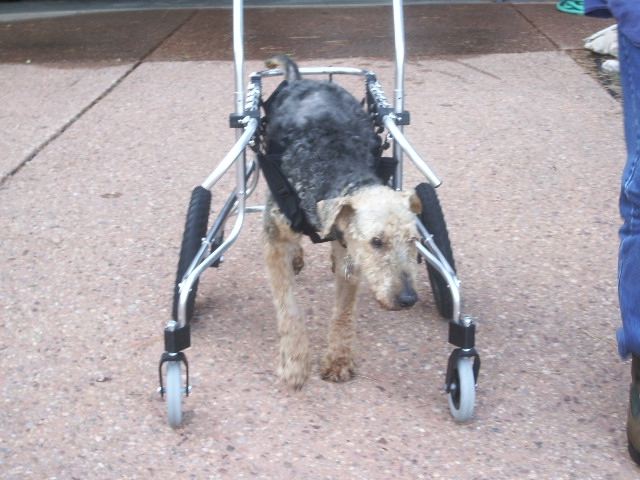 I remember a hunter told me he liked to hunt with hounds and at least one Airedale because hounds keep their noses to the ground and an Airedale always sticks his/her nose up in the air. While we were outside today with Goldie in her chair, it was very nice to see Goldie with her head stuck high in the air. She probably caught lots of great smells as we have many frequent "guests" here including bears, mountain lions, bobcats, raccoons & skunks, to name some.

CONTINUE WITH THE SAGA OF
GOLDIE OF THE GOLDEN MOUNTAINS HERE