When ATRA got the call, they told the clinic to do what they needed for basic life support for this girl while arrangements were made. Everyone just kept asking how could this dog have survived in the wild, paralyzed & helpless.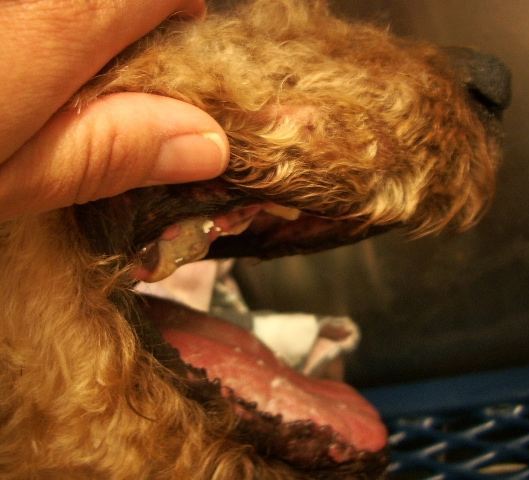 Missing & broken teeth . . .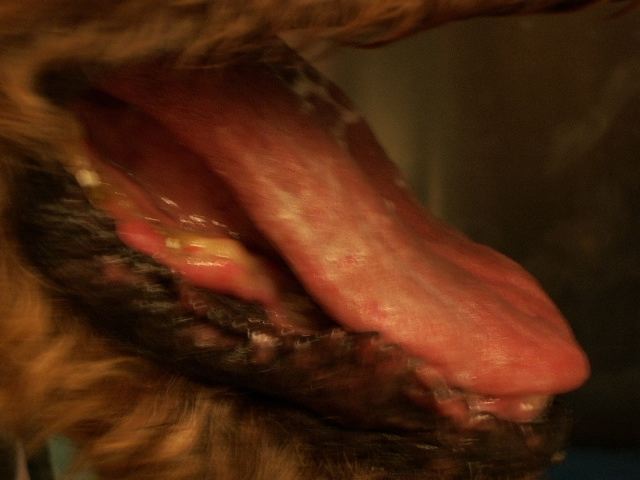 . . . tongue covered with sores

From the look of the muscle atrophy in her back legs once some of the filth was shaved away, it had been weeks, if not months, since she had been able to walk. Incredibly she had been pulling herself along by her front legs. Somehow this courageous Airedale found food & water and managed to keep herself safe from predators. With sheer determination surviving the cold, the hunger, fear & loneliness. How could this be?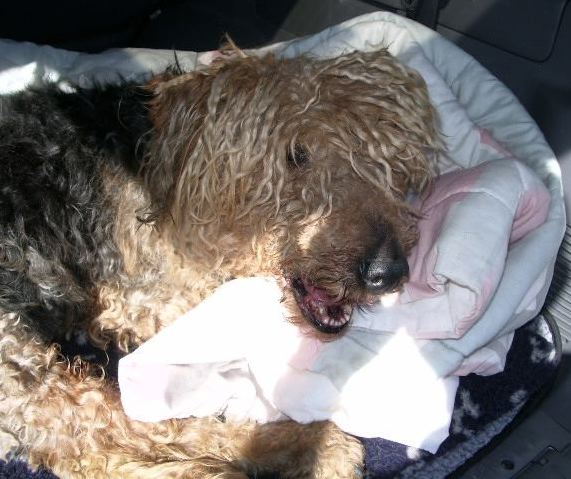 30 September
Goldie is on her way "Home"

Airedale Rescue volunteers Lisa & RJ immediately began an eight-hour road trip to bring this girl from the mountains of Colorado to a full-service Veterinary Center in Denver. As they traveled, Lisa & RJ wondered what they would find when they got to the hospital. It was fall in Colorado; the aspen trees had already turned from their soft green color to a spectacular gold. As their eyes took in the sight of the beautiful golden-colored mountains as they drove, they could only wonder what a frightening place this must have been for this dog. They decided right then the strong girl who had somehow survived these mountains should be named Golden Mountain Girl - Goldie.

CONTINUE WITH THE SAGA OF
GOLDIE OF THE GOLDEN MOUNTAINS HERE