Lisa writes:

During our physical therapy session today, we did a brand new exercise with a very large ball on a mat. This allowed Goldie to strengthen and stretch her back legs. It was great to see.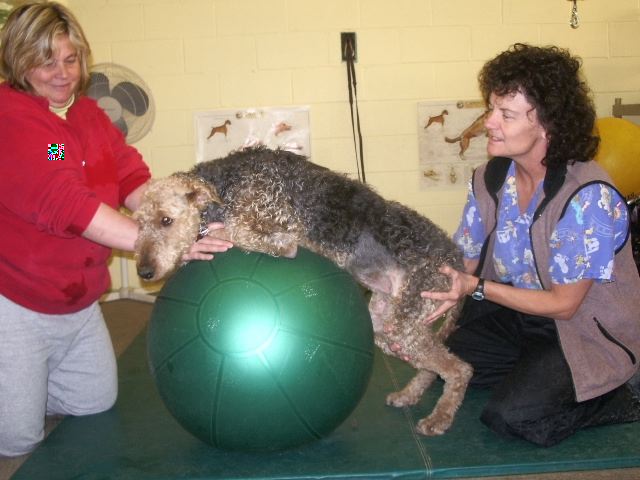 Today we had our sixth physical therapy session at Back On Track. It's not just about swimming. Susie used a large ball that supported the majority of Goldie's weight but gave her back legs enough "responsibility" to strengthen them and make them responsible for her balance. Goldie actually seemed to enjoy this one.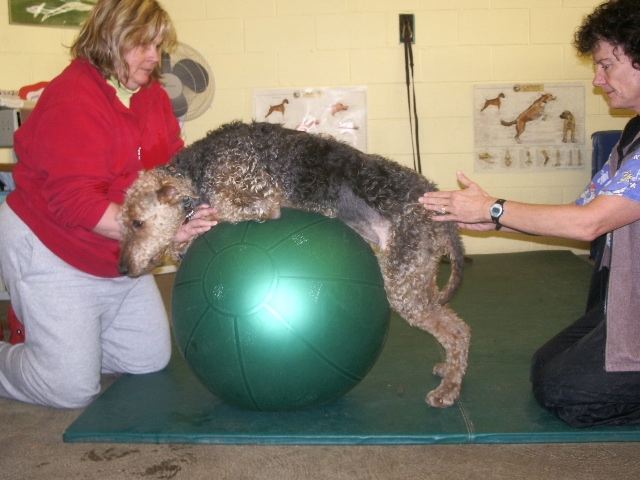 Susie also carefully helped Goldie walk - placing each back foot in the correct position and making sure her toes didn't curl under.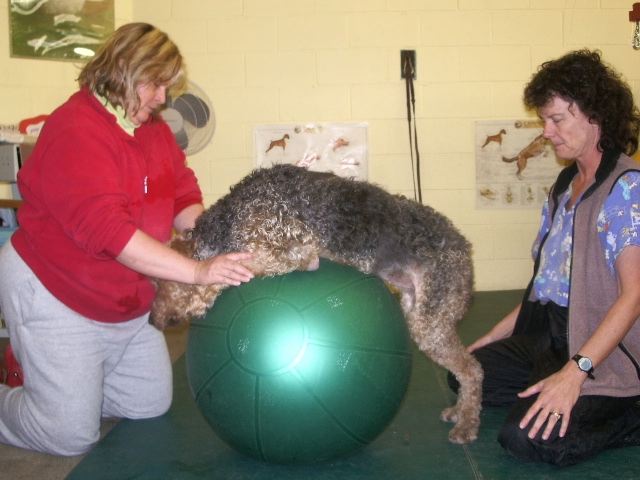 After all that, it was time to get wet. Goldie is up to swimming for eight minutes, resting for about five, then swimming for another eight. That's a lot of kicking.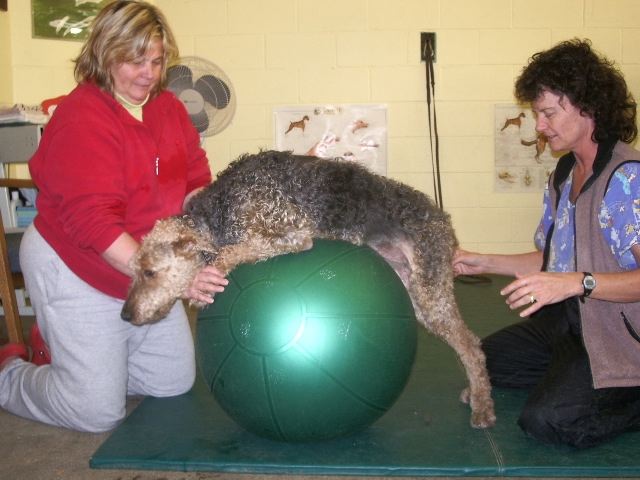 The strength in her back legs has increased dramatically. She's been home with me for six weeks now and it's amazing to just feel the increase in the muscle mass in her legs. It may be hard to tell in pictures, but her entire physique has improved dramatically.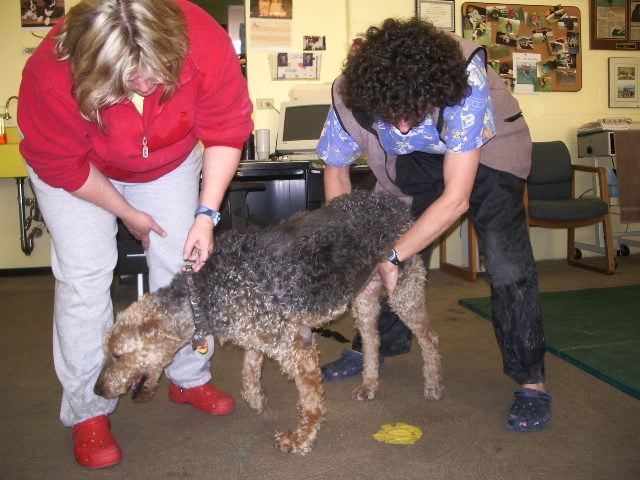 Here's another thing that proves good things are happening to Goldie. Goldie has always had pretty good control over her bladder; however, she did "dribble" quite a bit as I could see on the quilt on top of her bed. In the past couple of weeks, Goldie has stopped dribbling completely. This is surely a good sign that things are getting better inside.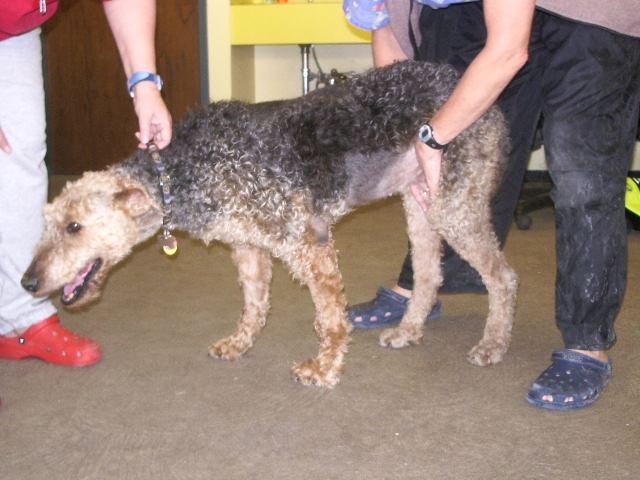 Another wonderful sign is Goldie simply wags her tail so much more now. I believe she's physically *able* to move it more with all the strength she's gaining in her rear end. Seeing her wag her tail is one of the best things in the world to me. Seriously!

All around, it's clear she's feeling better & better. It's hysterical to watch her guard her toys from Gracie.

Tomorrow we go in for acupuncture. Dr. Craig Ansbaugh is also going to biopsy a couple bumps & lumps, and we're going to draw blood for another round of tests. Everyone send positive MOJO to Goldie so the tests show her liver enzyme count is down. Kay Nellis, who gave me the recipe for Goldie's special diet, said it could take as long as three months to see substantial results, but we're hoping to see that things are going in the right direction.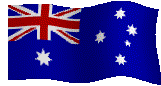 SUE FORRESTER:
This simply MUST be the most incredible journey. What a star she is, and what wonderful heroes are Lisa & The Golden Team.
I am crying & laughing all at once. I wish we could all be there to cheer Goldie on, as she feels the wind beneath her wings.
Fly Goldie fly!!!!!!!
Sue & the Aussie As of Wombat Bend, all sending BigBigBigBarks of encouragement to Goldie.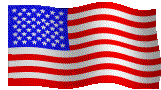 MARIE KORTA:
I want to cheer, clap and weep all at once. Lisa and her team are surely the guardians of AIREangels here on earth!

CONTINUE WITH THE SAGA OF
GOLDIE OF THE GOLDEN MOUNTAINS HERE