Sally writes:

It's been a while since our last Goldie report, and we hope you all had wonderful holidays.

Goldie has been going through some changes, having had Christmas at Lisa's house and New Year's at her new home with Priscilla & Allan Lundblad. After having done such a wonderful job as Foster Parent to Goldie, it became necessary for Lisa to turn over the fostering job to someone else, and Priscilla & Allan stepped right in.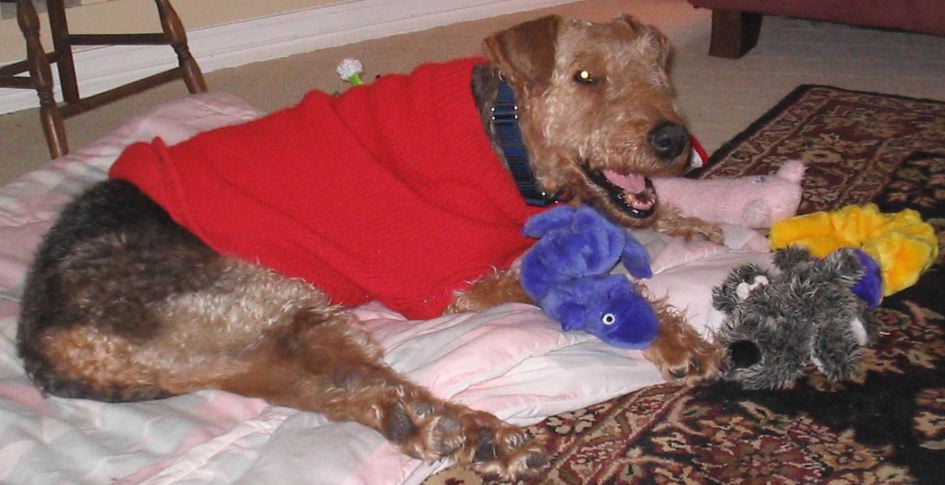 Goldie in her red sweater, relaxing in her new home.

Goldie has adjusted beautifully to her new home, and she loves having the company of the Lundblad's three resident Airedales: Annie, Sadie & Cooper.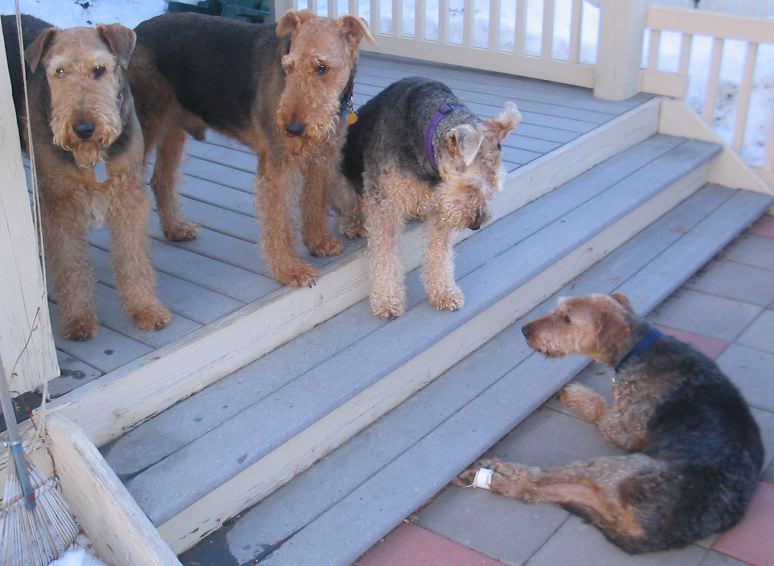 Goldie catching a few sun rays while her house buddies, Airedales Annie, Sadie & Cooper
(a/k/a The Board of Directors), make sure she is doing ok.

Plus there are resident c*ts. Allan told us today, "Not only does Goldie enjoy being with the Airedales, she even let one of the c*ts clean her ear today! These Airedales are incredible!"

Another exciting event for Goldie: She was measured today for a new harness to help her get around easier. We'll have more news & pictures soon.

Goldie is currently having some tests to update her condition and we plan to have a new report on that sometime next week. We'll let you know.

CONTINUE WITH THE SAGA OF
GOLDIE OF THE GOLDEN MOUNTAINS HERE